WASHINGTON -- The United States on Monday (February 7) offered a $10 million reward for information leading to the "identification or location" of the leader of the "Islamic State of Iraq and Syria"'s Khorasan branch (ISIS-K).
ISIS-K is the Afghan offshoot of ISIS, which originated in Iraq and Syria.
The reward offered by the US State Department was also for any information that would aid in arresting or convicting those responsible for the "terrorist attack at the Kabul airport" on August 26, which was claimed by ISIS-K.
That suicide bombing, which killed more than 100 people, including 13 American soldiers, was launched as the United States orchestrated its withdrawal from Afghanistan and the evacuation of Afghans vulnerable to reprisal after the previous government fell in Kabul.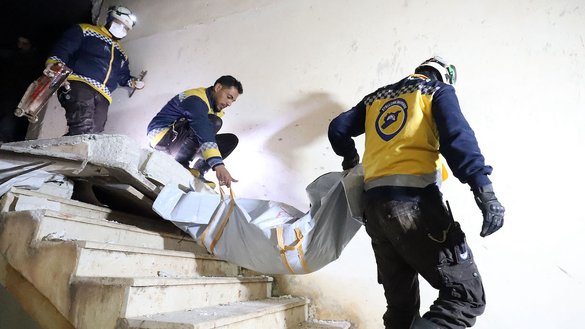 According to Washington, Sanaullah Ghafari -- also known as Shahab al-Muhajir -- was appointed leader of ISIS-K in June 2020 by ISIS.
"Ghafari is responsible for approving all ISIS-K operations throughout Afghanistan and arranging funding to conduct operations," the State Department said in a statement.
He was blacklisted in November as a foreign terrorist.
Little is known about Ghafari, although his nom de guerre suggests he arrived in the region from the Arab world.
He is rumored to have been an al-Qaeda commander or a former member of the Haqqani Network, a feared terrorist group.
ISIS-K has been responsible for some of the deadliest attacks in the region in recent years, massacring civilians in Afghanistan and Pakistan in mosques, shrines, public squares and hospitals.
The group has especially targeted Muslims from sects it considers heretical, including Shia -- much as the original ISIS group did.
It was hit hard by US-led forces and local enemies and was losing influence, but its attacks have ramped up since rival Islamists took power in August.
'Gaining ground'
However, extremist groups are regaining ground in Afghanistan following the departure of US troops and the collapse of the previous government, a top US military commander warned in December.
The departure of US military and intelligence assets from Afghanistan has made it "very hard, not impossible" to track movements of al-Qaeda and ISIS-K, Gen. Kenneth "Frank" McKenzie, head of US Central Command, said December 9.
McKenzie said al-Qaeda is attempting to rebuild its presence inside Afghanistan, which was the base from which it planned the September 11, 2001, attacks against the United States.
In the years following the 9/11 attacks, US military and intelligence offensives severely reduced al-Qaeda's numbers and its ability to directly threaten US interests, but McKenzie said the group retains "an aspirational desire" to attack the United States.
ISIS-K, meanwhile, was "reinvigorated" by the release of numerous ISIS fighters from Afghan prisons in mid-August, McKenzie said.
Both ISIS and al-Qaeda are recruiting from inside and outside Afghanistan, he said, adding that some militants are coming into the country through its porous borders but that it was hard for the United States to track numbers.
ISIS leader dies in raid
The pursuit of Ghafari comes as ISIS reels from its decapitation by a US raid in Syria last week.
The top leader of ISIS blew himself up when US special forces stormed his hideout in Idlib province, Syria, US President Joe Biden said last Thursday.
The successful raid "sends a strong message to terrorists around the world", Biden said: "We will come after you, and find you."
The ISIS leader's better-known predecessor, Abu Bakr al-Baghdadi, was killed in similar fashion in 2019, also in Idlib. Kurdish forces took part in both raids.