The US military completed its withdrawal and historic airlift of more than 123,000 people from Kabul airport August 30, marking the end of its 20-year-war in Afghanistan.
The withdrawal of the last troops came after a complicated and arduous operation to evacuate tens of thousands of Americans and Afghans who had helped the US-led war effort.
The commander of US military forces on the ground in Afghanistan and Washington's ambassador there, Maj. Gen. Chris Donahue and Ross Wilson, were the last to board the final evacuation flight from Kabul August 30, US Central Command (CENTCOM) commander Gen. Kenneth McKenzie told reporters at the Pentagon.
"Tonight's withdrawal signifies both the end of the military component of the evacuation but also the end of the nearly 20-year mission that began in Afghanistan shortly after September 11, 2001," he said.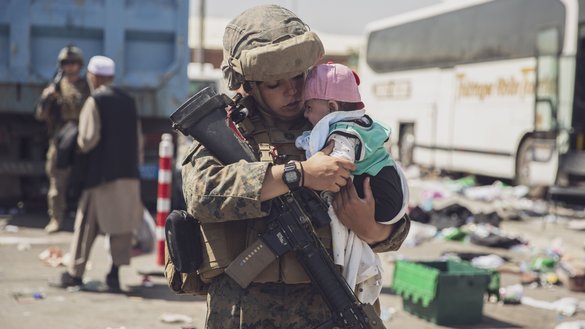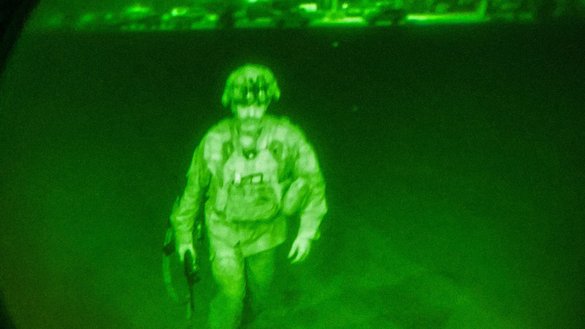 On that day, al-Qaeda terrorists hijacked four passenger jets in the United States and flew them into the World Trade Centre in New York and the Pentagon in Washington, DC.
Almost 3,000 Americans were killed.
The planning and training for that attack happened in Afghanistan under the knowledge and protection of the Taliban, which the US military quickly toppled in late 2001.
The goal of the US military operation that began in Afghanistan shortly thereafter was to prevent the country from ever becoming a base for terrorism again.
More than 800,000 American service members and 25,000 civilians served in Afghanistan over the almost 20-year mission. A total of 2,461 US service members and civilians were killed and more than 20,000 were injured.
Thirteen US troops were killed just last week by an "Islamic State of Iraq and Syria" (ISIS-K) suicide bomber who targeted evacuation efforts at Kabul airport.
Historic airlift
The evacuation at the airport was the largest non-combatant evacuation operation ever conducted by the US military.
Operations began on August 14 and ended August 30.
In total, US military aircraft evacuated more than 79,000 civilians from Kabul airport, including about 5,500 Americans and more than 73,500 third country nationals and Afghan civilians.
"In total, US and coalition aircraft combined to evacuate more than 123,000 civilians, which were all enabled by US military service members who were securing and operating the airfield," McKenzie said.
"On average we have evacuated more than 7,500 civilians per day over the 18 days of the mission, which includes 16 full days of evacuations, and more than 19,000 on a single day."
McKenzie admitted not everyone who wanted to leave could, and that the "diplomatic mission" to allow others to leave will continue.
The United Nations (UN) Security Council adopted a resolution August 30 requiring the Taliban to honor a commitment to let people freely leave Afghanistan in the days ahead, and to grant access to the UN and other aid agencies.
Talks are ongoing as to who will now run Kabul airport. The Taliban have asked Turkey to handle logistics while they maintain control of security, but President Recep Tayyip Erdoğan has not yet accepted that offer.
And it was not immediately clear which airlines would agree to fly in and out of Kabul.
Over the Horizon
Although the US military no longer has a presence in Afghanistan, the United States will retain its ability to strike at targets within the country that pose a terrorist threat.
"We will continue to have the ability to defend ourselves and to leverage over-the-horizon capability to conduct counter-terrorism operations as needed," Army Maj. Gen. William Taylor said August 28.
Pentagon spokesperson John F. Kirby echoed that sentiment August 30.
"We'll have the ability to react in ways that are in keeping with our national security interests and help prevent attacks on the homeland. We still have that capability. We will use that capability."
Since the departure from Afghanistan was announced, the US military has developed its ability to conduct these operations as part of its counter-terrorism mission.
That means it will continue to be able to conduct an operation -- such as the drone strike in Nangarhar province that killed two ISIS-K members linked to the Kabul airport bombing -- without having to actually launch it from within Afghanistan.
ISIS-K remains a lethal force, McKenzie said August 30, estimating that it has at least 2,000 members in Afghanistan now.
"And, of course, many of those come from prisons that were -- that were opened a few -- a few days ago. So that number is up and is probably as high as it's ever been in quite a while, and that's going to be a challenge for the Taliban, I believe, in the days ahead."
US President Joe Biden reiterated that the US national interest in Afghanistan was always principally about preventing terrorist attacks on the US homeland -- and that America would continue to "act quickly and decisively" against any terror threat emanating from the country.
"We conduct effective counter-terrorism missions against terrorist groups in multiple countries where we don't have a permanent military presence. If necessary, we will do the same in Afghanistan," he said on August 18.