KABUL -- The "Islamic State of Iraq and Syria" Khorasan branch (ISIS-K) on Sunday (November 14) claimed responsibility for an attack in Kabul that killed a journalist.
On Monday, another bomb exploded on a busy street in Kabul's fifth police district, wounding two individuals, according to officials.
Kabul police said the blast was caused by a roadside bomb that detonated as a taxi was passing, according to AP. An Interior Ministry spokesman, meanwhile, told Radio Free Europe/Radio Liberty (RFE/RL) the blast was caused by a magnetic bomb attached to a car.
The blast comes two days after the bombing of a minibus in western Kabul claimed by ISIS-K. The explosion killed an Afghan journalist and wounded four other Afghans.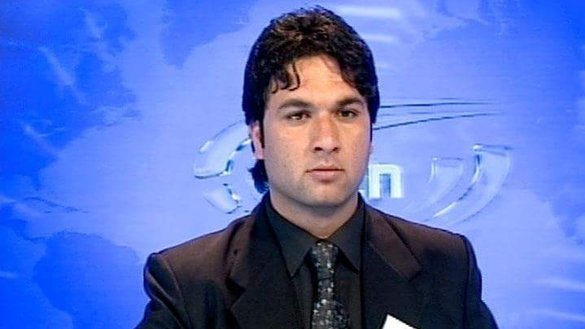 "Yet another journalist killed in Afghanistan," the Afghanistan Journalists Centre, an independent local media monitor, said on Facebook hours after that explosion.
Hamid Saighani, who worked for the Ariana television network, was at least the ninth journalist to be killed in Afghanistan in 2021, the monitor said.
His wife, Fawzia Wahdat, also a journalist, confirmed his death, saying "I lost Hamid" on her Facebook page.
Journalists under attack
At least 67 journalists have been killed in Afghanistan between 2013 and 2020, according to the local media group Afghan Journalists Safety Committee.
The minibus attack happened in Kabul's Dasht-e-Barchi suburb, an area dominated by members of the mostly Shia Hazara community, which for years has been the target of ISIS-K.
ISIS said on Telegram it had killed and injured "20 Shia apostates" including a journalist, saying it had placed bombs on buses.
A nearby hospital posted a notice saying it had admitted four injured individuals and another who was pronounced dead upon arrival.
An eyewitness said the explosion occurred near a checkpoint and that gunfire could be heard briefly immediately afterwards.
"I was in my car, and an explosion happened in the vehicle in front of us," he told AFP. "It was completely burnt."
The blast came a day after at least three people were killed and 15 wounded by a bomb at a mosque in Nangarhar.
No group has yet claimed responsibility for that blast.
The Nangarhar governor's office said officials had arrested two "perpetrators" in connection with the mosque blast but provided no other details.
"Further investigation into the incident is ongoing, and more actions will be taken," it said in a statement.
Dozens of ISIS bombs
Since the fall of the Afghan government on August 15, dozens of bombs have been set off in Nangarhar province -- the former headquarters of ISIS-K -- but Kabul has been mostly spared.
However, ISIS fighters raided the capital's National Military Hospital on November 2, killing at least 19 people and injuring more than 50 others.
Hamdullah Mokhlis, a member of the hardline Haqqani Network and an officer in the Badri Corps special forces, was killed in a gun battle after the attack.
ISIS gunmen stormed the same hospital in March 2017, killing at least 30 patients and staff. The militants went room to room killing people, switching to knives when they ran out of ammunition.
The latest slaughter comes after a string of attacks in October.
On October 8, an ISIS-K suicide bomber targeted a mosque in Kunduz, killing about 100 Shia Muslims and injuring scores of others, according to locals.
The group said the suicide bomber "was from the Uighurs" and that the attack was "in response to China's demands and in service of China's anti-Muslim policies [in Xinjiang]".
About a week later, multiple explosions tore through the Shia Fatemiyyeh mosque in Kandahar city, killing at least 33 people and injuring 74 others.
ISIS-K also claimed responsibility for two deadly suicide bombings at Kabul airport on August 26.
The explosions killed more than 100 Afghan civilians and 13 US service members, who were protecting and processing paperwork for a large number of Afghans waiting for evacuation.
The latest estimates of ISIS-K's strength vary from 500 active fighters to as high as several thousand, according to a United Nations report in July.