KABUL -- Mazar-e-Sharif is reeling as two "Islamic State of Iraq and Syria" (ISIS) terrorist attacks hit the city in just three days.
ISIS on Sunday (March 12) claimed responsibility for a bombing that killed three people and wounded a group of journalists and children at an event honouring the media Saturday.
Police said a security guard was killed, while several journalists and three children were wounded in the attack on the Tabyan Cultural Centre in Mazar-e-Sharif, the capital of Balkh province.
Journalist Hossein Nadiri and a journalism student named Akmal were killed in the blast, according to the Afghan Independent Journalists' Association (AIJA). Another 14 media workers were injured, it said.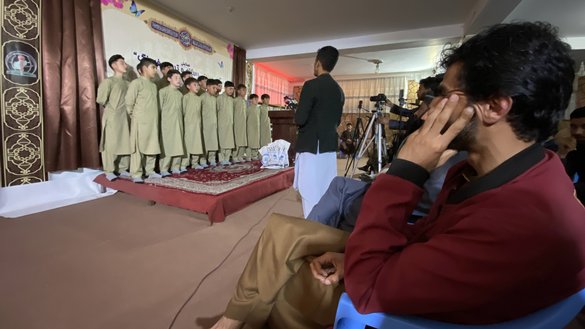 The attack was caused by a "parcel bomb that ISIS fighters managed to place and detonate" at the event, according to Amaq, the propaganda agency of ISIS's Khorasan branch (ISIS-K).
"The blast targeted a rally held inside a Shia centre to reward several journalists working in agencies involved in the war and instigation against ISIS," the statement said.
The explosion happened when a group of children were singing an anthem, said Afghan journalist Atif Aryan, who was wounded in the blast.
"I heard a big bang... then there was chaos as everyone was trying to find a way to escape," he told AFP.
"Some journalists are seriously wounded," he added.
Saturday's bombing came just two days after an ISIS suicide bomber killed the governor of Balkh province at his office in Mazar-e-Sharif.
Widespread condemnation
The latest attack targeting Afghan journalists and children drew widespread condemnation and calls for increased security.
"Journalists are the real voice of Afghan people," the AIJA said in a statement. "An attack on the lives of journalists is an attack on freedom of speech and Afghan people."
"Brave Afghan journalists are already reporting in extremely challenging circumstances," said Beh Lih Yi, Asia programme director at the Committee to Protect Journalists.
"Targeting journalists during an event to honour reporters is a despicable and cowardly act."
The United Nations Assistance Mission in Afghanistan (UNAMA) also condemned the "despicable attack on journalists", adding, "Afghan reporters show immense courage and must be protected."
"This attack on journalists is another blow to freedom of expression in Afghanistan and increased protection is necessary," said UN Special Rapporteur on Afghanistan Richard Bennett.
"This violence needs to stop," said Raffaella Iodice, the European Union's chargé d'affaires in Afghanistan. "Journalists risk their lives for their work and have to be protected. They are not a target!"
US Special Envoy for Afghanistan Thomas West said he was "deeply saddened by the terrorist attack on journalists at the Tabyan Cultural Centre."
"We condemn these continued, senseless acts of violence," he tweeted. "We believe in the resilience of the Afghan people and their capacity to rebound."
Afghan journalists also expressed alarm at the lack of protection they face in their work.
"If the journalists face threats in addition to several other problems, I think they will stop working," Mustafa Shahryar, a journalist, told TOLOnews.
"This is very concerning," said another journalist, Raqeeb Fayaz, adding that there needs to be "a clear mechanism for journalists' safety".
Increasing ISIS attacks
ISIS attacks have increased across Afghanistan since about a year and a half ago.
According to the SITE Intelligence Group, which follows the activities of terrorist networks, ISIS-K carried out 224 terrorist attacks in Afghanistan between August 2021 and August 2022.
On January 11, an ISIS suicide bomber self-detonated outside the Foreign Ministry in Kabul, killing at least five people and wounding 40 others, according to officials and witnesses.
In December, at least five Chinese nationals were wounded when ISIS gunmen stormed a hotel popular with Chinese businesspeople in Kabul.
Also that month, ISIS took responsibility for an attack on Pakistan's embassy in Kabul that Islamabad denounced as an "assassination attempt" against its ambassador.
On November 30, a blast at a madrassa in Aibak, the provincial capital of Samangan, killed at least 16 people and wounded 24 others. "All of them are children and ordinary people," according to a local physician.
In October, four people were killed and 25 wounded in an attack on a mosque on the grounds of the Interior Ministry in Kabul, with survivors reporting it was a suicide bombing.
ISIS claimed responsibility for a suicide bombing outside the Russian mission in Kabul on September 5 that killed two Russian embassy staff members.
The same month, at least 54 people -- including 51 girls and young women -- were killed when a suicide bomber detonated a device at the Kaaj Higher Educational Centre in Kabul.
No group claimed responsibility for that bombing, but Afghan authorities later blamed ISIS.