HERAT -- Violence against journalists continues in Afghanistan as the Taliban demonstrate increasing animosity towards media and anyone who raises his or her voice against the new administration.
Taliban fighters struck several journalists at a women's rights protest in Kabul on Thursday (October 21) in an attempt to prevent media coverage of the event.
A group of about 20 women marched from near the Ministry of Education to the Ministry of Finance in Kabul as traffic drove by shortly before 10am.
Wearing colourful headscarves, they chanted slogans including, "Don't politicise education", and held placards saying: "We don't have the right to study and work" and "joblessness, poverty, hunger".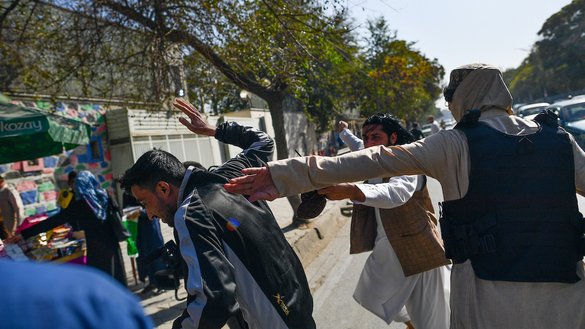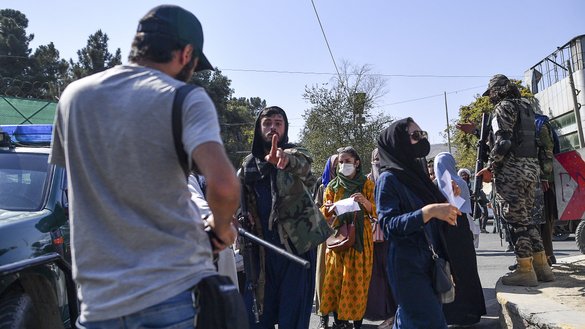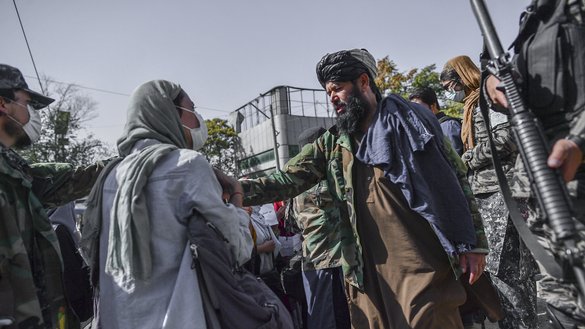 Taliban authorities allowed the women to walk freely for about an hour and a half, AFP reported.
Then, two Taliban fighters beat a foreign journalist taking photographs of the protest march.
One Taliban fighter struck the journalist with the butt of a rifle, swore and kicked him in the back as another punched him.
At least two more journalists were hit as they scattered, pursued by Taliban fighters swinging fists and kicking.
Some Taliban fighters policing the march wore full camouflaged combat gear, including body armour, helmets and knee pads, while others were wearing traditional Afghan clothing.
They carried M16 assault rifles and AK-47s.
Zahra Mohammadi, one of the protest organisers, told AFP the women were marching despite the risks they face.
"The situation is that the Taliban don't respect anything: not journalists -- foreign and local -- or women," she said.
"The schools must reopen to girls. But the Taliban took this right from us."
High school girls have been blocked from returning to classes for more than a month, while many women have been banned from returning to work since the Taliban seized power in mid-August.
"My message to all girls and women is this: 'Don't be afraid of the Taliban, even if your family doesn't allow you to leave your home. Don't be afraid. Go out, make sacrifices, fight for your rights'," Mohammadi said.
"We have to make this sacrifice so that the next generation will be in peace."
Media outlets shut down
This is not the first time journalists have faced violence or retaliation from the Taliban.
The Taliban arrested photographer Murtaza Samadi on September 7 as they crushed a public demonstration in Herat. Two protesters lost their lives in the crackdown, and more than a dozen were wounded.
On September 16, the Taliban in Herat also arrested political activist Barzin Khatibi, who was talking to the media about the problems ordinary Afghans are facing. Both Khatibi and Samadi were released on September 30.
The Taliban's animosity toward the media also means many journalists have lost their jobs.
More than 150 electronic and print media outlets have been shuttered in 20 provinces since the Taliban's takeover of power in Afghanistan two months ago, leaving hundreds of journalists and media workers jobless.
Gul Ahmad Almas, who worked for six years at a local radio station in Firoz Koh, capital of Ghor province, lost his job when the Taliban came to power.
Since then, his life has become very difficult, said Almas.
"I have been jobless since our station in Ghor suspended activities and my work with other media outlets ended," he said. "I now collect firewood from the desert and sell it in Firoz Koh to earn a living for my family."
"We call on the international community not to abandon Afghanistan's media and journalists and to support free media in order to preserve freedom of expression in the country," he said.
Zabihullah Wafa, another journalist in Ghor province, lost his job too after the Taliban's takeover.
"I had been a journalist in Ghor for 10 years and lived a very good life," he said. "But now I must make bricks and sell them in the market."
Wafa also called on organisations that promote freedom of the press "to support Afghan media and journalists to ensure reporting from Afghanistan is not stopped".
"Access to information in Badghis province has become very limited, and no one responds to journalists, forcing media outlets to cease their activities," said Abdul Raziq Sidiqi, a journalist in Badghis.
"As a result, I lost my job," said Sidiqi, who has been forced to turn to construction work.
"After 10 years working as a journalist, I had to replace my pen with a shovel," he said. "I was forced to put my education and journalism experience aside and work as a labourer."
Because of restrictions imposed by the Taliban, Sidiqi said, journalists and media outlets cannot operate as they did in the past.
Restricting access to information
Meanwhile, journalists who are still working are concerned that the Taliban are limiting access to information and that no one in government offices responds to their requests.
Taliban officials are not responsive to reporters, said Abdul Zahir Zahid, a reporter in Ghor province.
"I repeatedly approached government departments to obtain information or get their point of view for balanced reporting, but Taliban officials would not agree to be interviewed," he said.
"Most Taliban officials reject requests for interviews right away and even threaten journalists."
Reporting from Ghor has become very difficult because of restrictions on access to information, Zahid said.
Citizens' fear of reprisals is also limiting journalists' ability to work.
"People are afraid of the Taliban [and refuse] to talk to the media about the current difficult situation," said Herat-based journalist Ahmad Jawad Joya. "Therefore, they do not want to be interviewed."
He said he spends hours in the city trying to gather opinions on the current economic problems, insecurity, uncertainty and unemployment, but no one is willing to talk to him.
"Before the Taliban's return to power, everyone was interested in talking to the media and would easily share their problems," he said. "But now, few are willing to give interviews and raise their voices."
The Taliban have severely suppressed freedom of expression and do not allow anyone to criticise the group's actions, said Mohammad Nader Alokozai, a civil society activist in Herat.
"The Taliban do not believe in freedom of expression and are doing everything in their power to silence dissent," he said.
Freedom of expression was one of the achievements in Afghanistan over the past two decades, but the Taliban suppressed it by silencing the public and creating fear within it, Alokozai said.
"Afghans are afraid of repercussions if they raise their voices."