KABUL -- The Taliban on Thursday (September 30) violently cracked down on a small women's rights demonstration in Kabul, firing shots into the air and pushing back protesters.
The protesters were a group of six women gathered outside a high school in eastern Kabul demanding the right for girls to return to secondary school, after the Taliban excluded them from classes earlier this month.
The women carried a banner that read "Don't break our pens, don't burn our books, don't close our schools," before Taliban guards snatched it from them.
They pushed back the women as they tried to continue with the demonstration, while a foreign journalist was hit with a rifle and blocked from filming.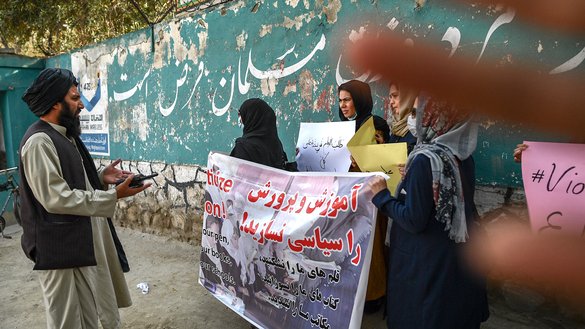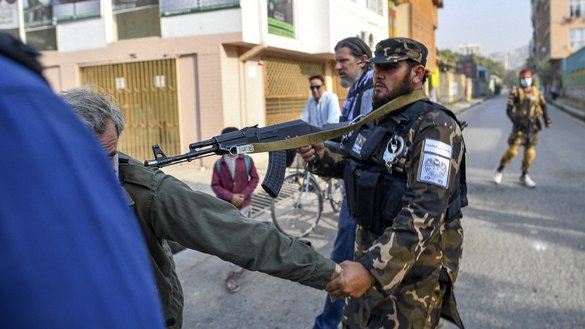 A Taliban member also released a brief burst of gunfire into the air with his automatic weapon, according to AFP journalists who witnessed the crackdown.
The demonstrators -- members of a group called the "Spontaneous Movement of Afghan Women Activists" -- took refuge inside the school.
Taliban guard Mawlawi Nasratullah, who identified himself as commander of special forces in Kabul, said the demonstrators "did not co-ordinate with security authorities regarding their protest".
"They have the right to protest in our country like every other country. But they must inform the security institutions before," he said.
Pushing women, girls into the shadows
Isolated rallies with women at the forefront took place in cities around the country after the Taliban seized power, including Herat, where two people were shot dead September 7.
But protests have dwindled since the government issued a warning, and the Taliban have vowed "severe legal action" for violators.
It has been almost two weeks since girls were prevented from going to secondary school.
The Taliban have said they will allow girls to return to the classroom but "need to establish the right conditions" first. However, many Afghans are sceptical.
Since the Taliban regained power August 15, their actions have undermined women and girls' role in society.
Presently, girls may attend school only if they are in sixth grade or younger.
In private universities, women may attend class only if they wear an abaya -- a flowing robe -- and a niqab -- a face veil with a small window to see through -- and they will be separated from men, the Taliban said.
All public universities are still closed.
The Taliban have also slashed women's access to work, with officials telling them to stay at home for their own security until the officials can implement segregation under the Taliban's restrictive interpretation of sharia law.
Earlier in September, the acting mayor of Kabul said any municipal jobs held by women would be filled by men.
Human rights abuses 'disappointing'
Qatar and the European Union (EU)'s top diplomats on Thursday labelled a recent string of human rights abuses in Afghanistan "disappointing", with Doha encouraging the Taliban to look to Qatar for lessons on running an Islamic system.
The Taliban publicly strung up the bodies of four alleged kidnappers from cranes in Herat last week. The suspects were killed in a shootout with the Taliban before the public display of their corpses.
"The recent actions that we have seen unfortunately in Afghanistan, it has been very disappointing to see some steps being taken backward," Qatari Foreign Minister Sheikh Mohammed bin Abdul Rahman Al-Thani said at a media briefing in Doha.
Qatar has become a key broker in Afghanistan following last month's withdrawal of US forces, helping to evacuate thousands of foreigners and Afghans, engaging new Taliban rulers and supporting operations at Kabul airport.
"We need to keep engaging them and urging them not to take such actions, and we have also been trying to demonstrate for the Taliban how Muslim countries can conduct their laws, how they can deal with women's issues," said Sheikh Mohammed.
"One of the examples is the State of Qatar, which is a Muslim country; our system is an Islamic system. [However,] we have women outnumbering men in workforces in government and in higher education."
EU foreign policy chief Josep Borrell, who is in Doha for meetings, echoed the top Qatari diplomat, calling "some of the things that have happened in Afghanistan recently... quite disappointing".
"Let's hope we can manage to reorient... the Afghan government," he said, adding that he hoped Qatar could use its "strong influence" on the Taliban to encourage the group to improve its treatment of civilians.
Bad omens
The display of the dead suspected kidnappers in Herat was the highest-profile public punishment since the Taliban swept to power last month.
It has been seen as a sign that the Islamist hardliners will adopt fearsome measures similar to those they resorted to during their previous rule from 1996 to 2001.
Sheikh Mohammed called on the Taliban to "maintain and preserve the gains made in past years" and warned the international community not to isolate Afghanistan.
"It's very important for the Muslim countries to show good examples, for the Taliban in order to avoid any mistreatment for the women or misusing sharia law," Sheikh Mohammed said.