HERAT -- The Taliban Tuesday (September 21) claimed that Afghan girls will be allowed to return to school "as soon as possible", although many seriously doubt the group will honour the pledge.
The Taliban were notorious for their oppressive rule from 1996 to 2001, when they largely barred women from work and school, including a ban on them leaving their homes unless a male relative accompanied them.
One month after seizing power and pledging a softer version of their previous regime, the Islamists have incrementally stripped away Afghans' freedoms.
"The work is continuing over the issues of education and work of women and girls," Taliban spokesman Zabiullah Mujahid said at a news conference, saying schools will reopen "as soon as possible", without providing a time frame.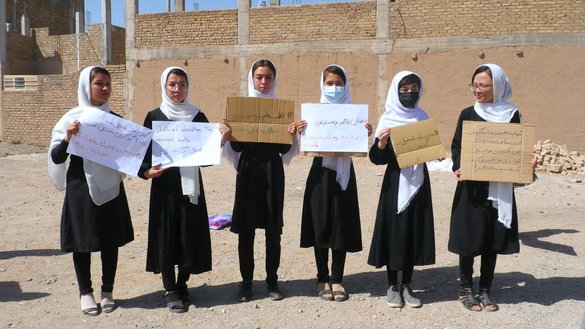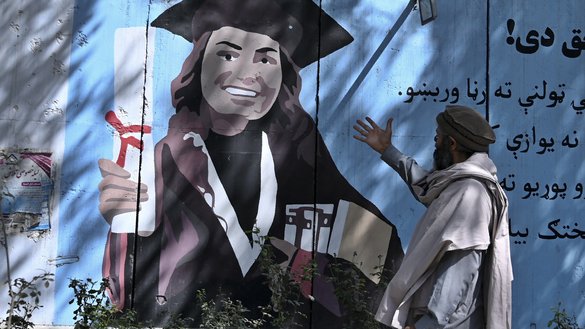 "More time is needed... instructions on how to deal with their work, their services and their education are needed because the system has changed and an Islamic system is in place."
The latest pledge comes after their movement faced international fury over their effective exclusion of women and girls from education and work.
The Taliban's Ministry of Education last Friday excluded girls and female teachers from returning to secondary school, while ordering boys and male teachers back to the classroom.
The Taliban currently allow only elementary school girls -- sixth grade and younger -- to attend school.
The United Nations Educational, Scientific and Cultural Organisation (UNESCO) the same day voiced its "deepest concerns" about girls not being allowed to continue their education, and called for an immediate reopening of their schools.
In an interview with the BBC on Tuesday (September 21), Pakistan's Prime Minister Imran Khan said preventing women from accessing education is un-Islamic.
"The idea that women should not be educated is just not Islamic. It has nothing to do with religion," Khan said.
The Taliban have also slashed women's access to work, with officials previously telling them to stay at home for their own security until the officials can implement segregation under the Taliban's restrictive interpretation of sharia law.
'Fear of a dark future'
The group imposed a harsh interpretation of sharia law during their last rule and this time around have said progress in women's rights will be respected "within the framework of Islamic law".
Many girls and women, however, are deeply suspicious about the Taliban's pledges.
"This happened last time. They kept saying they would allow us to return to work, but it never happened," a woman teacher told AFP on Monday.
Students themselves in a rally in Herat on Monday demanded that their schools reopen.
"I have so many aspirations and objectives to achieve, and if I am not allowed to go to school, my dreams will be ruined," said Nooria, an 11th-grade student in Herat city who took part in the rally.
Nooria said she is scared of a "dark future", and that the Taliban should not deprive girls of their legitimate rights.
Husnia, 11, a fourth-grader living in Herat city, said the Taliban must allow all girls to study so that they could build a bright future for themselves.
"There is no past excitement in our school because only a few girls can come to school," she said, adding that she misses her friends and hopes they can come back to school soon.
All Afghan girls want to be educated so they can play their part in building their country's future, Husnia said.
"No one can stop us from going to school."
"There are very few students in schools, [and they] are more chaotic and disorganised than in the past," said Parisa, 13, a sixth-grader in Herat city.
Even though Islam obligates every Muslim man and woman to study, the Taliban have barred girls from attending school, Parisa said.
"The right to education for all learners, especially girls, must be upheld at this critical time," she said.
'Burying girls alive'
Women studying at Afghanistan's public universities are facing the same fears.
All students are worried about their future, said Shakila, a fourth-year student at Herat University.
"I am in my last year and hoping to finish university in two months," she said, adding that if she cannot continue her studies, her four-year-long effort will be wasted.
"We made so much effort to reach here and achieve our dreams, but we are very concerned about our uncertain future," Shakila said.
In some provinces, the Taliban have allowed private universities to operate under strict regulations, but those restrictions have led many students to drop out.
Sharara, who has passed the university entrance exam and gained admission to Herat University, has not managed to attend any of her classes yet.
She said she hopes to play a role in the reconstruction and development of Afghanistan after graduating from university, but it is not clear whether she will be allowed to do so.
The Taliban have deprived girls of all their aspirations by barring them from going to school and university, Sharara said.
"Preventing girls from going to school and university means burying them alive."
Sharara urged the Taliban not to hinder girls' advancement and to allow them to continue their education, as they can shape the future of Afghanistan.