HERAT -- Hundreds of defiant women marched in the streets of Kabul on Tuesday (September 7), demanding the Taliban respect their rights, with the group responding by firing shots into the air to disperse the rallies.
At least three rallies were held across Kabul in a show of resistance that would have been unthinkable during the Taliban's last stint in power -- when people were publicly executed and thieves had their hands chopped off.
"Afghan women want their country to be free. They want their country to be rebuilt. We are tired," protester Sarah told AFP at one rally.
"We want all our people to have normal lives. How long shall we live in this situation?" the 25-year-old said.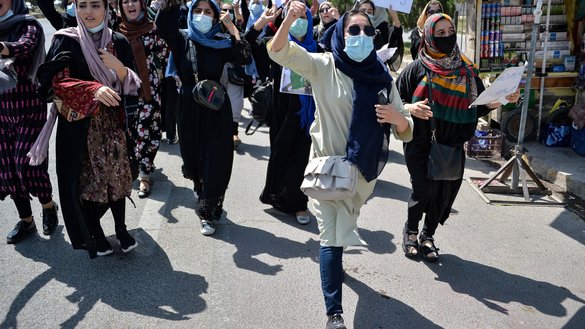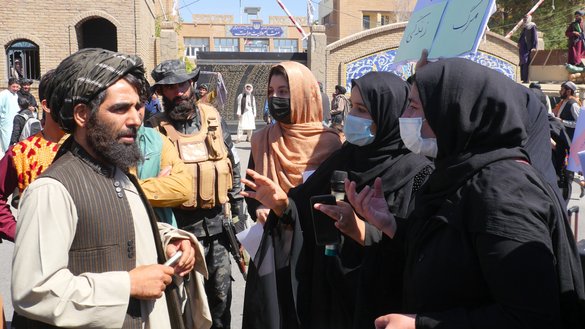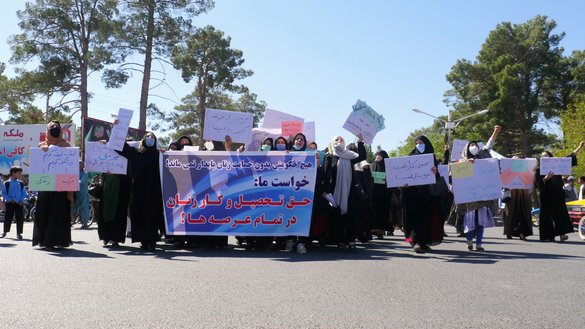 Videos posted on social media of a separate rally showed more than 100 people marching through the streets under the watchful eye of armed Taliban members.
Another protester, Zahra, a doctor from Kabul, said: "We want Afghanistan to become free. We want freedom."
Scattered demonstrations have taken place in smaller cities in recent days, including in Herat and Mazar-e-Sharif, where women have demanded to be part of a new government.
General Mobin, a Taliban official in charge of security in the capital, told AFP he had been called to the scene by Taliban guards who said that "women were creating a disruption".
An Afghan journalist covering the demonstration told AFP his press ID and camera were confiscated by the Taliban.
"I was kicked and told to go away," he said.
On Friday, some 30 women took to the streets to demand the right to work and inclusion in the government.
Herat protests
Women in Herat protested last Thursday against recent measures implemented by the Taliban.
A number of women working for the government and the private sector in Herat say that the Taliban have been stopping them from going to work after the fall of Herat city.
"It is our right to have education, work and security," the group of about 50 female demonstrators chanted, waving placards on the streets of Herat city.
Farkhunda, who has worked at the Herat Directorate of Rural Rehabilitation and Development for five years, said she lost her job when the Taliban returned to power.
"With the arrival of the Taliban, thousands of women have lost their jobs," she said. "The Taliban do not allow women to work."
When she attempted to go to work, the militants did not allow her inside her office, she said.
For years, Afghan women and girls worked hard, studied and got jobs despite Taliban threats, she said. "It is painful to be condemned to staying home again."
"Our request for the international community is that they won't abandon Afghan women and will defend their rights," she added.
"The 20 years of hard work and achievements of Afghan women should not be ignored," said Leena, a schoolteacher in Herat city. "These achievements were made so painfully."
"We want the voice of Afghan women not to be silenced anymore," she said.
Leena urged "the international community and countries that support women's rights to stand with us to defend our rights and achievements".
An inclusive government
In addition to demands to allow women to work, the demonstrators in Herat asked for women to be given a voice in the country's decision making process.
The Taliban, who are in discussions about the make-up of a new government, have pledged their leadership will be "inclusive", but many doubt women will find a place in Afghanistan's new administration.
A senior official said last week that women were unlikely to be included, AFP reported.
The Taliban's ban on women in government means eliminating half of Afghanistan's potential workforce, Fariba, a civil society activist in Herat city, told Salaam Times.
Women have always worked under sharia law and will continue to do so, she said, adding, "Our families allow us to work, and we have the ability to do it... The Taliban should not stop us."
Afghan women will never allow the Taliban to block them from their work and activities, said Fariba.
But activist Basira, one of the organisers of the protest, worries that no women have taken part yet in the Taliban's gatherings and meetings about the future of Afghanistan.
"Although the Taliban have always promised that women may participate in political, social and educational activities... in reality, they have not lived up to this promise," she said.
"Unless women have a meaningful and critical role in the government, it will be incomplete and won't last long," she added.
'Women will defend their rights'
Many educated and knowledgeable women qualify to participate in the government and should not be ignored, said Asiya, a student at Herat University.
"We, the women, are half of Afghanistan's population. We want to work like men and be active in all walks of life," she said.
"We do not accept a regime that removes us and ignores our rights," she added.
"Laws that undermine human dignity and women's rights will never be enforceable or acceptable."
Gone are the times of silencing women, said Rabia, a teacher in Herat city.
"We will protect all our achievements and will not allow anyone to undermine them."
Regardless of how much pressure is exerted, Afghan women will defend their rights, Rabia said.
"We will dress as we used to, go to markets and continue our social activities," said women's rights activist Mariam.