KABUL -- Though more than two months have gone by since the Taliban have risen to power in Afghanistan, Mullah Haibatullah Akhundzada and several other members of the group's leadership are still living in the shadows.
Average Afghans and even Taliban fighters have raised questions about the Taliban's so-called "commander of the faithful" and whether he is alive.
The Taliban have always been dishonest with the people of Afghanistan, said Ahmad Behruz, a Kabul-based political analyst.
He gave the example of Taliban founder Mullah Mohammad Omar, whose whereabouts were for years unknown by ordinary Afghans as well as by members of the Taliban.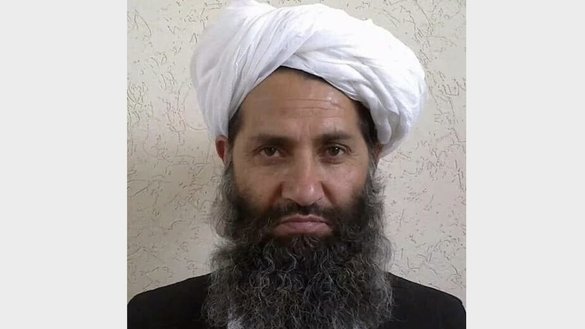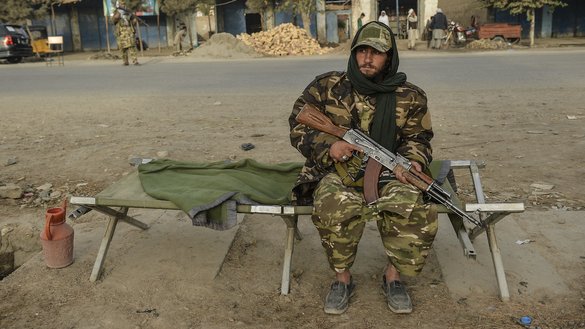 When Mullah Omar died in 2013, the Taliban waited two years to confirm his death.
"Years have passed, but it still remains a mystery whether Mullah Omar has ever existed and now the same scenario goes with Mullah Haibatullah," Behruz said.
"If Haibatullah is alive, he should appear in public and talk with the public and explain his group's reason for waging the war and the massacre of innocent civilians," he said.
"It has been a Taliban tradition to keep the identity and physical presence of their supreme leader in hiding and away from the public sphere," said Sayed Hakim Kamal, an Afghan political analyst based in Germany.
"In today's world, politicians should be among the public, but the Taliban leaders are living in shadows, an indication that demonstrates they are distant from the current world of politics," he said.
"Also, the Taliban neither have Afghan roots nor represent the will of the Afghan people, as most of their leaders are foreigners," he said. "The leaders of this group are hesitant to appear in public, and this issue automatically raises questions about their sincerity."
Growing distrust
The Taliban leadership's refusal to appear in public or to deliver on its promises has led to a growing distrust among the group's ranks.
Taliban spokesman Zabiullah Mujahid recently said that Haibatullah was alive and would appear in Kandahar soon, but he has not yet been seen in public.
"The Taliban leaders' strategy of living in hiding has become a challenge for the rest of the movement, because today's politics require a process that entails constructive engagement with the public," said Kamal.
"The absence of the Taliban leader from the public and the group's alienation from the media, public and society can lead to mistrust," he said.
Behruz also argued that the dishonesty of Taliban leaders will cause both the general public and Taliban fighters to discount what their leaders say.
"Haibatullah is alive, inshallah, but I do not know why he has so far not appeared in public," said Gulab Mansori, a Taliban fighter based in Kabul.
Responding to a question about how he follows the orders of a supreme leader who he has not seen, Mansori said: "I think he did not appear in public because of imminent security issues, as you know we were at war. But I very much hope he will soon appear in public."
"God forbid, I hope he has not already passed away like Mullah Omar."
Umran Samandari, another Taliban fighter, is in doubt about whether Haibatullah is alive or dead.
"We, the mujahideen, do not know anything about Haibatullah because he is living in hiding, and we pray he is still alive," Samandari said.
"Our superiors reassure us that he is alive," he said. "But if he has died, I think it is better they announce his demise and introduce his replacement because as Muslims we have to be honest with our fellow Muslims."
Taliban 'puppet' leaders
For Mohammad Nasim, a Kabul university psychology student, the Taliban's concealment of Mullah Omar's death planted the seed of doubt.
The Taliban issued statements under the name of Mullah Omar for years, he said. But it later it became known that he had passed away long before those statements were issued.
"The Taliban are following a similar scenario by saying that Haibatullah is alive," Nasim said. "If he is, why does he not appear in public or give a message on television?"
Mahir Zaland, a former employee of an NGO in Kabul, says that Haibatullah may not physically exist at all.
"What we have learned about the Taliban is that their leaders have never spoken to the public directly or via video message, and they always lived in secret," he said.
"Such actions by the Taliban leaders indicate that they are either frightened to interact with the public or are merely icons, while behind them are foreigners who give orders," he said.
The Taliban are just puppets and the group's leaders have no real authority, said Wais Naseri, an Afghan political analyst based in Germany.
"The Pakistani intelligence service has created the Taliban from the outset," he said. "It hosted sanctuaries for them on Pakistani soil so that the Taliban fulfil their demands and follow what they dictate."
Taliban leaders do not have the authority to appear in public without blessing from the Pakistani establishment, according to Naseri. If they do so without permission, it will engineer their sanctioning and removal from the Taliban ruling body.