KABUL -- There is growing doubt over the ability of Taliban leaders to control the actions of their fighters who continue to destroy public property and commit crimes against civilians in defiance of their leaders' calls.
In his Eid message on July 18, Taliban leader Mullah Haibatullah Akhundzada ordered commanders to allow schools and universities to operate, to treat civilians with respect, and to protect health clinics, institutions and infrastructure.
"Our advice to the mujahideen [Taliban militants] is to pay special attention to the growth of religious and modern education in areas under the control of the Islamic Emirate, to keep schools and universities open ... and to protect civilians while launching offensives," said his message.
"The [Taliban] Health Commission is advised to keep clinics and health centres active across the country, especially in newly conquered areas," it added.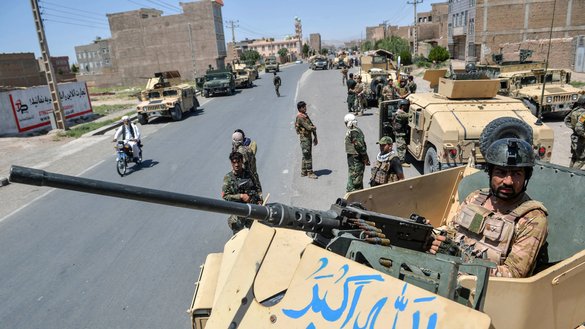 The message came after a Taliban delegation headed by deputy chief negotiator Sher Mohammad Abbas Stanekzai on July 7-8 held talks with Afghan government counterparts in Iran and agreed not to target public facilities and stop killing civilians.
In a statement released at the end of the talks, both sides condemned attacks that destroy houses, mosques and hospitals.
Violence escalates
Despite their leaders' calls, Taliban militants have continued to ruthlessly harm civilians and ruin public institutions as they seize more territory.
The Afghan government's Independent Administrative Reform and Civil Service Commission (IARCSC) found that essential government services in districts recently seized by the Taliban have halted, IARCSC Chairman Nader Nadery said on July 15.
A large number of civil servants were injured or displaced to provincial capitals, he said.
The Taliban destroyed 260 government buildings and assets in 116 districts, said Nadery, estimating damage at $500 million.
Thirteen million Afghans have lost social services in the Taliban-controlled areas, and 50,000 employees, including women, have been affected by Taliban's actions, said Nadery.
"The Taliban are responsible for destroying public facilities and looting in the districts they have seized in recent weeks," Nadery said.
There is no indication of a Taliban commitment to peace for building a prosperous Afghanistan, he added.
Meanwhile, the US embassy in Kabul on Monday (August 2) condemned a case in which the Taliban massacred civilians, defining it as a possible war crime.
"In Spin Boldak, Kandahar, the Taliban massacred dozens of civilians in revenge killings. These murders could constitute war crimes; they must be investigated & those Taliban fighters or commanders responsible held accountable," the embassy said in a tweet.
"The Taliban's leadership must be held responsible for the crimes of their fighters. If you cannot control your fighters now, you have no business in governance later," it added.
Taliban's hypocrisy
"Taliban leaders' words bear stark contrast to the actions of the group's militants," Kabul-based political analyst Maqsood Hasanzada told Salaam Times.
Undeniable examples confirm the Taliban's hostility towards public institutions and assets, he said.
Afghans have seen footage on social media showing how the Taliban blew up an administrative building in Farah province's Anar Dara district and another facility in Malistan, Ghazni province, after they captured those districts, he added.
The Taliban are not committed to any principles, including those of humanity, Islam or Afghan society, Hamid Roshan, deputy spokesperson of the Ministry of Interior Affairs, told Salaam Times.
The Taliban have flattened public buildings and martyred dozens of civilians in Kandahar, Herat, Farah, Faryab, and Takhar provinces, he added.
"They forced hundreds of civilians out of their homes and massacred dozens of innocent people in Kandahar alone."
The Taliban adhere to no principle of war. They use civilians' houses as shields and eventually destroy them, he said.
There is a big difference between what Taliban leaders say and what their fighters actually do, said Ghaibatullah, 25, a Faryab resident.
As cases in point, he mentioned the recent destruction of the Qaisar district police headquarters and several security checkpoints, a bridge in Khwaja Sabz Posh district and dozens of shops by the Taliban.
Over the past four days, Taliban fighters fired mortars at Maimana city, killing a mosque imam and several women and children, he added.
'No trust in the Taliban'
Afghans see Taliban militants as fighters who ignore their leaders, Ghaibatullah said, emphasising that Afghans should never believe Taliban leaders' statements.
Taliban leaders have repeatedly claimed to support and protect national projects that benefit the Afghan public and have instructed their fighters not to abandon the implementation of development projects, said Zalmai Afghanyar, a military analyst.
But the reality is different, because Taliban members do not follow the orders of their leaders at all, he said.
Taliban militants do whatever they want, hindering national projects, destroying public institutions and targeting civilians, Afghanyar said.
Taliban militants' disobedience of their leaders has left no room for trusting the slogans and statements of Taliban leaders, he said.