NEW DELHI -- Afghanistan will become a "pariah state" if the Taliban seize control by force, US Secretary of State Antony Blinken warned Wednesday (July 28).
"An Afghanistan that does not respect the rights of its people, an Afghanistan that commits atrocities against its own people would become a pariah state," he told reporters on an official visit to India.
Blinken warned the Taliban they would have to change if they wanted global acceptance.
"The Taliban says that it seeks international recognition, that it wants international support for Afghanistan," he said. "Presumably it wants its leaders to be able to travel freely in the world, sanctions lifted, etc."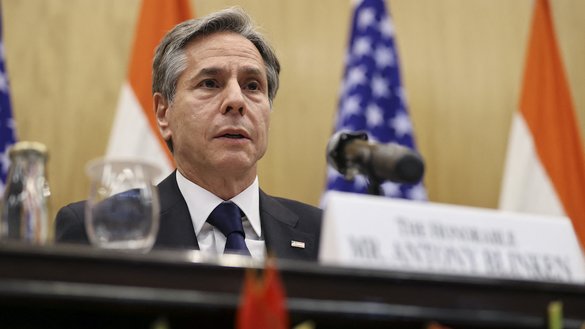 "The taking over of the country by force and abusing the rights of its people is not the path to achieve those objectives."
"There's only one path," Blinken said. "And that's at the negotiating table to resolve the conflicts peacefully, and to have an Afghanistan emerge that is governed in a genuinely inclusive way, and that is representative of all its people."
Reports of "atrocities" committed by the Taliban in recent weeks as the insurgents make advances across the country are "deeply, deeply troubling" and "certainly do not speak well to the Taliban's intentions for the country as a whole", he said.
Concerns over Afghan turmoil
The talks in New Delhi centred on the turmoil in Afghanistan and common worries about China.
Officials in New Delhi have expressed concern that a Taliban takeover could lead to security threats against India.
The world wishes to see an "independent, sovereign, democratic and stable Afghanistan at peace with itself and with its neighbours", said Indian External Affairs Minister Subrahmanyam Jaishankar.
But Afghanistan's "independence and sovereignty will only be ensured if it is free from malign influences", he said.
Blinken called India's contribution to the stability of Afghanistan "vital".
A firm backer of the Afghan government, India has spent billions on development projects in Afghanistan.
In a speech in Kabul, President Ashraf Ghani reiterated the government's willingness to enter into direct talks with the Taliban, stressing that there is no military solution to the situation in Afghanistan.
He urged the international community "to review the narrative of the willingness of the Taliban and their supporters on embracing a political solution".
"In terms of scale, scope and timing, we are facing an invasion that is unprecedented in the last 30 years," Ghani said.
"These are not the Taliban of the 20th century ... but the manifestation of the nexus between transnational terrorist networks and transnational criminal organisations," he said.