ISLAMABAD -- Facing additional sanctions over its systematic mistreatment of Muslims and ethnic minorities in the Xinjiang region, Beijing sent its top diplomat to Islamabad for the Organisation of Islamic Co-operation (OIC) meeting Tuesday–Wednesday (March 22–23).
Pakistani Prime Minister Imran Khan hosted the two-day meeting of 57-member OIC, with Chinese Foreign Minister Wang Yi as a special guest.
Wang's role as a "special guest" underscores China's increasing influence among OIC countries but also member countries' willingness to overlook Beijing's anti-Muslim policies at home, analysts say.
Wang's attendance at the conference is "rather ironic", said Michael Kugelman, deputy director of the Asia Programme at the US-based Wilson Centre.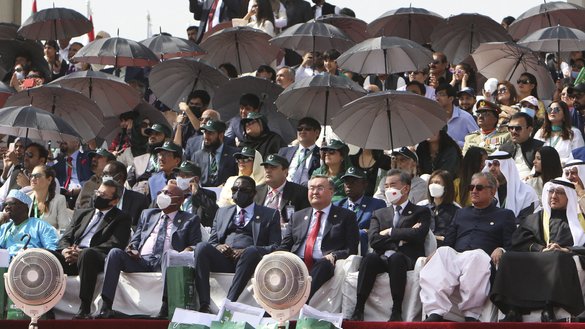 "It's also a reminder of the high value that the OIC states place on their commercial relations with Beijing," he tweeted Monday.
US Secretary of State Antony Blinken on Monday announced new visa restrictions on Chinese officials for their actions to repress ethnic and religious minorities both inside and outside the country.
In a statement, which provided no specific details on which officials would be targeted, Blinken also reiterated a call for China to "end its ongoing genocide and crimes against humanity" in the northwestern region of Xinjiang.
Xinjiang is in the grip of a years-long "anti-terrorism" campaign that has seen more than a million Uighurs and other Muslim minorities detained in a sprawling network of "re-education" camps, according to rights groups.
The visa restrictions will be focused on Chinese officials complicit in policies aimed at repressing religious and ethnic minorities, as well as other dissidents, human rights activists and journalists, said Blinken.
The actions by People's Republic of China (PRC) officials extended outside China's borders, according to the US State Department.
"The United States rejects efforts by PRC officials to harass, intimidate, surveil and abduct members of ethnic and religious minority groups, including those who seek safety abroad, and US citizens, who speak out on behalf of these vulnerable populations," Blinken said.
"We again call on the PRC government to cease its acts of transnational repression, including attempting to silence Uighur American activists and other Uighur individuals serving the American people by denying exit permission to their family members in China," he added.
The new actions come only a few days after President Joe Biden spoke via video call with Chinese leader Xi Jinping, in which the US president sought to pressure Xi not to provide support for Russia's invasion of Ukraine.
In a speech Tuesday, Wang told OIC members that China stands ready to elevate its solidarity, friendship and co-operation with the Islamic world to a new level, China's state-run Xinhua agency reported Wednesday.
China supports Islamic countries' safeguarding sovereignty, independence and territorial integrity, Wang said.
China will continue to firmly stand together with all Islamic countries, he added.
Wang's rhetoric differs vastly from the reality inside China.
Independent investigations and interviews with former inmates of the camps in Xinjiang have brought to light physical and mental torture, brainwashing, systematic rape and sexual abuse inside the camps.
Human rights organisations and a growing number of Western governments -- including the United States, Canada, the Netherlands, Britain, Belgium and France -- say Beijing's policies in Xinjiang amount to "crimes against humanity" and "genocide".
Additionally, Chinese authorities have used various pretexts to damage or destroy two-thirds of the region's mosques and other sacred Islamic sites, Human Rights Watch said in a detailed report last April.
Afghan aid
Pakistan on Monday also announced the establishment of a humanitarian trust fund for Afghanistan, which will be operated by the Islamic Development Bank and funded through donations from OIC member states, Islamic financial institutions, donors and international partners.
After the meeting Wang made a surprise visit to Kabul on Thursday to confer with its rulers, a week before Beijing hosts a meeting of Afghanistan's neighbours on how to assist the impoverished country.
But many doubt the motivations and goals behind China's provision of humanitarian aid and millions of dollars in financial assistance to Kabul.
"China has started a dangerous game in Afghanistan," Tamim Nuristani, the former governor of Nuristan province and a US-based political analyst, told Salaam Times in January.
"China's policy has always been to support countries with generous packages through different channels, including providing loans," he said.
"After countries fail to repay the loans, China uses its leverage to pressure those borrowing governments to give it access to each country's natural and mineral resources."
"By exerting its dominance over Afghanistan, China plans to build an economic and political corridor through Pakistan, Afghanistan, Iran, Central Asia and the Middle East," Nuristani added.