KABUL -- Hundreds of civilians were killed or wounded in attacks claimed by the Taliban and "Islamic State of Iraq and Syria" (ISIS) over four days in October.
The attacks, particularly those that targeted people praying in mosques, have spurred widespread outrage and condemnation among clerics, human rights organisations and the Afghan people.
ISIS claimed responsibility for a suicide blast inside Imam Zaman mosque in Kabul that slaughtered 56 Shia worshippers and injured scores of others during Friday evening prayers October 20. Women and children were among the dead.
Another terrorist attack on the same day hit a Sunni mosque in Dolaina District of Ghor Province, killing at least 10 Afghans.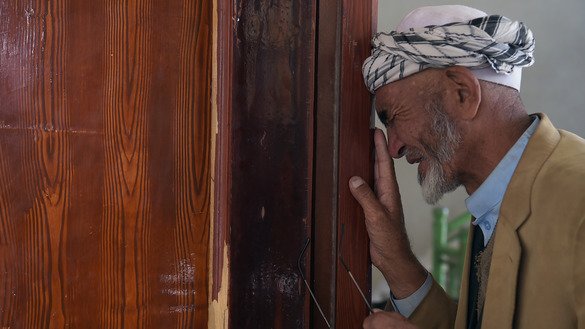 Days earlier, on October 17, the Taliban attacked a police headquarters in Paktia Province, killing at least 41 Afghans -- 21 police officers and 20 civilians. Another Taliban attack that same day near a police headquarters in Ghazni Province left 25 security personnel and five civilians dead.
Concern over rising civilian casualties
"We condemn in the strongest terms the Taliban attack in Paktia Province and the suicide attack on Kabul's Imam Zaman mosque, as well as the attack on the mosque in Dolaina District of Ghor Province," said Bilal Sediqi, a spokesman for the Afghanistan Independent Human Rights Commission.
"We are deeply concerned about the rise in civilian casualties caused by the [insurgency]," he told Salaam Times.
"The targeting of mosques and civilians is an inhumane and illegal act that contravenes Islamic principles and international human rights laws," he said. "They are considered gross violations of human rights, crimes against humanity and war crimes."
"We ask the government to prosecute killers of civilians," said Sediqi.
"These brutal and senseless attacks against people at prayer are atrocities," Tadamichi Yamamoto, head of the United Nations Assistance Mission in Afghanistan, said in a statement October 21.
During the first nine months of 2017, attacks on Shia Muslims as they attended mosques or religious ceremonies resulted in 278 civilian casualties -- 84 deaths and 194 injured, according to the statement.
"The persons most responsible for the attacks must be brought to justice," said Yamamoto.
Deliberately killing civilians
At Imam Zaman mosque, the attacker deliberately targeted civilians, according to eyewitnesses.
"I was doing my ablution in the mosque's yard when a suicide bomber detonated himself among the worshippers," said Ali, a local resident and an eyewitness to the attack.
"Before blowing himself up, the suicide attacker threw two hand grenades among the women who were praying on the other side of the mosque," he told Salaam Times. "As a result, a number of women and children were among the dead and wounded."
The civilian victims in the Taliban attack on Paktia police headquarters were waiting to receive national identification cards or passports, according to Nawab Mangal, a member of parliament representing Paktia.
"Among the victims was a young man who wanted to get a passport for his mother so that he could send her on the Hajj," he told Salaam Times.
"My brother went to get identification cards for his two sons so that he could register them in school next year, but he was martyred in the blast," Muhibbullah, a resident of Paktia province, told Salaam Times. "My brother is survived by his two little girls and two sons, who are 8 and 10 years old."
"Terrorist groups do not have the power to face the security forces directly," Interior Ministry spokesman Najib Danish told Salaam Times. "So they resort to suicide attacks and targeting of civilians to compensate for their severe defeats on the battlefield."
Enemies of Islam
"Foreign countries, in partnership with terrorist groups, are trying to create divisions among ethnic and sectarian groups in Afghanistan, but they will never succeed in their un-Islamic agenda," Deputy Minister for Hajj and Religious Affairs Abdulhaq Abid told Salaam Times.
"Attacking mosques and religious places and murdering worshippers are un-Islamic, inhuman and non-religious actions that have no justification," Qayamuddin Kashaf, chairman of the National Ulema Council, told Salaam Times. "Targeting houses of worship and worshippers has no place in any religion or sect."
"The usual victims of terrorist groups have always been innocent Afghans," Sayyed Jawad, a 33-year-old Kabul resident, told Salaam Times. "The Taliban and ISIS have no real belief in Islam or humanity. The killing of civilians and of innocents is against all Islamic principles and human values."
"Mosques are houses of God and places of worship," Mawlawi Mohammad Saber, imam of Chahar Yar Muqim mosque in Ghor Province, told Salaam Times. "By targeting these sacred places, the Taliban and ISIS prove that they do not believe in Islam, the Koran or the mosque."
"They are enemies of Islam and Afghanistan," he said.