KHOST -- An attack Tuesday (October 17) on a police headquarters in Paktia Province has left at least 41 dead, says Deputy Interior Minister Gen. Murad Ali Murad.
Murad made his remarks at a news conference in Kabul Tuesday.
The dead included 21 police officers and 20 civilians. The provincial police chief, Toryalai Abdyani, was among the dead, confirmed the Interior Ministry.
Two suicide car bombs exploded outside a training centre near police headquarters in Gardez, the provincial capital, allowing a number of gunmen to launch their assault, said the Interior Ministry and local police, as cited by AFP.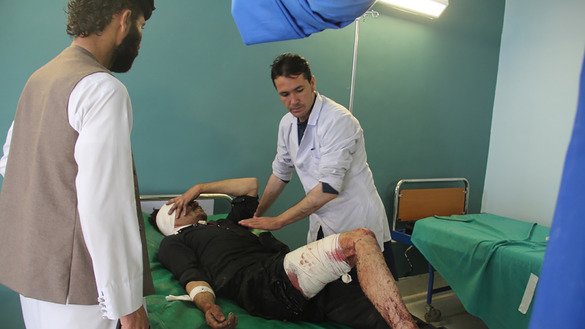 The Taliban claimed responsibility for the attack on Twitter.
Casualties were reported variously and expected to rise. "Forty-five people have been killed and nearly 200 others injured," Hameedullah Hameedi, deputy health director of Paktia, told Salaam Times.
"The wounded have been transported to central and other private hospitals," he said. "Some female students who lived in a dorm near the attack site have been also injured."
"Most of the victims are civilians who came to police headquarters to get their passports and national IDs," said a statement from the Paktia governor's office.
Paktia borders Pakistan's militancy-plagued tribal areas, where the Taliban-affiliated Haqqani Network has a presence.
Ghazni attack
Separately on Tuesday, another attack in Ghazni Province, about 100km from Gardez, left 25 security personnel and five civilians dead, Gen. Murad said in the new conference.
The attack followed the same pattern, with "terrorists" detonating an explosives-laden Humvee vehicle near a police headquarters and attackers storming the building, Mohammad Arif Noori, the spokesman for Ghazni's governor, told AFP.
Dozens of Taliban fighters were killed, said Ghazni police chief Mohammad Zaman.
[Khalid from Jalalabad contributed to this article.]