KABUL -- The Afghan government is arming civilians during the month of Muharram to provide better security to mosques after several deadly attacks on Shia religious sites.
Afghan Second Vice President Sarwar Danish announced the extra protection for mosques on September 18.
The Muharram security policy also involves the deployment of more troops and police around places of worship, particularly those of the Shia minority.
Public participation and co-operation with security agencies in providing security to mosques and congregation halls for Shia commemoration ceremonies (Takia Khanas) is a key feature of this policy, Danish said.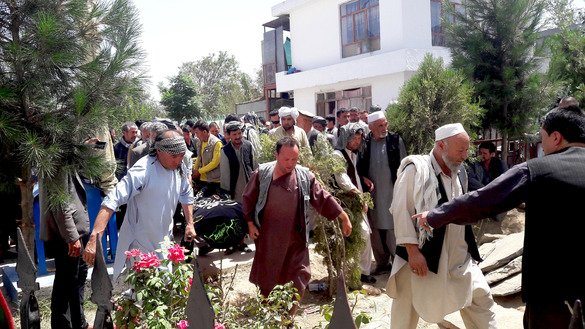 "The aforementioned policy is not limited to the month of Muharram; rather it will be implemented in all provinces of Afghanistan within the next few years," he said, adding that the government will provide weapons, equipment and salaries to civilians recruited to provide security.
Training citizens to serve and protect
The National Security Council has approved the policy, and training of more than 500 citizens to protect Shia sites during Ashura has ended, according to Afghan officials.
Additional training awaits them after Muharram.
"Some 505 local residents from 101 mosques were referred to the Ministry of Interior for military training," said Abdul Ahmad Ali Yazdanparast, a Kabul Provincial Council member on the national government's mosque security committee, adding that the ministry hired five individuals from each mosque.
"The Interior Ministry will provide these individuals with two days of military training and will arm them on the seventh day of Muharram, so that they can work alongside security forces to protect mosques and Takia Khanas during the month of Muharram," he told Salaam Times.
"Moreover, the Ministry of Interior will further provide them with two more months of [military] training after the thirteenth day of Muharram," he said.
"The recruited individuals, in co-ordination with the security forces, will be present in mosques during religious ceremonies and Friday prayers to provide security," he said.
"Strong security measures have been taken by the security forces as well as by the public itself," said Maj. Gen. Afzal Aman, head of the Kabul Garrison General Command.
"[Shia] can practice their religious ceremonies during the month of Muharram in a safe environment," he told Salaam Times. "We assure them that during this month the terrorists will not be able to carry out any terrorist activities to target Shia and their religious ceremonies."
"There exists no concern regarding arming of these individuals," Aman said, referring to the 505. "They have been biometrically checked, they know the residents of their areas very well, their homes are near the mosques, they do not travel anywhere else and they co-operate with security forces to provide security."
Targeting Shia
The "Islamic State of Iraq and Syria" (ISIS) has been targeting Shia mosques and religious sites in Afghanistan "contrary to all Islamic and humane principles", said Sheikh Sadeqi, the prayer leader of Sayyid al-Shuhada mosque in Kabul.
"So far, they have martyred or wounded hundreds of worshippers," he told Salaam Times. "This is one of the main sources of concern for the Shia community."
"Fortunately, the government has decided to arm the local population so that it, along with security forces, will be able to protect mosques and Takia Khanas during the month of Muharram," he said, adding that the Shia community welcomes the government's security plan.
ISIS has carried out a number of attacks against Shia in Afghanistan during the past two years.
On August 1, an ISIS attack on a Shia mosque in Herat left 33 worshippers dead and 66 wounded.
In June, ISIS claimed responsibility for a suicide attack on a crowded Shia mosque in Kabul that killed four people.
In November last year a massive suicide blast killed at least 27 people and wounded 64, also at a Shia mosque in Kabul.
In July 2016, ISIS claimed responsibility for twin explosions that ripped through crowds of Shia Hazaras in Kabul, killing at least 85 and wounding more than 400.
'The enemy of Afghanistan'
"ISIS is the enemy of Shia in Afghanistan," Ali Jan, a resident of Kabul, told Salaam Times.
An ISIS suicide bomber and gunmen on August 25 killed at least 28 worshippers in Imam Zaman mosque in Kabul during Friday prayers.
"After that incident, local residents purchased weapons to protect their lives and their mosques and to prevent the ISIS from attacking them," Jan said.
"After the recent unfortunate incidents, the public should not rely on security forces alone for protection," Danish said after a meeting with top security officials and Shia leaders on September 18. "The public, especially the youth ... needs to focus on securing the mosques during Muharram."