HERAT -- "The Islamic State of Iraq and Syria" (ISIS) on Saturday (April 2) claimed responsibility for two bomb explosions in which at least five people were killed and 20 more wounded in Herat city.
The incident happened Friday evening when a group of young men and children had gathered at a playground.
"Today we gathered there as we always do, then the explosions happened," Jan Ali, one of those wounded, told TOLOnews.
The blasts happened in quick succession at the same location.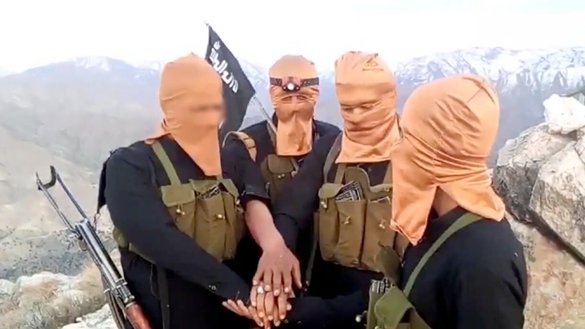 "Five people have been killed, and 20 others have been wounded," Sabit Harwi, spokesman for the intelligence office in Herat, told AFP.
He said the entire area had been de-mined recently to remove all unexploded ordnance left from the war, and the bombs that exploded on Friday appeared to have been planted just before the group came to play.
Local police defused two other bombs found in the area, Harwi said.
Ibrahim Mohammadi, director of Herat's ambulance service, confirmed the toll and said the dead included a child.
Five of those injured are in critical condition, Faiz Mohammad Faizan, head of Herat's regional hospital, told TOLOnews.
All the victims are civilians, according to those injured and their relatives.
Bombs, land mines
In a statement posted online, ISIS said members of its Khorasan branch (ISIS-K) in Herat are responsible for the attack, which targeted Shia.
In a separate video posted the same day, ISIS members in Afghanistan are seen pledging allegiance to the new global leader of the group, Abu Hasan al-Qurashi.
Al-Qurashi was named as the new ISIS leader just over a month after his immediate predecessor, Abu Ibrahim al-Qurashi, blew himself up, along with his family members, during a US raid in Syria.
Herat has been relatively peaceful for several weeks, but in January, a bomb attached to a fuel tank of a minibus killed seven people in an area inhabited by the minority Shia community in the city.
More than 50 square km of land in Afghanistan's western region, including 15 square km in Herat province, are contaminated with mines and explosive ordnance, according to local mine-clearing agencies in the area.
On average, between eight and 10 civilians are killed every month in the region in explosions caused by previously unexploded land mines, Abdul Jalil Sadeq, a co-ordinator at a mine-clearing agency in the western region, told Salaam Times last month.
In a separate incident earlier on Friday, five children were killed when an unexploded mortar shell accidentally blew up in Helmand province, Mohammad Qasim Riaz, an official with the provincial department of information and culture, told AFP.