HERAT -- With the deaths of six children from unexploded ordnance and land mines in recent weeks, concerns are rising across Afghanistan about the lasting dangers of these remnants of war.
Four children -- three brothers and their cousin, a girl -- were killed and another child was wounded when a land mine exploded on February 21 in a residential area of Herat city.
The children were between three and 12 years old.
They had gone out to collect garbage and accidentally brought a mine home with them, which exploded inside their house while one of them was cleaning its surface.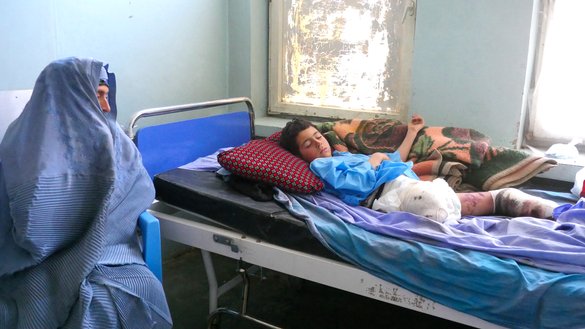 Just days later, on February 27, two children were killed and two others wounded when a mortar exploded in Khanabad district, Kunduz province.
The explosion happened when the children were playing with the device.
Nayeb Qaderi, the father of the three deceased boys in Herat city, said if the government had cleared residential areas of unexploded ordnance and land mines, his sons would still be alive.
"I am a labourer, and I raised my children with love and hardship," he said. "I used to work for 50 AFN ($0.55) a day and could make a living for my children. Now, I've lost my three sons in an instant because of the government's failure."
"When they took my sons' bodies to the hospital, I did not have 20 AFN [$0.22] to hire a taxi and bring them home," he said. "People at the hospital collected the money, and only then was I able to bring their bodies home."
Mariam, an aunt of the four children killed in Herat, emphasised that the government should have cleared the explosive remnants of war.
"The authorities did not offer any help even after the incident," she said. "We had to rush the children's bodies to the hospital on a three-wheeler. By the time we reached the hospital, only one was still alive."
"My children had gone out to collect garbage, and brought the land mine with them," said Nazanin, the mother of the three deceased boys. "We did not know that it was an explosive device and could detonate."
"In order to fight poverty and overcome economic challenges, my children were collecting plastic containers and selling to make a living, but I lost three of them," she added.
Lasting danger of land mines
More than 50 square km of land in Afghanistan's western region, including 15 square km in Herat province, are contaminated with mines and explosive ordnance, according to local de-mining agencies in the area.
On average, between 8 and 10 civilians are killed every month in the region in explosions caused by unexploded land mines, said Abdul Jalil Sadeq, a co-ordinator at a mine-clearing agency in the western region.
"Land mine clearance operations have recently been suspended, and this has increased the imminent risk of unexploded ammunition," he said. "A number of donor countries have pledged to provide financing support. Once funding becomes available, we shall resume the mine clearance operations."
"In some residential areas, the risk imposed by land mines and other unexploded devices is extremely high. It threatens the lives of local residents, especially children who are unaware of the damaging impact of these devices," he said.
Afghanistan has consistently been ranked as one of the countries that have been most impacted by land mines and unexploded ordnance because of the prolonged conflict, which lasted nearly four decades.
Excessive use of roadside mines during the war in the past 20 years has made most roads dangerous.
Uncovering and dismantling all these land mines and unexploded ordnance are not an easy task and will take several years, analysts say.
"The mine clearance operations require resources and professional personnel, which unfortunately do not exist at the present time," said Mohammad Naim Ghayur, a military analyst in Herat city. "Given the circumstances, it is not easy to mobilise the necessary capacity and resources."
International support needed
"Clearing Afghanistan's territory of land mines and unexploded ordnance will not be possible unless the international community stands alongside Afghans and provides adequate support," he said.
If mines pose this much risk for civilians in the centre of Herat city, the situation in remote districts and villages could be far more dangerous, said Sayed Ashraf Sadaat, a civil society activist in Herat.
"Mines have been planted everywhere over the past 20 years, and most of these unexploded mines are still buried underground," he said. "Anyone who steps on these mines will be killed."
"Land mines and unexploded ammunition are real threats that need to be dismantled under a robust and co-ordinated programme," Sadaat added. "If the authorities continue to ignore the potential risks, the lives of many innocent Afghans will be in danger."