KUNDUZ -- Work is under way to clear almost 80 localities in Kunduz province of deadly land mines and other explosives, say officials of the HALO Trust mine clearance organisation.
HALO stands for Hazardous Area Life-Support Organisation.
In recent years, large areas of Chahrdara, Dasht-i-Archi, Imam Sahib, and Khanabad districts as well as Kunduz city were cleared of land mines and improvised explosive devices (IEDs), according to Sayed Agha Atiq, the trust's director in Kunduz.
However, workers have not cleared another 80 sites because of fighting during the fall of the previous government in August, he said.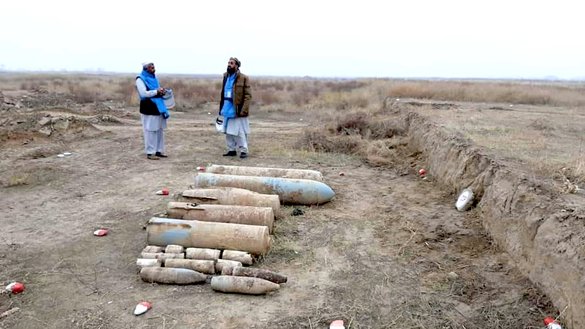 "At the request of locals in Kunduz city and a number of districts, our demining team has surveyed these areas, and the demining work is scheduled to begin next week," Atiq said on November 22.
The survey took place between October 23 and November 21, he added.
Workers will gradually clear vast areas in Ortablaqi, Taluka, Gul Tepa and Hazrat Sultan in Kunduz city and in Chahar Dara, Dasht-i-Archi, Imam Sahib and Khanabad districts of mines and unexploded ordnance, he said.
HALO Trust was founded in 1988 specifically to tackle ordnance left behind during the Soviet occupation of Afghanistan.
The country was so badly contaminated, however, that the clearance work never stopped -- even after multiple countries signed an international treaty banning the use of land mines in 1997, with Afghanistan ratifying the convention in 2002.
Deadly risk
Roadside mines and other IEDs that were buried on roads in August are now threatening lives, say Kunduz residents.
Mines still pose a major risk to locals in residential areas, said Kunduz resident Mohammad Edreess Ahmadi.
"I urge the demining teams to thoroughly inspect areas surrounding the Kunduz airport because many residents believe that these areas might have badly been contaminated with land mines and IEDs," he said.
Any undetected mines put locals, especially children, at risk, he said.
Abdul Wahid Hanafi, a member of a local council in Chahar Dara district, said that his fellow villagers are aware of land mines and IEDs in many areas in the district.
"Unfortunately, two children and a woman were killed, and five others were injured when a mortar shell exploded in Pol-e-Sayed Mokhtar village of Chahar Dara district on November 3," Hanafi said.
The mortar shell exploded after children brought it home and played with it, Hanafi said.
"When we went to the house, we saw pieces of children's bodies scattered everywhere," he said.
"I cannot forget the yells and screams of the relatives of the affected family at the time."
Residents of villages in Daftani, Wazir Khan, Malaqali, Shahrwan, Tajik Qeshlaq, Daviha, Hazhda Nahri and other areas of the district have also been facing potential risks posed by land mines on roads, according to Ghulam Haidar Laghmani, a tribal elder in Dasht-i-Archi district.
An explosion in the village of Shahrwan in October killed two civilians and wounded three others as they headed home in a car, he said.
Thousands of casualties
Land mines and IEDs continue to harm innocent civilians, leaving thousands maimed or killed, said Shamsuddin Qayoumi, a civil society activist in Kunduz.
"I lost my father in a land mine explosion in Imam Sahib district four years ago. I can feel the pain of those whose lives have been ruined by this unseen enemy," he said on November 23.
Qayoumi, whose father was a police officer, called on all families to be wary of areas marked by red rocks used to designate mines.
About 41,000 Afghan civilians have been killed or wounded by land mines and unexploded ordnance since 1988, according to the United Nations Mine Action Service.
More than two-thirds of the victims were children, many of whom spotted the deadly devices while playing and picked them up.
Afghanistan recorded more than 100 casualties from mid-2020 through October 2021, according to an annual report by the Landmine and Cluster Munition Monitor published November 10.