HERAT -- It was 1pm in the afternoon on the 12th day of Ramadan, and 12-year-old Nader Shah had just returned from school.
He had not yet eaten lunch and was playing near his home in Shindand district, Herat province, when he was hit by a Taliban mortar shell.
His father, Janat Gul, quickly arrived at the scene and saw his son, unconscious, with blood all over his body.
The mortar had severed one of his legs and wounded Shah across his body, including his other leg.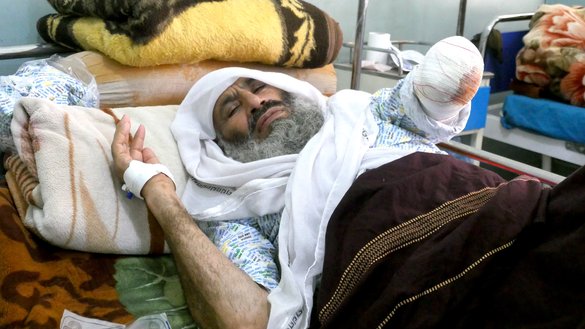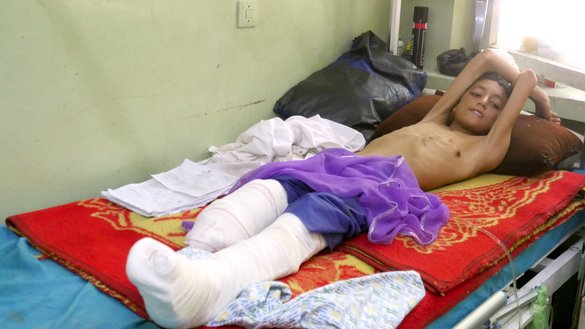 Gul immediately rushed his son to the Herat regional hospital in Herat city, about 130km from Shindand district.
After spending almost 40 days in the hospital, Nader is still in shock and severe pain.
His wounds are very deep and he will need time to recover from the physical and psychological impact of his maiming, said doctors.
Gul, who has witnessed his son's pain day and night at the hospital, said he is unable to cry anymore and that he blames the Taliban for killing innocent Afghans and causing devastation in the country.
"I urge the government to eliminate the Taliban and root out extremism so that no more innocent Afghans are hurt by their terrorist activities," he said.
The Taliban have been killing civilians every day and destroying Afghanistan under the name of their false "jihad", he said, adding that their war has no justification.
"I pray to Almighty God to destroy the Taliban because this terrorist group has torn Afghanistan into pieces," he said.
War victims
The number of Afghans disabled by war increased by 50% in the first four months of 2021, compared to the first four months of 2020, according to the International Committee of the Red Cross (ICRC).
The ICRC orthopaedic centre in Herat province admitted 64 patients disabled by explosions -- including eight children and three women -- during the first four months of the year, said Sayed Omid Shahyan, director of the centre.
Those admitted were injured by roadside land mines, mortar shellings or other improvised explosive devices (IEDs), he said.
These victims of war will remain disabled for the rest of their lives because of the loss of one or more limbs, he said.
Noor Gul, 28, was a truck driver until he lost both his legs to a roadside land mine as he was travelling from Herat to Kabul.
Herat regional hospital has been treating him since the blast on April 25.
Gul blamed the Taliban for ruining his life.
"I was the only breadwinner of my family of three children, my wife and elderly parents," he said. "I feel so heartbroken and do not know how to manage my life going forward."
He urged the Taliban to immediately cease their attacks and the killing of innocent civilians.
"The Taliban must embrace peace and stop the killing of civilians and the destruction of Afghanistan," he said.
Khalid, who provided only his first name, lost one of his legs and sustained severe injuries to the other in a Taliban car bombing on May 3 in the centre of Farsi district, where he lives.
"The Taliban militants are very active in and around our village," he said, adding that residents encountered many difficulties while commuting to the district centre and were afraid of the Taliban's activities during the night.
He recalled a recent incident when Taliban militants went to his relatives' house and then murdered them outside their home.
All Afghans are waiting for peace as only durable peace will bring prosperity to Afghanistan, he said.
Crimes against humanity
Islamic scholars have condemned the Taliban's suicide bombings and violence, which continue to cause civilian casualties and leave many disabled.
The Taliban's insurgency and the group's deliberate targeting of civilians are crimes against humanity and have no justification under Islam, said Mawlawi Abdul Ghaffar Akbari, a religious scholar in Herat city.
"Because the Taliban are unaware of Islamic principles, they continue to kill Muslim Afghans and wage their unjustified war," he said.
Planting mines along highways, which causes death and disability, violates Islamic values and therefore is strictly forbidden, Akbari said.
"Murdering an innocent Muslim is a great crime, and its perpetrators will go to hell forever," he said.
Targeting civilians during a conflict and planting land mines on public roads are considered war crimes, said Noor Mohammad Pazhman, a civil society activist in Herat city.
"Most of the victims of Taliban mines are civilians," he said. "Warring parties should not threaten civilian lives because [civilians] have no role in the ongoing conflict."
"The Taliban have never adhered to the universally accepted principles of war, which has led to civilian casualties," he said.
In many cases, "the Taliban have been using civilians as human shields", Pazhman said, adding that the practice is a war crime and therefore the Taliban "should be prosecuted by international judicial institutions".