KABUL -- Afghans maimed by Taliban-planted mines and improvised explosive devices (IEDs) are speaking out about the physical and emotional challenges of losing one or more limbs.
In the name of "jihad", the Taliban show no regard for human life or the future of Afghanistan, wounded citizens say.
Mines and IEDs planted on roads and sidewalks and in residential areas kill hundreds of Afghan civilians and cause thousands of others to lose their limbs each year, according to aid workers.
Destroying lives, families
Mohammad Nasim, 45, a shopkeeper and resident of Takhar Province, lost one of his legs in a mine explosion January 5.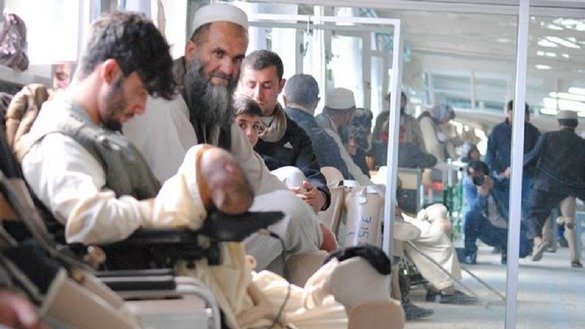 Nasim was visiting relatives in Khanabad District, Kunduz Province, when a mine planted by Taliban in an alley exploded and tore through one of his legs.
He is receiving treatment at the International Committee of the Red Cross (ICRC) Orthopaedic Centre in Kabul.
Nasim's brother, also a shopkeeper in Takhar, is helping to support his family, but cannot afford to provide for them long term, Nasim told Salaam Times.
"I wonder about the future of my loved ones," he said.
Mohammad Nabi, 48, a farmer from Logar Province, lost both of his legs in a mine explosion in March 2016.
Before the explosion, Nabi supported his five children, but now he has no idea how he will be able to provide for them.
"Damn this war and may a curse be upon the Taliban, who in the name of 'jihad' destroyed my life and the lives of my children," Nabi told Salaam Times with tears in his eyes.
Childhood dreams shattered
Shafiqullah, now 13, was on his way to play soccer in a field in Kunduz Province in August 2016 when a mine planted by militants exploded, severing one of his legs.
Shafiqullah has been under treatment in hospitals for a year, and doctors have made him a prosthetic leg, but he will never play soccer as he once dreamed.
"With this artificial leg, I cannot even walk as well as I used to do in the past," he told Salaam Times. "I wish I could play soccer again with my friends."
Another mine planted by the Taliban destroyed the life of Amir Mohammad, 25, of Gero District, Ghazni Province, who lost a leg in an explosion last December.
"The Taliban destroyed my entire life and future," Mohammad, who is hospitalised in Kabul, told Salaam Times. "I am now a disabled person who will never achieve the dreams I once had."
Psychological effects
According to psychologists, individuals who lose their limbs not only suffer from physical disability, they also sustain extreme psychological pressure.
"The majority of these people will never be able to become as active as they once were," said Mohammad Naser, a psychologist in Kabul.
According to him, after such unfortunate incidents, these individuals may suffer from a sense of humiliation and psychological pressure.
"If they do not receive the necessary attention and care, there is a high probability that they will suffer from severe mental disorders or memory loss," he told Salaam Times.
Creating opportunities
"Almost 1,500 war-disabled people are admitted to the ICRC Orthopaedic Centre in Kabul every year, 80% of whom are those who lose their limbs to anti-personnel mines and roadside bombs," Dr. Najm al-Din Helal, head of the centre, told Salaam Times.
The ICRC Orthopaedic Centre opened in Kabul in 1988. It helps disabled victims of explosions to overcome the economic and physiological hardship after losing their limbs.
The organisation provides treatment and prosthetic limbs for disabled individuals, Helal said.
"The centre also helps them to integrate into society -- offers them vocational training and provides business loans, making arrangements to educate their children, as well as creating job opportunities for them," he said.