LASHKARGAH -- About 7,000 residents of Helmand Province received prosthetic limbs -- and the independence that comes with additional mobility -- over the past year, according to the provincial office of the International Committee of the Red Cross (ICRC).
Most of the recipients of ICRC prosthetic limbs and other services are victims of war, officials say.
"Since December 30, 2017, we have made artificial hands, arms and legs for about 7,000 residents of this province," Anthony Abi Nader, chief of the ICRC in Helmand, told Salaam Times on December 19.
"In addition to providing orthopaedic services, assistance to displaced persons, and arrangement of contacts between prisoners and their families, the [ICRC] in Helmand transfers dead bodies," he said.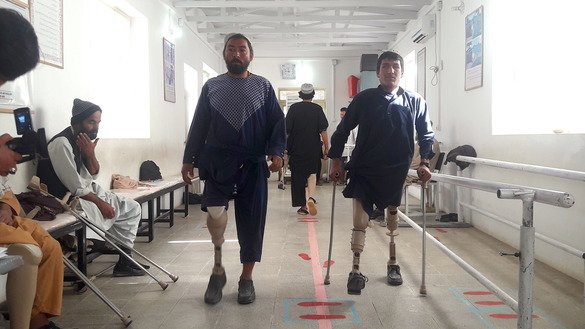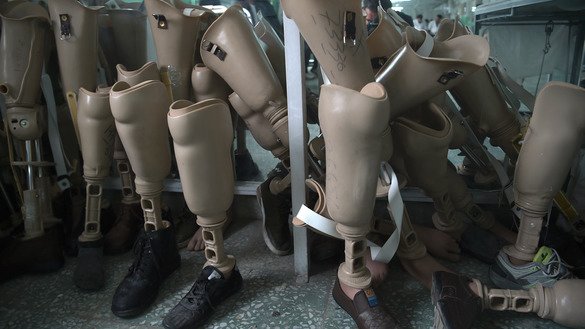 The ICRC transfers the bodies of those killed on the battlefield to their families.
It performs all these services without charge.
"Patients with various disabilities have been referred to our this centre, and more than 200 disabled people per week register their names here," he said.
"Unfortunately, this number has increased [in 2018]," he added.
Helping war victims
The ICRC's services have brought joy and independence to Najibullah, 45, a resident of the Bolan area of Lashkargah, who lost one of his legs in a militant attack.
Najibullah's motorbike ran over a roadside bomb, presumably planted by Taliban militants, on January 15, 2017, in Nad-e-Ali District, Helmand Province.
"I am happy for the help of the Red Cross as it made a leg for me and now I can walk," he told Salaam Times. "Before, I could not walk and I was sitting at home."
Insurgents "stopped me from going to the mosque, while [the ICRC] gave me the leg, which helped me go back to the mosque, and now I am happy as I can pray in the mosque", he said.
The ICRC also supplied prosthetic legs for Nisar Ahmad, 25, who lost both his legs to a roadside bomb, reportedly planted by the Taliban, on October 20, 2016.
"When I did not have legs, my mother, sister and my whole family [had to help] me," he told Salaam Times. "Now I can walk myself, and I am no longer a burden on the shoulders of others."
"Now I have both of my legs," he said. "I can walk to the bazaar and come back."
"I want all who have no legs and arms to have their legs and arms made for them so they no longer need others' help," Ahmad said. "I want the Red Cross ... to continue its assistance."
Gratitude for the ICRC
Helmand Province residents and civil society activists have called on the ICRC to continue providing its invaluable services to the victims of war.
"We are pleased with the help of the Red Cross, which assists war victims here," Nazar Mohammad Rodi, 27, a civil society activist, told Salaam Times.
"Some Afghans have lost their legs and hands in land mine explosions or in the fighting, but this organisation [ICRC] has made them [prosthetic limbs]," he said.
"Not every family has the thousands of dollars to go abroad and have artificial arms and legs made for its children," he said, referring to the small minority of Afghans who can afford to wait in Pakistan or India with their injured children for the completion of artificial limbs.
"God loves those who help others," Abdul Hadi Jafari, imam of the Mohammadi mosque in the Karta-e-Lagan area and a member of the ulema council of Lashkargah, told Salaam Times.
While militants kill and maim Afghans, the ICRC is helping them, he said.