KABUL -- Residents of Kunduz and Faryab provinces are raising concerns after the International Committee of the Red Cross (ICRC) decided to scale back its operations in Afghanistan earlier this month.
The ICRC October 9 announced it would "drastically reduce" its presence in northern Afghanistan after a series of deadly attacks on its staff.
ICRC offices in Maimana, Faryab Province, and in Kunduz Province will be closed, while its sub-delegation in Mazar-e-Sharif, Balkh Province, will be seriously downsized, the agency said in a statement.
"The decision came in the wake of three consecutive attacks on Red Cross employees in northern Afghanistan," ICRC spokesman Siavash Kohzad told Salaam Times.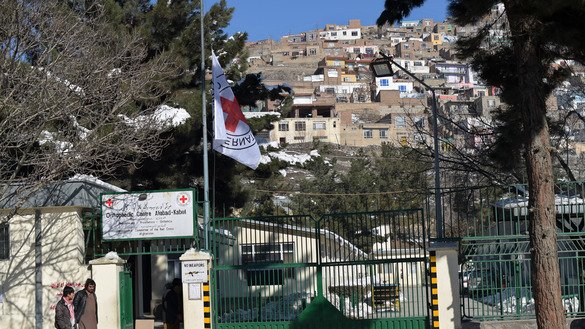 "Although the Red Cross office is not happy with the decision, the unfavourable security conditions in northern Afghanistan have forced us to limit our activities," he said.
Khozad pointed out the range of Red Cross activities in Afghanistan, saying they are not limited to the health sector.
"They also include food aid and agricultural assistance, both of which are badly needed by Afghan villagers," he said. "It is unfortunate that today we cannot provide our help to those in need."
When asked whether the ICRC would consider resuming its activities in northern Afghanistan, Kohzad said it would "depend on the security situation and the decision of the Red Cross leadership" in Geneva, Switzerland.
"We hope the security situation and work conditions will improve and become favourable," he said.
The ICRC has been operating in Afghanistan for 30 years, treating many of those wounded in conflict.
About 120 foreign workers and more than 2,000 Afghans were employed by the ICRC before the closures, according to the agency. The ICRC said it is working on a severance and social plan for the staff who will lose work after the shutdowns.
Residents concerned by closures
Residents of Kunduz and Faryab provinces say they are worried about the closures.
"The Red Cross was good," said Haiwad Hasanzai, 25, a resident of Kunduz city. "It provided great medical care to those who were injured in war. It had competent foreign and local physicians, and medicine was provided free of charge."
"Now that [the ICRC] has left Kunduz, we must transfer those wounded on battlefields either to Kabul or to Mazar-e-Sharif," he told Salaam Times, adding that public hospitals in Kunduz lack capacity for a large number of patients and give "poor" treatment.
"The Red Cross leaving Kunduz will have a negative impact on other institutions... [dealing] a heavy blow to the residents of Kunduz," Hasanzai said. "As a young resident of Kunduz, I urge the government to provide security so that the Red Cross employees can once again return to Kunduz and resume their work."
The public hospital in Maimana is sub-standard and inadequate, and the Red Cross helped fill the void, said Ebrahim Arkin, a resident of that city.
"The Red Cross was a great help and a true blessing for the sick in Faryab Province," he told Salaam Times. "The Red Cross used to make prosthetic legs and arms for those who lost limbs in land mine explosions. It provided patients with [quality] medicines, while distributing food."
"We urge the Afghan government to either provide necessary security so that the Red Cross can resume its work or to build more hospitals and send us competent physicians," he said.
Taliban threats force Red Cross to withdraw
The Taliban's constant threat to security forced the ICRC to make its painful decision, said Abdulwadood Peyman, a member of parliament from Kunduz.
"The existence of services from various local and foreign institutions in a region represents healthy statesmanship and governance and shows that a suitable environment has been provided for their activities," he told Salaam Times.
The Taliban's presence in Kunduz means that "anyone can pose a threat to aid workers", said Peyman.
"When we see the closure of Red Cross offices in Kunduz and Faryab, it hurts [Afghans] on two fronts," Peyman said.
First, it deprives sick and injured residents of medical and non-medical assistance. Second, it frightens both locals and foreign institutions, he said.
"On behalf of the people of Kunduz, I can say that we have always co-operated with foreign institutions to implement their humanitarian activities," he said. "We hope the Red Cross will once again start its activities as soon as possible."
Government response
Meanwhile, Afghan officials say they are working to enable the ICRC to resume services.
"Our forces work day and night to suppress insurgents in all areas of Afghanistan, especially in the northern regions," Defence Ministry spokesman Gen. Dawlat Waziri told Salaam Times. "Insurgents have lost their morale. We will soon prepare Kunduz and Faryab for the Red Cross to restart its work."
"Undoubtedly, the limitation of the Red Cross's activities in Afghanistan has a negative impact on health service delivery in the country," said Ismail Kawoosi, a spokesman for the Ministry of Public Health.
"The Ministry of Public Health leadership is working with Afghan security organisations to pave the way for the reopening of Red Cross offices in Afghanistan," he told Salaam Times.