HERAT -- A group of 15 young Afghans who graduated this year from the prosthetics department of the Herat Institute of Health Sciences are providing an invaluable service for their compatriots who have lost limbs in the war.
These young men and women have learned how to make and fit prosthetic arms and legs so that people disabled by war -- most of whom lost their limbs in suicide bombings and other explosions perpetrated by the Taliban -- can have fresh hope for life.
"The help that we can provide to people with disabilities is to make artificial limbs -- arms and legs -- for them so that they can regain their mobility," said Abdullah Soori, one of the newly trained prosthetists.
Susan Osmani, another prosthetist, said she hopes to help the disabled regain independence.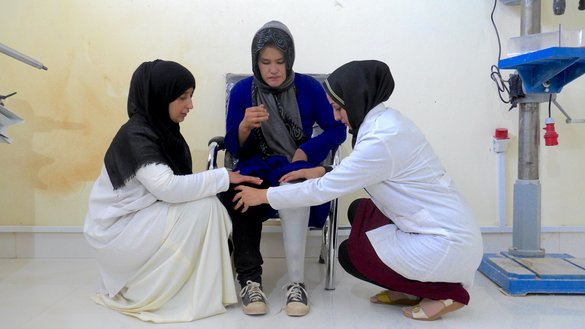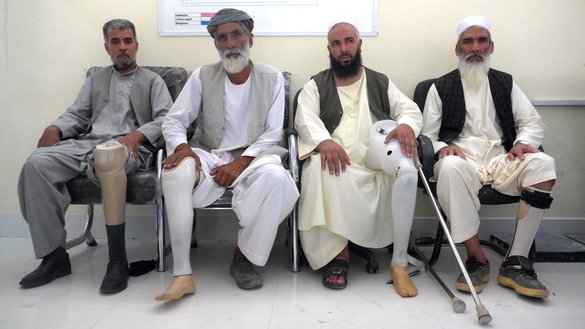 "As war continues in Afghanistan and people lose their limbs every day, we try to be of help to the people with disabilities in our society," she said. "We make limbs ... that can replace the ones they lost and enable them to perform their daily activities."
"Our goal of making artificial limbs is to serve those who have been affected by war," said Hamid Muhammadi, another recent graduate of the prosthetics department. "We want to bring the war-disabled back to their usual lives."
"We try to help people with disabilities so that they can independently perform their daily activities and become self-reliant," he said.
As the war and terrorist attacks continue to harm civilians, the number of Afghans in need of prosthetics continues to rise, said Dr. Nasir Ahmad Sadeqyar, an instructor at the prosthetics department at the Herat Institute of Health Sciences.
"There is a pressing need for professional prosthetics to satisfy the need for artificial limbs of millions of people who have become disabled in 40 years of war in Afghanistan," he said. "The number of disabled increases every day because of conflicts and suicide attacks and bombings -- and this is really worrying."
The disabled demand peace
Afghans who have lost limbs from war and terrorist attacks expressed gratitude for the prosthetics builders. They also called on the Taliban to stop killing and maiming the innocent.
Nisar Ahmad, 50, lost one of his legs and a kidney when he was hit by a roadside improvised explosive device in a Taliban-controlled area of Herat 10 years ago.
"When I became disabled, I faced many problems in life," he said. "I had to support my family of eight, but the disability has made it extremely difficult."
"We are tired of war," Ahmad said. "The Taliban should think of Afghanistan and their own future. They should ask themselves just once what they have achieved in these many years of war, and what they have given to Afghanistan. If they review this, they will realise they haven't even had mercy on their own children."
"We are fed up with war ... enough already. Half of our people have become disabled," said Ramazan, 65, who said he lost one of his legs a few years ago in an explosion in Guzara District, Herat Province.
"We want the Taliban to make peace with the government," he said. "All Afghans scream from every corner of the country and call for peace. The Taliban should listen to their voices and stop fighting."
Ghulam Muhammad, 55, a resident of Qadis District, Badghis Province, who lost one of his legs in war, echoed the call for peace.
"We don't want any more war," he said, adding that the Taliban and Afghan government "should sit together, reach an agreement and reconcile".
"We saw a lot of casualties, and many young people lost their lives," he said. "Their families are left with widows and orphans."
War casualties continue to mount
Civilians continue to bear the brunt of the war.
According to the United Nations, 3,804 civilians -- including more than 900 children -- were killed in Afghanistan in 2018, with another 7,189 wounded.
Casualties during the first six months of 2019 are down compared with the same period last year but are still grim with 1,366 civilians killed and 2,446 wounded.
The number of Afghans seriously injured in the conflict is rising, said Rohullah Amin, director of Humanity & Inclusion (HI, formerly Handicap International) in Afghanistan.
"In the past few years, more than 8,000 people with disabilities have visited the facility in Kandahar alone, and they have received prosthetic limbs and other aids," he said, referring to HI's facility.
"These recipients include men, women and children who have become handicapped in armed conflicts," he added.
"We make artificial limbs for the war-disabled with support from the Swedish Committee for Afghanistan and the European Union and give the prosthetics to the Ministry of Public Health and ICRC [International Committee of the Red Cross]," he said.