ZABUL -- Roadside bombs planted by the Taliban are not only targeting Afghan forces but also destroying the lives of innocent civilians, say travellers using the Kabul-Kandahar highway.
The highway is a 490km-long road that links Kabul and Kandahar, and passes through Maidan Wardak, Ghazni and Zabul provinces.
The Taliban are continuing to plant explosives on the road, said Col. Sayed Mirajuddin Sadat, the Zabul provincial police chief.
"This is not a matter of weeks or months," he told Salaam Times, referring to the Taliban's planting of roadside bombs along the highway. "They [Taliban] plant bombs whenever our patrol goes from one area to another."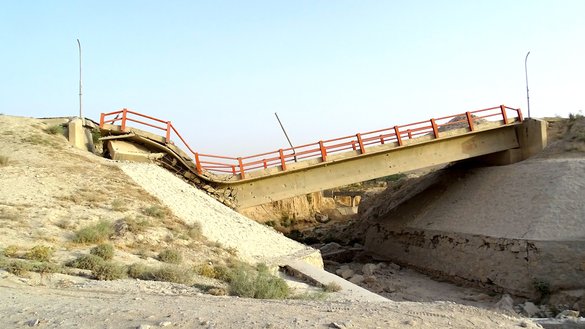 Despite the Taliban's campaign against civilians, police under his command were able to defuse dozens of bombs in recent months, said Sadat.
"We have defused 13 or 14 bombs in the past 15 days," he said. "Some of the bombs exploded under our forces. Fortunately, they are fine now, but the bombs damaged our vehicles."
"Every day, every night whenever our patrol vehicles leave an area, they [the Taliban] take advantage of that time and bury their bombs and destroy our roads and bridges," Sadat added.
Hurting civilians
"When I was travelling on this highway [Kabul-Kandahar], a roadside bomb went off under me," Mohammad Nabi, a resident of Zabul blinded by that blast last May, told Salaam Times.
"There are many roadside bombs," Nabi said. "Every month up to 10 of them hit civilians and Afghan forces. I also lost one of my brothers two months ago on this highway. He was serving in the police at the time."
"One of my cousins who was on his way to go fishing stepped on a roadside bomb that hurt his arm. He is now resting at home and can't work any longer," said Mohiburahman, a resident of Qalat, the provincial capital of Zabul.
"He is very poor," he told Salaam Times. "He can't afford his treatment, and he is now borrowing money from his relatives."
"There are many problems along this highway," Mohiburahman said. "Civilians are tired of it."
Civilians are bearing the brunt of the suffering caused by the Taliban bombs, according to Atta Jan Haqbayan, chairman of the Zabul Provincial Council.
"Civilians have always been victims of these bombs," he told Salaam Times. "It's a headache for the public. We all know that ordinary civilians and Afghan businesspeople are using this highway."
"Five months ago a roadside bomb exploded under a vehicle that martyred three civilians and wounded two others," he added.
"Some time ago, a big bridge in the Basaka area, near Qalat city, was destroyed by a Taliban bomb," Haqbayan said.
"We have too many examples of bombings in which civilians have been killed."
An economic toll
The destruction by the bombs also is taking an economic toll, said Karimullah, 35, a mini-bus driver who works on the Kabul-Kandahar highway.
"The majority of Zabul residents are poor, and we drivers can't raise our fares," he told Salaam Times. "Our vehicles break down because of the damaged bridges and roads. We can't make any money after spending so much to fix the vehicles."
"We could make them [travellers] pay more, but they are poor, and we are too," he added.
"If you leave Zabul for Kandahar, there is not a single bridge left undamaged on the highway," Abdul Hadi, who travels from Qalat to Kandahar, told Salaam Times. "They all have been bombed."
"A drive that took two hours now takes four," he said. "Big trucks are getting stuck, which forces all the small cars to stop too. "We call on the government to repair these roads."
"It is hurting us a lot."