HERAT -- Recent attacks carried out by the "Islamic State of Iraq and Syria" (ISIS) have opened a new chapter of bloodshed and fear among Afghans.
In the latest attack, ISIS claimed responsibility for planting two land mines on a playground in the western part of Herat city, killing four civilians and wounding 25 others.
The explosions occurred last Friday (April 1) evening, when local civilians, including a number of children and older residents, had gathered at a playground in a residential area of Herat city's ninth district.
Earlier this year, on January 22, seven civilians were killed when their vehicle hit a land mine planted in the western part of Herat city.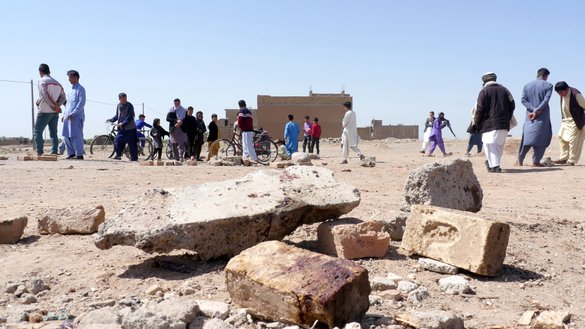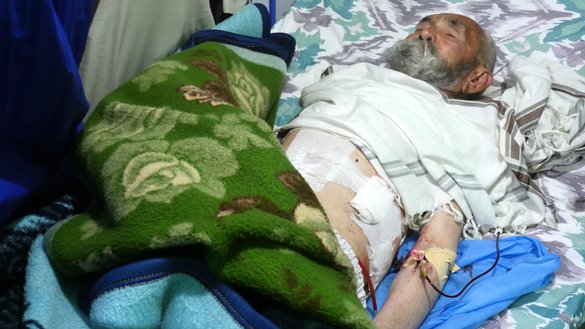 Both explosions took place in a Shia neighbourhood, and all victims were members of the same community.
Hussain Ali Rezaee, father of one of the victims of last week's attack, said ISIS attacks have taken peace and happiness from his family and disrupted their routine life.
"These terrorists have broken our backbone," he said. "My son was 25 years old, a labourer, who tirelessly worked hard to earn for a living. He went to the playground to watch the matches and mentally refresh himself, but ISIS took his life."
ISIS has been deliberately targeting civilians and such terrorist attacks have created fear among the local population, Rezaee said.
"We do not have security anywhere -- not in the mosque, hospital or playground, and not on the road," he said. "We don't know what sin we have committed that they ruthlessly target us."
A foreign terrorist group
On April 5, hundreds of Herat residents attended a condolence ceremony in Shahrak-e-Jebrail mosque to console those who have lost loved ones in recent ISIS explosions.
The mourners condemned the bombings and raised grave concerns about ongoing ISIS attacks.
ISIS is not only an enemy of the Shia but also of the entire Afghan population, said Ghulam Hussain Rezaee, a relative of one of the victims.
ISIS is sparing no one, and the more civilian blood they shed, the more they enjoy it, he said.
"ISIS does not want Afghans to live in peace, but rather it aims to destroy Afghanistan and massacre the Afghan people," he said.
"In order to eradicate the terrorist group and reduce its oppression and the suffering of innocent Afghans, every member of ISIS should be held accountable and executed for the crimes it has committed," Rezaee said.
ISIS's roots are outside Afghanistan, and it is implementing its fanatical ideology by purposefully massacring innocent Afghan civilians, he said.
Attacks carried out by ISIS have no place in Islam, and the religion strictly prohibits harming humanity, said Herat city resident Mohammad Younus Ibrahimi.
"ISIS is a foreign proxy group backed by neighbouring countries and superpowers like Russia," he said, adding that the group massacres scores of innocent civilians who have no role in politics.
"ISIS receives its funding from various countries to shed the blood of innocent people in Afghanistan and several other countries," Ibrahimi said.
An alarming threat
ISIS has resurfaced as an alarming threat to Afghanistan's security, analysts say, despite assurances by the authorities that the group has been defeated in Afghanistan.
ISIS's local Khorasan branch (ISIS-K) has expanded its operations across Afghanistan and now poses a greater risk to the stability of neighbouring countries and the region, military analysts say.
ISIS has recently launched a massive campaign to recruit new fighters from various parts of Afghanistan, said Mohammad Naim Ghayur, a military analyst in Herat,
ISIS is seizing the current power vacuum in Afghanistan as an opportunity to rapidly increase the number of its militants across the country, he said.
"The increasing number of attacks carried out by ISIS in recent months indicates that this terrorist group has not only solidified its footprint but also has built its capacity to challenge Afghanistan's security," Ghayur said.
"ISIS is a proxy of several countries' intelligence apparatus, and they can plan and execute complex attacks on civilian targets," he said.
ISIS will continue to take control of more areas in Afghanistan unless a robust and well-equipped force is established to defeat them, Ghulam Hassan Majroh, another military analyst in Herat.
"Rising unemployment and instability have become conducive factors for ISIS to recruit Afghan youth."
In fact, ISIS has recruited many young Afghans by providing them with a monthly salary, he said.
"The international community, especially the United States, should not underestimate the threat of ISIS in Afghanistan," he said.
"There is an urgent need to create a strong force to defeat ISIS in Afghanistan; otherwise, this terrorist group will brutally kill innocent civilians every day," he added.