NANGARHAR -- The temporary ceasefire between the Afghan government and the Taliban during Eid ul Fitr gave the militants a taste of life in the cities and the warmth of the Afghan public -- and now many Taliban fighters are reluctant to return to the battlefields.
"On the first day of Eid, I went to Jalalabad city," said local Taliban commander Zarqawi, who has been fighting the Afghan government for the past ten years. "I saw it for the first time in nine years; the city has completely changed and it is beautiful."
"In the evening, we went to enjoy ice cream in Kama District," he told Salaam Times. "While on the way, the [Afghan] security forces were stopping us and were saying Eid Mubarak, and we were replying with the same message."
"The security forces gave us much love and showed sympathy towards us," he said. "I did not go to sleep for a night and day from exhilaration ... It has become one of the good memories in my life."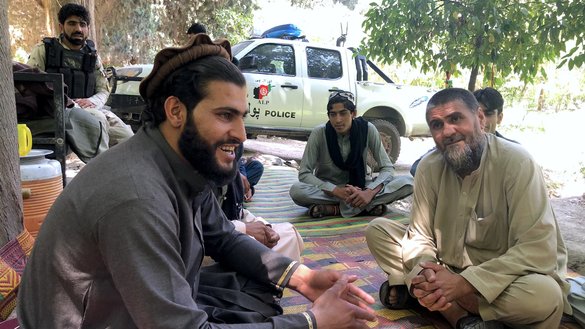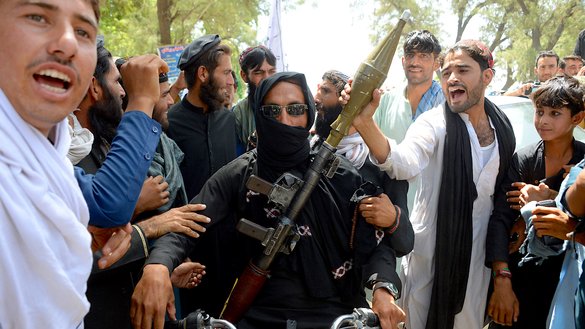 Violence returns
Although the Afghan government proposed a week-long ceasefire with the Taliban from June 12-19, and then extended it for another ten days, the Taliban leadership vowed to resume hostilities.
Taliban fighters Wednesday (June 20) killed about 30 Afghan security personnel in multiple attacks in western Afghanistan, undermining hopes of a lasting peace.
"More than half of the fatalities came from the ambush and roadside bomb blasts that hit a reinforcement convoy," said Badghis provincial Governor Abdul Ghafoor Malakzai.
The other soldiers and police were killed when militants stormed their bases overnight, said Malakzai.
The Taliban claimed responsibility for the attacks in a WhatsApp message to journalists.
Provincial council chief Abdul Aziz Baig confirmed the death toll.
"During the ceasefire the Taliban sent informants to collect information about the bases and plan the attack," he told AFP.
'No reason' for war
Despite the bloodshed, other Taliban militants shared Zarqawi's reluctance to give up peace and public affection in exchange for violence, deprivation and danger.
Hamkar, another Taliban insurgent, stood next to a police officer in Fateh Abad village of Surkh Rod District as he explained how the ceasefire changed his perspective.
"This is my brother, and I will not fight him anymore," he told Salaam Times. "The ceasefire is for three days, but I will never fire at this man in my whole life. I hugged him, I said Eid Mubarak to him; there is no reason why I should open fire on him."
"Our leaders should understand that this situation shows how much love we give to each other and then they may make a decision," Hamkar said. "I want the fighting to come to an end so we can be like brothers."
On June 16, local government officials and Taliban commanders gathered in the Mimla area of Khogyani District, Nangarhar Province, with mediation from local tribal elders. They agreed that fighting is not the solution and peace must be made.
The Taliban fighters were hopeful the halt in hostilities would hold beyond Eid ul Fitr, but had to return to their ranks when the Taliban leadership refused to extend the ceasefire.
Enemies become friends
"On the first day of Eid, when I saw soldiers and Taliban exchanging Eid Mubarak greetings with each other in front of my shop, I was shocked," said Shamsuddin, 50, a jalebi baker in the Mimla area of Khogyani District.
"I started to watch them, and I swear that my jalebi frying pans burned," he told Salaam Times. "I was totally surprised. I thought I was dreaming. I was overjoyed."
"I lived all of my life with fighting," he said. "This was the first time I saw this much happiness. The government and Taliban members kissed each other... Those who were enemies for years, turned into friends."
Sayed Jalal, 32, a resident of Jalalabad, said he hopes the Taliban fighters will split with their leaders and make peace.
"The whole problem is with the [Taliban] leaders," he told Salaam Times. "We saw that the junior Taliban members who fight are all tired; they want peace. But their leaders who are the puppets of foreigners do not let them."
"I beg the Taliban and government not to open fire on each other anymore," he said. "May they love each other the way they did during this three-day-long ceasefire."
"Many Taliban members have contacted me from various districts and said, 'We no longer want to fight, and we are coming to join the peace process,'" Malak Nazir, chairman of the Nangarhar Provincial Peace Council, told Salaam Times.
"We hope that the peace process is expedited as soon as possible and that the Taliban can come, join ... and put down their arms," he said.
"During the three days [of ceasefire], the Taliban realised how thirsty the public is for peace," he said. "They are also human, and they will respect the people's love. They'll come, and they'll choose the way of peace and brotherly life."