JALALABAD -- About 20 women and girls marched from Mukhaabrat Square to Pashtunistan Watt within Jalalabad late Wednesday (June 13) after iftar, demanding that the Taliban make peace and declaring their support for recent ceasefires.
President Ashraf Ghani June 7 announced a government ceasefire from June 12 through 19 inclusive. On June 9, the Taliban declared its own ceasefire for the first three days of Eid.
The women chanted slogans and carried banners supporting peace and the extension of the ceasefires.
"We support the decision on the ceasefire; we want peace," said one of the banners.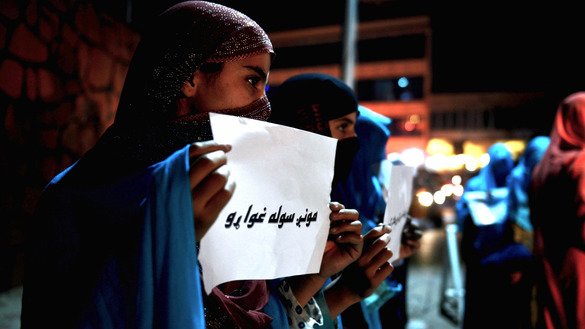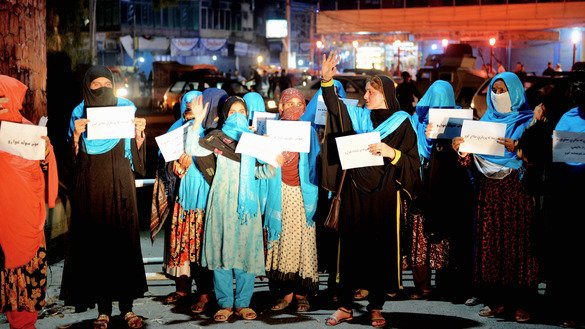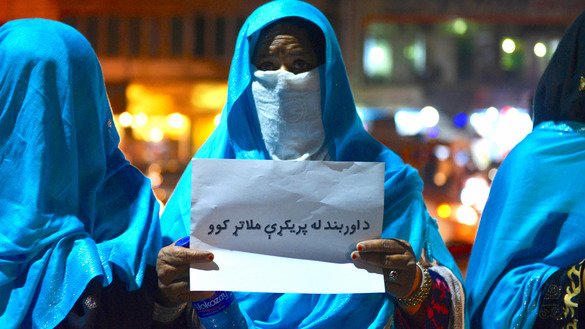 "I am a mother. I ask the parties involved in the war for a permanent ceasefire," said another.
Weary of war and its losses
"We launched this movement in order to deliver a clear message to the parties involved in fighting that we are tired of fighting and that we want peace," Husna Ahmadzai, a Jalalabad resident and one of the rally organisers, told reporters.
"We have seen war for years, and it is enough," she said. "We suffered losses and did not gain anything from it."
"We want both the government and Taliban to extend the Eid ceasefire and to facilitate a permanent peace, to not make their sisters and brothers cry, to not cause grief for them anymore, and to let them have happiness," she said.
"This fighting has caused severe grief to my family; it has taken my children, displaced me, made me hungry, made me thirsty," Janat Bibi, an elderly woman from Nangarhar Province, told Salaam Times.
"This fighting has not led to any benefit for me, [only] the killing, injuring and disabling of my children and relatives," she said while carrying a banner with the message "We support the ceasefire".
"If they may make peace... it will give comfort... to me and to the whole country," Bibi said.
A number of male civil society representatives in Nangarhar also took part in the women's movement.
"We also joined our sisters and mothers to support the message that we want peace and that we have become tired of fighting," Hedayatullah Hamidi, a member of the Zwan Fekri Khwazakht (Young Ideological Movement) civic group, told Salaam Times.
"The fighting has killed us, it made us homeless, it disabled us and we want this situation to change," he said.