JALALABAD -- A group of Afghan refugee youth residing in Khyber Pakhtunkhwa, Pakistan, are heading to Kabul to demand the Taliban and other militants stop fighting and make peace.
The Afghan Refugee Youth Peace Caravan began marching Thursday morning (June 21) from the Torkham border crossing between Pakistan and Afghanistan and reached Jalalabad at noon that day.
The group's leader, Jarnail Pakhtun, is from Paktia Province, Afghanistan, but resides in Peshawar.
"There were 25 marchers who launched the peace caravan from Peshawar," he told Salaam Times. "A number of friends who did not have Afghan passports were not allowed to cross [the border] at Torkham and were sent back. Fifteen of us were left, and we started the journey."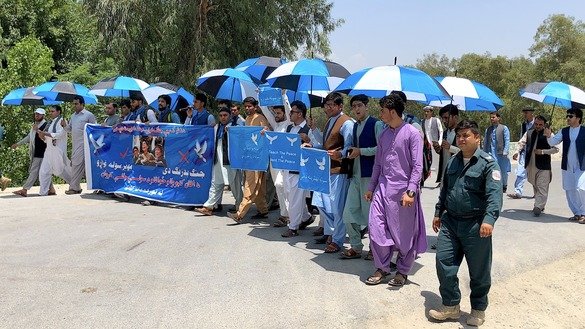 "We started to walk from Torkham, but in some places where we faced security issues, we travelled by car," he said.
"This is a call for peace, and we will deliver it to Kabul," he said. "Other friends and civil society activists also joined us on the way, and now our number has increased to tens of marchers, and we want to travel to Kabul on foot."
"We call on the Taliban and other insurgents to come and make peace," said Pakhtun. "War solves nothing."
'War is not the solution'
In Jalalabad, the caravan conferred with Nangarhar Governor Hayatullah Hayat, local residents and civil society members. A number of residents pledged to join the caravan, leaving on foot for Kabul.
"I praise your movement and congratulate you," Hayat told the group. "When the Taliban saw love from the public during the three-day ceasefire marking Eid ul Fitr, many citizens contacted the government and [Nangarhar Provincial Peace Council] and expressed their hopes for the coming peace in the country. They hope that the Taliban groups will join the peace process."
"We say 'welcome' to this call for peace," said Hamid Mahmoudi, a civil society member from Jalalabad who joined the caravan. "We are here to sacrifice our lives in seeking peace. We will not quit this appeal, because this is a big hope for Afghans."
"Whether they are the Taliban or other groups, they must know that war is not the solution," he told Salaam Times. "They have been fighting for many years and have received nothing more than deaths and injuries."
"Many women have become widows and children have become orphans because of the war and have to beg to support themselves," he said.
Growing calls for peace
The latest peace caravan follows other public calls for the Taliban to join the Afghan peace process.
On June 13, about 20 women and girls marched from Mukhaabrat Square to Pashtunistan Watt, Jalalabad, demanding that the Taliban make peace and declaring their support for recent ceasefires.
Before that, a group of youth and elders in Lashkargah formed the "People's Peace Movement".
Following a 50-day sit-in at a tent in Lashkargah that started March 24, a number of the group's members decided to walk from Helmand to Kabul to raise awareness for their cause.
Along the way, others joined the group, and on June 19 dozens of demonstrators arrived in Kabul.
"The Taliban should know how much love the public showed toward them during the three days of Eid, and also they realised how thirsty the public is for peace," Mohammad Anwar, 28, a resident of Nangarhar Province, told Salaam Times.
"[Afghans] do not want the fighting anymore, and as I saw their happiness, I can say that the Taliban also do not want [to continue fighting]," he said. "They have to make peace."
"They must listen to the call for peace of the ['People's Peace Movement' of Helmand] and of the whole of Afghanistan. They must come to peace," said Anwar.
"We no longer want to kill each other and to open fire at each other. This is not the way to reach a solution," he said. "I support this caravan that started in Peshawar, and I want the war to come to an end."