HERAT -- More than 200 young men and women from 13 provinces gathered in Herat city to call on the Taliban to renounce violence and seek peace.
The young Afghans came from Bamiyan, Daikundi, Sar-e-Pul, Paktika, Nuristan, Kandahar, Helmand, Farah, Nimroz, Zabul, Herat, Badghis and Ghor provinces.
They engaged in a series of discussions from July 13-15 at the Ghazi Amanullah Khan Auditorium to determine how they could have an effective role in the peace process.
"Peace is the only choice that all Afghans, especially women, make," said Fatema Ahmadi, a Bamiyan resident. "Women do not contribute to war, but they suffer the most from it as they lose their husbands and become widows, and they are left alone to raise their children. Therefore, we women look forward to peace more than anyone else."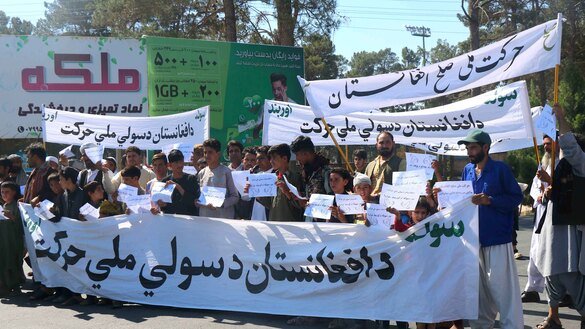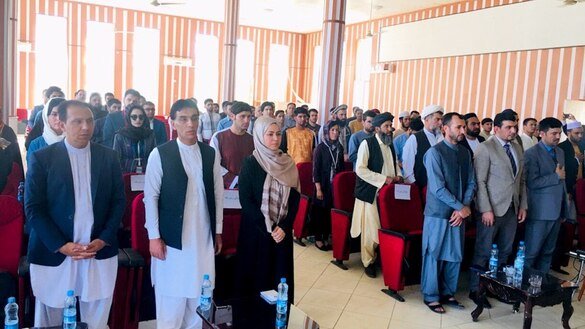 "The only solution to end the war is that both the Taliban and the government lower their expectations," she added. "If parties to the conflict exclusively pursue their own demands, peace will no longer be achieved in our country."
Safiullah Zerai, a Helmand resident, called for Afghans to seek peace above all.
"We demand parties to the conflict sit together and make peace as all Afghans demand it," he said. "Peace allows us to rebuild our country, and nothing can become of war."
"All Afghans are thirsty for peace, especially the young generation that was born and raised in war," he added. "We young Afghans haven't seen many parts of our country because we can't travel. The only obstacle to that is war and the absence of peace."
"We demand that the Taliban join the government," said Spozhmai Abid, a resident of Kandahar. "If they have any legitimate demands, they can share them with their government and the public so that they can arrive at a peaceful solution that benefits Afghans."
"There has been war in our country since I was born," she added. "All Afghans are fed up with the destructive war, and they no longer want to lose their loved ones every day."
The war has destroyed Afghans' hopes, culture and traditions and tainted the Afghan identity, said Abid.
Demands for an immediate ceasefire
Meanwhile, more than 50 members of a "National Peace Caravan," which included residents of Kandahar, Nangarhar, Helmand and Herat provinces, demonstrated in front of the Herat Governor's Office in Herat city July 13.
They demanded an immediate ceasefire in the country.
"We still hear the echoes of voices of those who have lost their loved ones and relatives in the war. This has forced us to travel to every province and part of Afghanistan to explore ways to achieve peace and beg those who are an obstacle to peace," said Hayatullah, a member of the caravan.
"Both parties to the conflict should agree on a ceasefire to stop the bloodshed of our innocent people," he added. "We believe that the parties to the conflict and the public are tired of war as they have been affected ... and they want peace."
"We say to the Taliban that the Afghan land no longer can stand to see more widows and orphans," he said.
"We try to establish committees to advocate for peace in every province so that the residents can raise their voice for peace," said Hekmatullah Sohail, another member of the Peace Caravan.
"Afghans have shown that they're tired of war, and peace should come by any means," he said.
"We want to make sure that Afghans don't flee their country again, do not face more poverty and hunger and stop depending on support from others," he added.
A golden opportunity to reach peace
The peace talks in Qatar are a "golden opportunity" for ensuring peace in the country, said participants of the youth gathering in Herat city.
"Peace talks in Qatar have made us hopeful, and young Afghans like us support these talks, and we hope that these talks produce a result soon," said Muhammad Arif Gilani, another member of the Peace Caravan.
"Every Afghan demands that parties to the conflict, especially the Taliban, make peace and renounce violence and bloodshed as Afghans have suffered greatly from the war," said Saleem Moqimi, a reporter in Herat Province.
The situation now provides an unprecedented possibility for peace and the Taliban should not err and ruin this opportunity, he added.
"If war stops and peace prevails, Afghanistan will rise to a higher political and economic place, and Afghans will be able to start a new and fruitful chapter in life," he added.
"The Taliban should sit with the government at the same table and negotiate peace so that we can achieve a sustainable peace in the country that will stop the bloodshed and allow Afghans to live in a peaceful environment," said Ahmad Amirzai, a civil society activist in Farah.
"The public needs peace more than anything else, and peace will make Afghanistan prosperous."