HERAT -- More than 3,000 residents of Herat Province -- including women, religious scholars and parliament members -- gathered on August 8 to declare their support for the peace process and call on the Taliban to stop fighting.
"We ask the Taliban to stop killing your brothers and to not escalate the war, for God's sake," Maulawi Abdul Azeem, a resident of Farsi District of Herat, said in an interview. "Our youth are being killed every day, and their families are left without guardians."
Since the Taliban call themselves Muslims, they need to know how much Islam insists on peace, said Azeem.
"See how much the prophet of God emphasised peace," he said. "The Islamic caliphate [after the Prophet Muhammad's death] tried to make sure rifts did not lead to war, and God mentions peace in the Koran several times as being beneficial for society."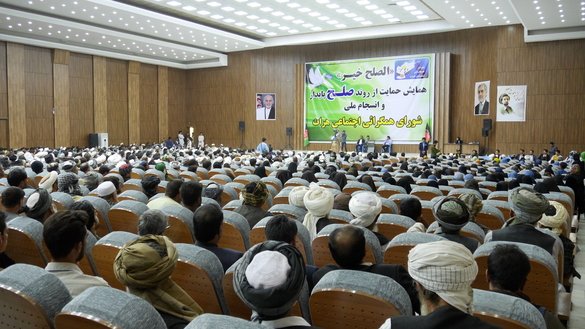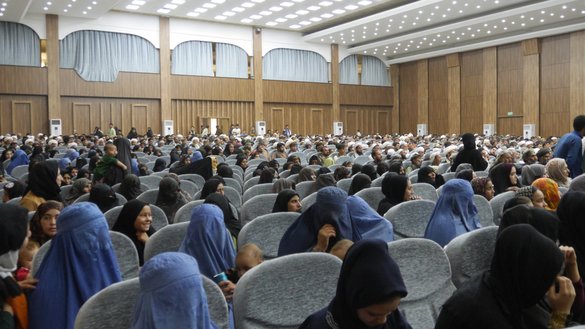 "Our only hope is that our country returns to peace as we are fed up with war. This war should stop; it doesn't help us," he added.
The Taliban and US negotiators wrapped up their latest round of talks for a deal that would see America shrink its troop presence in Afghanistan, a Taliban spokesman said Monday (August 12), according to AFP.
According to Zabiullah Mujahid, the eighth round of talks, which had been taking place in Doha, finished after midnight, AFP reported.
"Work was tedious & effective. Both sides agreed to consult their respective leaderships for next steps," he tweeted.
No immediate comment ensued from the US embassy in Kabul, AFP said.
On Sunday (August 11), US peace envoy Zalmay Khalilzad tweeted: "I hope this is the last Eid where Afghanistan is at war," referring to Eid ul Adha.
'Fed up with violence'
Herat resident Wakil Ahmad Shaheedzada at the rally iterated the need for the militants to lay down their arms.
"I want the Taliban to stop killing their brothers, for God's sake," he said.
All Afghans want peace, he said, citing efforts made by citizens to advocate an end to the war.
Afghans with disabilities marched from Herat to Kabul, bicyclists pedalled to several neighbouring countries and a "Peace Caravan" has made its way on foot to many provinces -- all with the goal of spreading the message of peace, he noted.
Such efforts show that Afghans are tired of war and that the Taliban should understand it is time to end the conflict, he said.
"In recent days, a number of bloody attacks have taken place in the country and this situation is not acceptable for us," said Hamidullah Foshanji, another resident of Herat. "We are fed up with the violence and war, and we don't want to see more of our countrymen killed."
"We ask the Taliban to listen to the voice of the public and understand their demands and hopes," he added. "The Taliban must know that the only way they can reach their goals is through peace -- not through war."
Optimism over talks
Recent talks will bring Afghanistan closer to peace, say observers.
"I think peace negotiations are at their peak, and parties to the conflict have admitted that war is not the solution," Sayed Azeem Kabarzani, a representative of Herat in parliament, said in an interview.
"We hope that we will be able to taste the sweetness of peace and see all the problems resolved before the elections," he said, referring to presidential elections scheduled for September 28.
"The time has come for peace and for putting an end to the imposed war, and support from our friendly countries in this regard makes us hopeful," he added. "There is confidence that this time peace will replace war."
The government and the Taliban both realise that war is not the solution, said Toryalai Taheri, deputy chairman of the Herat provincial council.
"They should sit together and resolve the issue through dialogue," he said.
"The public can no longer accept war, and everyone wants peace and security," Taheri said. "There has been hope recently for peace and an end to the war. Talks that are going on in Qatar make us hopeful. We expect that intra-Afghan talks will start soon."
Ghulam Yahya Azem, a political analyst in Herat Province, also called for the involvement of the government in peace negotiations.
"We hope that the Afghan government enters the peace talks as soon as possible," he said. "The more the government takes part in the talks, the more it improves our chances in obtaining peace."
"The United States, a strategic partner of Afghanistan, has led the peace talks so well with the Taliban, and we hope that these talks soon produce a result," he added.
"All Afghans are waiting for the parties to the conflict to announce their decision on a cease-fire and an end to the war," Azem said.