HERAT -- Afghans in Herat and Ghor provinces are calling for a ceasefire to coincide with the eventual start of intra-Afghan peace talks between the government and the Taliban.
About 100 Herat residents gathered at the Afghanistan Independent Human Rights Commission office in Herat on Monday (September 7) to voice their demands.
Separately, on the same day, during a gathering in Firoz Koh, dozens of Ghor residents urged the Taliban and the government to declare a ceasefire.
The Afghan government and Taliban negotiating teams are expected to begin direct talks soon.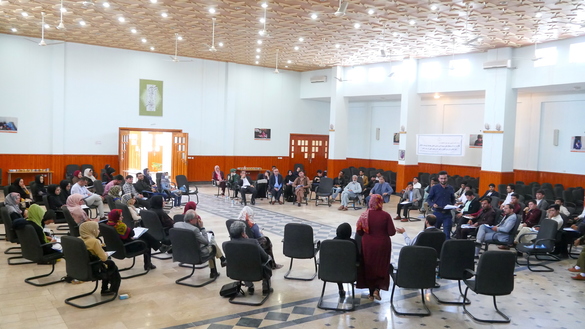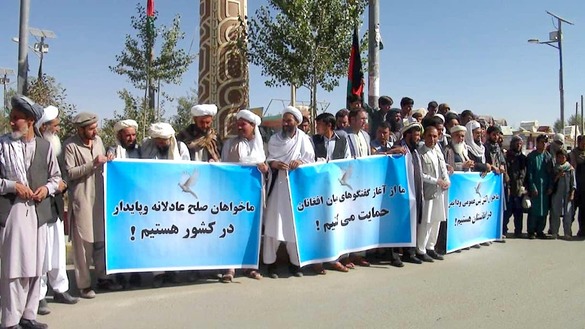 "Inshallah, in the next few days, delegations from the two sides are expected to sit outside the country for talks," High Council for National Reconciliation Chairman Abdullah Abdullah said Tuesday (September 8).
The sides have not set a date for the talks, to be hosted in Doha, Qatar, but they signalled this week that negotiations could launch soon, following efforts to wrap up a drawn-out prisoner exchange.
Ceasefire essential for peace talks
The declaration of a ceasefire alongside the peace talks would create trust between the parties and allow them to engage in effective negotiations, said Zahra Muhammadi, a resident of Herat city.
"I call on the parties to the peace talks to declare a ceasefire because they will be meaningless if the war and bloodshed of the Afghan people persist," she said. "Therefore, it is better that they agree on a ceasefire during the peace negotiations."
"There is bloodshed every day, the unrest increases day by day and unemployment has been on the rise," Muhammadi said. "Children and teenagers can't enjoy their lives because of war, poverty and insecurity, and they are fearful that they may be killed in a suicide attack or an explosion."
Local residents support intra-Afghan peace talks and are looking forward to a comprehensive ceasefire, said Hasan Hakimi, a civil society activist in Ghor Province.
"The war and violence need to stop, and we expect a fair, sustainable and inclusive peace in Afghanistan," he said.
"The Afghan people have been fed up with war, and there is no excuse for the war to continue," he said. "All prisoners have been released, and peace talks should immediately begin."
A golden opportunity
The Afghan people are waiting to enjoy peace and security after years of war and violence, said Basir Ahmad Danishyar, a Herat University political scientist.
"Civilians are thirsty for peace with a positive outcome," he said. "In the past, there have been discussions of peace several times that didn't produce any results, but this time there is a better opportunity, and parties to the talks ought to utilise it."
Danishyar expressed hope that Afghanistan would achieve a comprehensive peace soon, given the regional and global political climate.
"In the past, a number of countries interfered in the Afghan peace process and sabotaged it," he said. "The enemies of peace want peace efforts to fail this time as well, but these countries won't succeed, and the peace process will produce a positive outcome."
"Peace is as vital as oxygen to the lives of Afghans," said Fazlul Haq Ihsan, chairman of the Ghor Provincial Council.
"Civilians support peace, and they want that the opportunity in front of us to result in a comprehensive peace and an end to this imposed war in the country," he said.
"We can no longer tolerate when a child becomes an orphan, when a mother sheds tears for her children and when innocent civilians lose their lives."
"Afghans have been waiting for such an opportunity for dozens of years," Ihsan said.
"The government and the Taliban should utilise this opportunity," he said. "We hope that peace talks produce a result as soon as possible and that the bloody war ends."
A pointless war
The war has resulted in nothing other than destruction, killings, disaster and oppression, said Sultan Muhammad, a resident of Firoz Koh.
"We call on the Taliban, the government of Afghanistan, neighbouring countries and the international community to stop this destructive war and create an opportunity for useful peace talks," he said. "The war has ruined the economy and lives of Afghans, and no Afghan is in favour of this war."
"All [Afghans] are tired of war and bloodshed, and they don't want to lose their loved ones any longer," he said.
"The fighting has to stop before peace talks begin, and explosions and suicide attacks have to cease," Muhammad said. "Since this war destroys the Afghan people, Afghans are counting down to see an end to the war and to begin a peaceful life."
"It is the [right] time for parties to the conflict to abide by the will of God and the prophet of Islam and to put an end to this illegitimate war," said Maulawi Sultan Muhammad Yatim, a religious scholar in Firoz Koh.
"War among Muslims that causes their destruction is prohibited in Islam, and any party insisting on the continuation of this war is on an un-Islamic path," he said.
"There is no religious justification for the war in Afghanistan," he said. "This war has been imposed on us by our foreign [enemies]."
"We, the religious scholars, ask the government and the Taliban to show flexibility with their demands and create an opportunity for a sustainable peace in the country," he said.