HERAT -- A group of Afghan cyclists recently returned from a 70-day ride through the hills of the newly established Lapis Lazuli Route, during which they acted as ambassadors of peace to countries along the corridor.
The sportsmen began their tour from Herat to Istanbul, Turkey, on April 19 and pedaled more than 4,000km. They flew back to Herat June 27.
President Ashraf Ghani inaugurated the Lapis Lazuli Route in Herat Province last December to enable Afghanistan to transport its products to Europe.
The route, which begins in Afghanistan, passes through Turkmenbashi, Turkmenistan; Baku, Azerbaijan; and Tbilisi, Georgia. From Tbilisi the route continues to Kars and Istanbul, Turkey, and onward to Europe.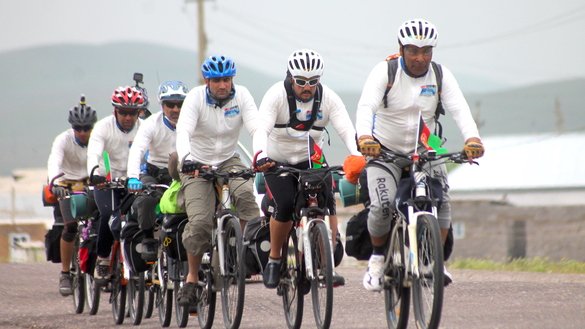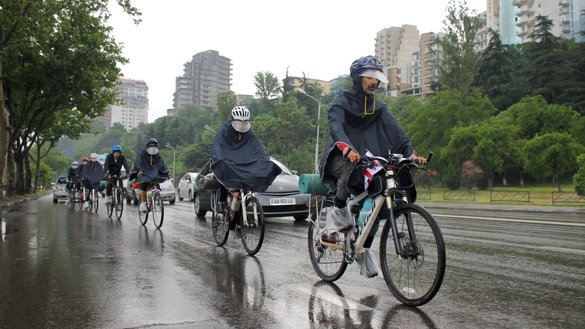 The goal of the cyclists was to deliver a message of peace from Afghans to Turkmenistan, Azerbaijan, Georgia and Turkey, while expressing support for the Lapis Lazuli trade corridor, said Mohammad Siddique Jami, a member of the cycling team.
"During our trip, we received warm welcomes from the peoples and governments of the Lapis Lazuli Route's member countries, and we reached our purpose of delivering Afghans' peace message to those countries," Jami said.
The cyclists succeeded in showing that Afghans want only peace and prosperity, not war and militancy, said Abdul Ahad Siddiqui, another member of the team.
"We were able to convey along the Lapis Lazuli Route the message of peace and tolerance of the Afghan people, a nation that has experienced 40 years of crises and economic shortages at various times," he said.
"We were able to prove to them [residents of the route] that the people of Afghanistan are tired of fighting and that they are keen for peace and good relations with the countries of the region and outside the region," he added.
Their efforts as ambassadors of peace were effective, said Farhad, an Azerbaijani who met the cyclists.
"I think by doing it this way, the cyclists delivered a message of peace to the world," he said.
Changing perceptions
The group was able to change negative perceptions of Afghanistan among bystanders they encountered in countries along the corridor, said Benyamin Jami, another member of the cycling team.
"At first, the opinions we encountered along the Lapis Lazuli Route were very negative about Afghanistan and Afghans, but after we distributed brochures that introduced historical places, agricultural products and other places to visit in Afghanistan, their [route dwellers'] opinion changed completely," he said.
"At first, they knew Afghanistan as a country of war, violence and drugs, but when we gave them information, they became interested in coming to Afghanistan and meeting with Afghans," he added.
"I think [the cycling trip] is a very good idea because when others [non-Afghans who have met the bicyclists] are talking to you, they will say how good and friendly the people of Afghanistan are," said Noel, a Swiss tourist who arrived in Azerbaijan on June 20 and met with the team.
"I would very much like to travel to Afghanistan one day, and I may climb mountains there. I think the people there are very friendly," he added.
The trip also helped create a bond between the Afghan cyclists and athletes from the countries they visited. These foreign athletes in turn plan to visit Afghanistan, according to officials of the Afghan Directorate General of Physical Education and Sports.
"Without a doubt, each sportsperson is an ambassador of peace," said Hamidullah Kabir, technical and vocational deputy director of the directorate.
Athletes are able to introduce a new Afghanistan to the world and change perceptions of Afghanistan, Kabir said.
"Our athletes have proved to all that Afghans have come out of the oppression of war and violence, and like all other countries' citizens, they have a normal life and have made progress," he said.
"Other countries' perception of Afghanistan have been negative as they have always seen pictures of war and violence in this nation. However, our athletes have changed this picture," he added.
Afghans are fed up with war and want to take steps toward progress and development daily, said Kabir.
Expanding relations
Beside the economic benefits of the Lapis Lazuli Route, the corridor helps expand relations among the member countries, according to Afghan Foreign Ministry officials.
Nations of the region, especially those along the Lapis Lazuli Route, want fighting in Afghanistan to end to ensure overall stability, say Afghan diplomats.
"We sent the cycling team through the Lapis Lazuli Route to the route's member countries, and beside delivering a message of peace from Afghans, our purpose was to expand political, cultural and sports relations with these countries," said Aminullah Azadani, director of the Foreign Ministry's department in Herat Province.
"The governments and populations of Turkmenistan, Azerbaijan, Georgia and Turkey hosted our sportspeople well."
"The Lapis Lazuli way is a new way, and we want to change the perceptions held by the countries in the region. We want to let these countries know that the best way forward in the region is through co-operation and co-ordination," he added.
The time is right for countries in the region to establish more co-operation and friendship, especially along the Lapis Lazuli Route, Azadani said, adding that this effort can help in securing peace and security in the region.