HERAT -- Basketball teams from Kabul, Herat and Kandahar provinces came together last week to make their best shots for peace.
Seven teams played in a sports tournament titled "Peace and Friendship" at Mirwais Sadeq Gymnasium in Herat city on April 5-11.
About 130 basketball players attended the tournament in a unified effort to show support for the peace process and to demand an end to the war in Afghanistan.
"The goal of this sports tournament was to send a message that peace is the best choice," Faisal Rahimi, director of the Herat Basketball Federation, told Salaam Times.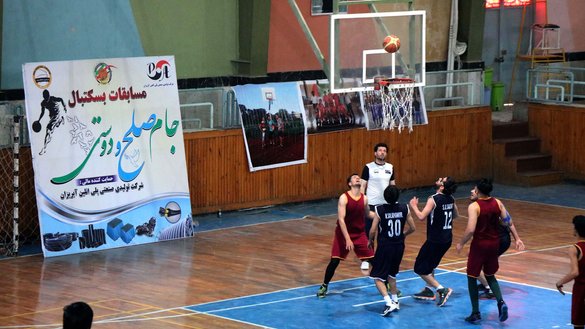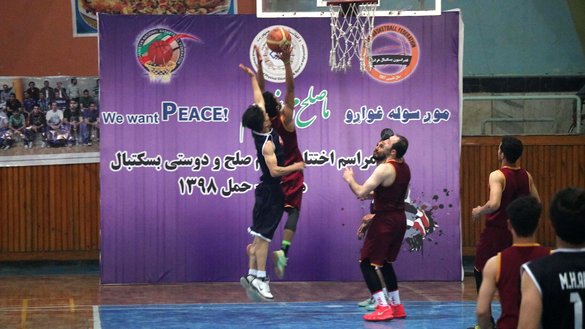 "Athletes are our society's dynamic members who have always tried to give the gift of joy. We're continuing our efforts to institutionalise the culture of reconciliation, peace and acceptance," he said. "Like everyone else in the society, athletes are tired of war, and they look forward to peace."
The gathering of athletes serves as a collective "message" for peace in the country, said Abdullah Minawal, director of the Kandahar Basketball Federation.
The tournament sent a "message of peace and friendship to everyone, meaning that we athletes ask for peace," he told Salaam Times.
"We want security in our country, and this is why we'd like to deliver a message through this sports event that Afghans, like residents of every other country, deserve to get an education and to prosper, and this is why peace needs to be achieved."
The Afghanistan Basketball Federation plans to organise similar sports events, under the title of "Peace and Friendship", in all provinces, he added.
Symbols of peace
For Sayed Shah Abedi, a basketball player from Kandahar Province, sports are a "symbol of peace and friendship".
"We are happy to organise this tournament as it delivers a message that athletes are also very much interested in peace," he told Salaam Times.
"When the Afghan tri-colour waves on international playing fields, it sends a message that the Afghan people seek peace and security as others do in the world, and that they are fed up with the war and violence," Abedi added.
"The goal of all our sports contests is to advocate for peace," Milad Ibrahimi, a basketball player from Kandahar, told Salaam Times. "We want these kinds of tournaments to be held in Kandahar, Kabul and Mazar-e-Sharif."
"Athletes are symbols of peace and happiness anywhere they go, and they send a message of peace to everyone," he said.
Sports help spread optimism in Afghan society amid the destruction of war, said Ziaulhaq Zia, acting director of sport affairs in Herat Province.
"Afghans are really tired of war, and athletes can get the message across to the world that Afghans no longer want war," Zia said. "They're exhausted. [The war] has ruined our country's entire infrastructure."
That sentiment was shared by other athletes in Herat, who say that the war in Afghanistan has stolen civilians' sense of security.
"We don't have any more patience to tolerate the four-decade-long war in Afghanistan," Omid Haqjo, 27, an athlete in Herat, told Salaam Times. "What have we done that we are killed for no reason? We want security so that we can play sports."
"Don't the Taliban see that everyone in Afghanistan has raised his [or her] voice for peace?" he added.
"Why are the Taliban, who claim to be Muslims, killing the innocent?"