NANGARHAR -- Eight hundred athletes from various Afghan universities and private teams across the country participated in a week-long "Sports for Peace" competition in Nangarhar Province.
"During this one week period, the athletes played cricket, volleyball, tennis, taekwondo, football and tug of war," said Ahmad Tariq Kamal, chancellor of Khurasan University, where the event took place December 12-20.
"The purpose of these contests was to let the players co-operate with each other and to pave the way for bringing peace and delivering the message of peace to the [Afghan] people," he told Salaam Times.
In addition to athletes from Nangarhar, youth from various teams in Herat, Paktia, Balkh, Parwan, Kabul, Khost and Laghman provinces participated in the event.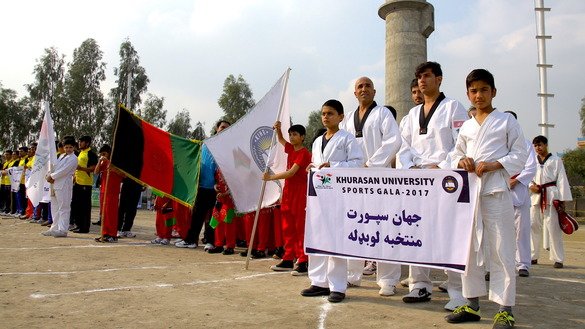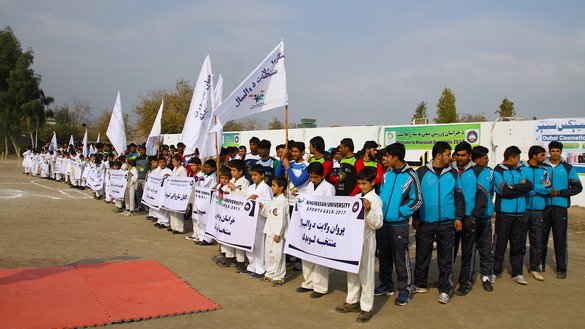 Khurasan University holds such competitions every year, but this was the first time it had invited athletes from outside Nangarhar Province.
At the end of the competitions, the winners received prizes like sports apparel, cash and sporting goods.
The pride brought about by competition is something "shared by all, whether they are Pashtun, Tajik, Hazara or Nuristani; therefore, we support these tournaments as we continue our efforts in bringing about peace", said businessman and volleyball team advisor Mawla Mohammad Paiman of Jalalabad, one of the funders of this year's competition.
"We are trying to have these tournaments held in other provinces too so that the athletes know each other and exchange their views on bringing peace to their areas," he told Salaam Times.
Learning and sharing with others will contribute much to Afghanistan's pursuit of peace, he said.
'Peace not fighting'
"We are giving a message to the world that Afghanistan wants peace not fighting," said Khost cricket player Hakeem Danish, 25.
"Our love for peace and sports brought us from Khost to Nangarhar," he told Salaam Times.
"I came to Nangarhar with a lot of enthusiasm," said Ahmad Fahim, 24, a volleyball player from Parwan University.
"I wanted to deliver a message of peace to the [Afghan] people," he told Salaam Times.
Babrak Miakhel, chancellor of Nangarhar University, urged authorities of private universities like Khurasan -- host of the tournament -- not only to educate students but also to provide them with sports opportunities.
"You may educate them in such a way so they work and raise their voice for peace," he said.
Miakhel thanked Khurasan University for providing students from other provinces such an opportunity.