KUNDUZ -- Hundreds of young men from across Afghanistan's northern provinces last week gathered at Speenzar stadium in Kunduz city to watch football matches and spend a few moments away from their daily problems.
Football teams from Samangan, Kunduz, Baghlan and Badakhshan provinces took part in a friendly tournament that ran from June 26-28 at the stadium in the western part of Kunduz city.
Such tournaments strengthen unity, harmony and solidarity among Afghans and also allow players to exchange knowledge and experience, said Abdul Qayoum Rahimi, director of the Kunduz Physical Education and Sports Department.
The purpose of the tournament is to establish and strengthen relations among football federations and players from these provinces and create healthy entertainment for the residents of Kunduz city, he said.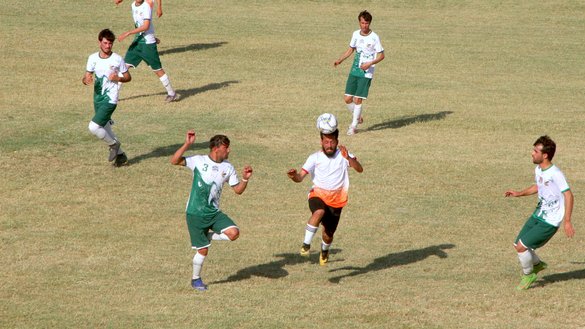 "Such tournaments help football to grow in the country and send a message of peace and unity among various ethnic groups," he added.
"On the third day of the tournament, the Muntakhab football team from Kunduz came in first, the Esteqlal football team from Baghlan came in second, the Oqaban-e-Pamir football team from Badakhshan came in third and the Perozi football team from Samangan came in fourth," Rahimi said.
The Kunduz Football Federation in co-operation with the Kunduz Physical Education and Sports Department plans to organise a tournament among teams in the northeastern zone and in Bamiyan and Ghazni provinces, he added.
Mansoor Ashrafzada, a resident of Badakhshan, came to Kunduz city to watch the football matches.
"I am a football fan and watch foreign and domestic matches on TV, but today I came to Kunduz to watch provincial football matches in person," he said.
"I have participated in the provincial matches in Badakhshan, but I want to learn new tactics from the provincial tournament so that I can play in national and international matches in the future," Ashrafzada said.
"We are trying to keep this game alive and pass the torch to the next generation," he added.
Growing interest in sports
With the launch of summer and fall tournaments by the Kunduz Football Federation in recent years, the number of young men joining the game has grown significantly.
There are more than 4,000 football players across various age categories in Kunduz province, divided into 40 football teams, said Abdul Rashid Samadi, director of the Kunduz Football Federation.
"Football has many fans among the youth who play daily on various teams," he said.
"We try to provide more sports opportunities to football lovers and followers so that they can bring trophies to their people in national and international competitions," he said.
"Kunduz is the centre of the northeastern zone," said Ghulam Nabi Khurami, a football player in Kunduz, referring to the province's gravitational pull for aspiring players from neighbouring provinces. "Every day, new players join the game."
"We try to make the audience happy and proud by playing good games," he added.
Sayed Fawad Hussaini, a football player from Baghlan province, said he is happy to bring joy and hope to the public through the game.
"I have been captaining teams for the past 10 years," he said. "We try to further expand the game and pass it on to the next generations."
"Such efforts have encouraged many young Afghans to join the game," Hussaini said. "We hope that, like in the past, the players will be given the opportunity to play abroad too."
While football has grown significantly in Kunduz, other sports such as volleyball, basketball, martial arts, cricket, wrestling and buzkashi have considerable fan bases.
Residents of the province love sports and look forward to watching their favourite teams play, said Nematullah Akhundzada, a resident of Kunduz.
"I am personally a fan of cricket," he said. "When national tournaments are played, I watch them on TV until midnight."
"We have great heroes on the Afghan cricket team who have shined very well in recent years and have brought great honour to their people," he added.