HERAT -- Local wrestling competitions have recently resumed in Herat province.
Thousands of spectators gather in a field north of Herat city on Fridays and on holidays to watch matches between local wrestlers, known as pahlawans.
Athletes wrestle on a circular ground while viewers watch the matches from the sidelines, cheering for their favourite wrestlers.
These matches provide thousands of Herat residents the opportunity to have fun together for a few hours, away from all economic woes and life challenges.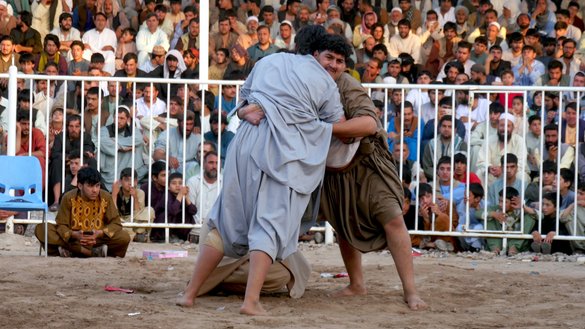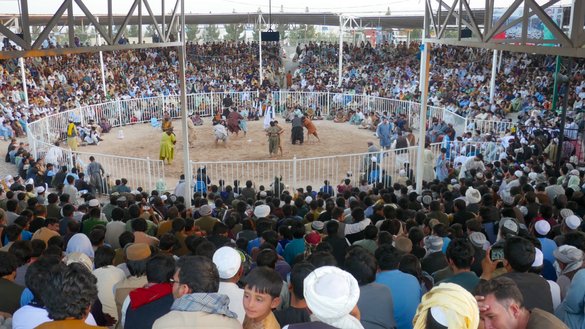 Juma Gul, 80, a resident of Herat who came to watch a wrestling match on June 10, said that he waits the entire week for Friday to watch the local wrestling matches.
"I was a wrestler in my youth. Now that I am old and can't wrestle, I enjoy watching young men wrestle," he added.
"I inherited wrestling from my father, and two of my sons are also local wrestlers," he added. "We are trying to keep the game alive and pass the torch to the next generation. Local wrestling is part of our culture and history and must always remain alive."
Local wrestling is an old Afghan sport that dates back centuries. The game has passed down from one generation to another and still has many fans.
Afghanistan's National Olympic Committee has registered local wrestling as a national game.
Several local wrestling competitions have been held in recent months between wrestlers from Herat, Kandahar and Helmand. Similar matches have occurred in several other provinces, too.
Growing interest among youth
With the establishment of gyms and many young Afghans turning to them, the game has grown significantly in recent years in Herat.
The number of athletes in the sport has exceeded 3,000 in Herat, said Basir Ahmad Joya, president of the wrestling federation in the western region.
"There are more than 20 local wrestling gyms operating, where young people work out daily," he added.
"Local wrestling has grown more than any other time in Herat, and new players join the game every day."
"The Herat wrestling team is the champion in Afghanistan and has been first in the country many times," Joya added. "Herat athletes have won medals in wrestling competitions in other countries such as Iran, too."
Local wrestling is a good source of income for pahlawans and for the gyms where they practice, he said.
Sayed Aqa, a local wrestler in Herat, said he is happy that he is bringing joy and hope to the public through the sport.
"More than 10,000 young and old people come to watch local wrestling matches on their days off and have fun for a few hours," he added. "We also try to entertain them with a good game."
"Local wrestling is an old game that was passed on to us from our ancestors," he added. "We try to further promote the game and transfer it to the next generations."
Sayed Aqa said he is hopeful that like in the past, there will be opportunities for him and other athletes to compete abroad.
Javed Amiri, a local wrestler in Herat, said that he is interested in local wrestling and works hard to succeed in this field because it is the "sunnah" [habitual practice] of the Prophet Muhammad.
"People are very interested in local wresting, and this has encouraged many young Afghans to join the game," he added. "We try hard to promote local wrestling even more."
Restrictions on athletic activities
While local wrestling has grown in Herat, other sports such as football, cycling, volleyball, cricket and martial arts are facing challenges.
Plans for Herat athletes to compete in international competitions have been cancelled in the past year, and the number of domestic competitions has decreased significantly.
Afghanistan's National Cycling Federation was dissolved in Kabul after last August, leaving the sport in limbo, said Sayed Abdullah Fazli, director of the cycling federation in Herat.
"We cannot participate in any national or international competition right now, and that has left nearly a thousand cyclists in limbo," he added.
"We used to participate in national or international competitions in the past, but it has been almost a year since Afghan cyclists competed [anywhere]," he added.
About three years ago, Herat cyclists pedalled to Turkey via the Lapis Lazuli Route to deliver the message of peace from Afghans to the world, Fazli said.
Hamid Abdulhai, a taekwondist in Herat city, said that while he has two international and four national medals, he has not participated in a competition in almost a year.
"National competitions are fully stopped while there are no opportunities provided to athletes to participate in international competitions," he added.
"The National Olympic Committee would facilitate our participation in international competitions in the past, but now all doors are shut on Afghan athletes."
Current circumstances have deprived him of hope and he has no motivation to work out as he once did, he said.
"All athletes have been victims of the recent developments in the country," Abdulhai said.