ZABUL -- Cricket teams from seven southern provinces held a tournament September 1-10 in Zabul Province, urging the Taliban to choose the path of peace and end the war.
Teams from Kandahar, Helmand, Nimroz, Herat, Ghazni, Paktika and Zabul provinces played against each other in the "Peace and Ceasefire" cricket tournament in Qalat, the capital of Zabul Province.
In the final match, the team from Helmand won the championship by defeating Paktika.
"I am very happy the cricket tournament under the name of 'peace and ceasefire' was held in Zabul," said Lal Jan Afghan, a resident of Shamalzo District, Zabul Province, who attended the final match.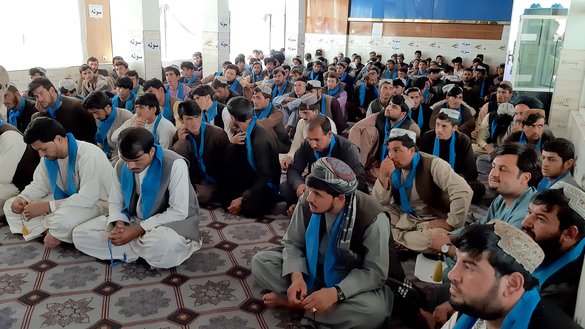 "May God bring permanent peace in Afghanistan," he said. "If peace comes, we can go to any part of Zabul and live a happy life."
"I am calling on the Taliban to make peace and declare a ceasefire," Afghan said. "All the victims of the fighting in Afghanistan are innocent Afghans, so we all are tired of this situation and we are asking for peace and a ceasefire."
The cricket tournament "shows that we are thirsty for a ceasefire and peace", said Abdul Qayum Ajez, a civil society activist in Zabul.
"We are asking the Taliban to join the peace process and take advantage of this opportunity," he said. "We have not seen anything other than misfortunes during the past 18 years of war."
"Cricket is a game of peace, brotherhood and unity," said Rohullah Hakimi, a 35-year-old cricket fan from Zabul who watched the tournament.
"This tournament has an important role in uniting the youth and building ties among the provinces," he said. "We hope that the insurgents will stop fighting and join the peace process because fighting has oppressed many Afghans."
"With these matches we mean to raise the voice of peace from one province to other provinces," said Abdur Rahim Rahimi, a player on the Nimroz cricket team.
"Through cricket games, we can make a good campaign against fighting and drugs," he added.
Uruzgan youth call for ceasefire
Other Afghan youth are continuing the calls for peace.
Dozens of youth gathered September 12 in Tirin Kot, capital of Uruzgan Province, to call on the Taliban to declare a ceasefire.
"There are youth who have lost their eyes in land mine explosions, they have lost legs and their wish is to see peace," said Ahmad Jawed Khpalwak, 36, a participant from Uruzgan.
"If a ceasefire is not declared, this misfortune and hateful treatment will continue, which will be to the detriment of Afghans," he said.
"Our fundamental demand of the politicians, government and Taliban is to make a permanent ceasefire and meet each other the same as they did during the last year's Eid ceasefire so that the happiness can return once again," Khpalwak said.
The Afghan government announced a week-long ceasefire with the Taliban starting June 12, 2018, in a bid to bring the group to the negotiating table. The Taliban agreed that year to observe the ceasefire for Eid ul Fitr from June 15-17.
This year, a much-anticipated Eid ul Adha greeting from Taliban leader Mullah Haibatullah Akhundzada on August 8 made no mention of the truce that many Afghans long for.
This year's Eid ul Fitr also passed with Haibatullah's rejection of a ceasefire.
"Now we and you are forced to make peace at any cost, and we want permanent and stable peace," said Daud Durrani, a participant of the Tirin Kot rally. "We do not need a five-day-long peace where the next day Afghanistan gets into trouble again and no Afghan finds shelter or spends a peaceful night."
"In the fighting, youths are the ones who get hurt the most," said Asadullah Noori, another participant. "The only reason behind today's gathering is that on both sides, youth are in the fighting forces. Peace is important because we are being killed; therefore, we want a permanent ceasefire and peace."