LAGHMAN -- Civil society activist and radio journalist Idrees Syawash has embarked on a bicycle ride to every province in Afghanistan with the goal of spreading education and literacy.
Syawash started his trip December 10 from Mehtarlam, capital of Laghman Province, and headed towards Jalalabad, Nangarhar Province. From Jalalabad he cycled to Kabul, arriving there Sunday (December 16).
Mounted on the back of his bicycle, Syawash has a small library full of books with photographs of famous Pashtu language writers.
Through a loudspeaker, he plays pre-recorded messages in which he encourages the public to read the books and get an education.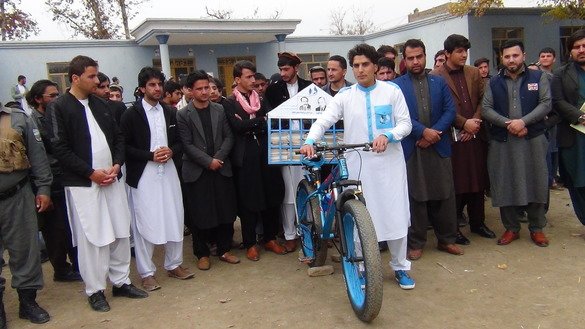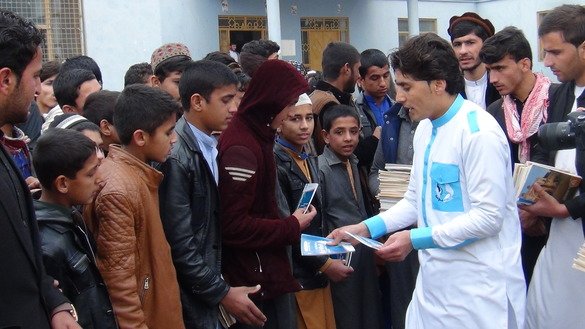 Spreading literacy
Syawash, 27, said was already "fighting" to spread literacy before embarking on his bicycle tour.
"I used to post about my activities on Facebook, but now I realised that Afghanistan's new generation wants a revolution in education," he told Salaam Times in Mehtarlam.
"As far as I know, the only way to eliminate all misfortunes is education," he said. "By riding this bicycle, I want to visit all provinces and spread the message of education."
Syawash collected hundreds of books from other Afghans through a Facebook campaign. Before kicking off his trip to other provinces, he distributed books and notebooks to a large number of students in Mehtarlam.
"I want to visit a number of schools in each province and give books and notebooks to talented students," he said. "This is in order to encourage others to pay attention to their studies."
When he is not riding his bicycle, Syawash runs a private radio station in Jalalabad. He previously worked for Arakozia FM and the Afghan Women's Network.
Sowing the seeds of knowledge
Many Afghans have praised Syawash for his work and say such initiatives can raise awareness of the value of education.
"My Syawash wants to sow the seeds of knowledge, education, love and affection in the hearts and minds of the war-torn nation," Mohammad Idrees Gharwal, a Pashtu language poet and author, wrote on his Facebook page.
"This is big, and it will deliver a message to society to pursue education," Helaluddin Azizyar, a journalist in Jalalabad, told Salaam Times. "My friends and I support this, and we will do our best to help with this cause."
"Education is a big necessity," he said. "Such awakened and aware youth can give progress to our education sector and further develop it."
"We are happy for whatever is being done for education," said Mohammad Yousaf, 28, a resident of Jalalabad. "We appreciate it, and we will help as much as we can."
"Other youth like Syawash should work for education because our country really needs it," he told Salaam Times.