MEHTARLAM -- Hundreds of athletes and youth from Laghman Province October 22 in Mehtarlam signed a 50-metre-long banner urging the United Nations to "make real efforts to bring peace to Afghanistan".
"We want to tell the world ... that the war has been imposed on us -- we do not want war and world leaders should increase their efforts for peace," Mohammad Ibrahim, a 25-year-old athlete who signed the banner, told Salaam Times.
The on-going war has taken many Afghan lives, he said.
Sports can be a message of peace, said Sayed Humayoon, another athlete who signed the banner. "I want the UN leaders to end the ongoing war in Afghanistan," he told Salaam Times.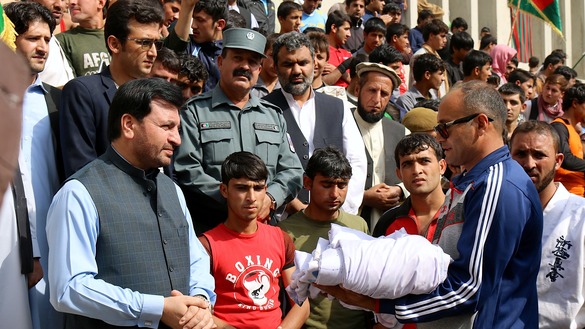 "How long will we be killed? How long will we be injured? How long will the bomb blasts in our mosques continue?" he said. "We cannot tolerate this situation anymore, and we want to raise our voice through this banner."
"The situation in the country is [getting] worse. There are explosions and deaths, and we want peace and betterment in these situations," Zwan Inqilabi, a journalist and a civil society activist in Laghman, told Salaam Times.
Government support
The government's efforts for peace will continue, said Faizanullah Patan, director of information and culture in Laghman Province.
"We will support the voice of youth for peace and will expand the campaign to other areas," he told Salaam Times.
The athletes handed over the banner to Laghman provincial governor Abdul Jabbar Naimi, who pledged to pass it to the UN office in Kabul with the support of other officials.
"Given the situation of the country, it is every Afghan's right to raise his [or her] voice for peace and security, and his beloved country from these misfortunes," Naimi said while receiving the banner.
"We call upon those animals who kill hundreds of innocents and take away their right to live to stop these illegitimate activities," he said.