LAGHMAN -- Nearly 300 tribal elders, religious scholars and youth praised the Afghan government's continuing efforts towards peace at a recent meeting in Mehtarlam, capital of Laghman Province.
The participants, who included women, called on the militants to take advantage of the chance to end the war.
"This country is tired of fighting," Abdul Majeed Alokozay, chairman of the Laghman disabled [persons'] council, said during the July 10 meeting.
"The country wants peace. We are dying for peace, so come and make peace and don't kill your own people anymore," he urged the Taliban. "If you haven't gained any benefit [over decades] of fighting, you won't get more. Hence, just stop it and consider this country your country."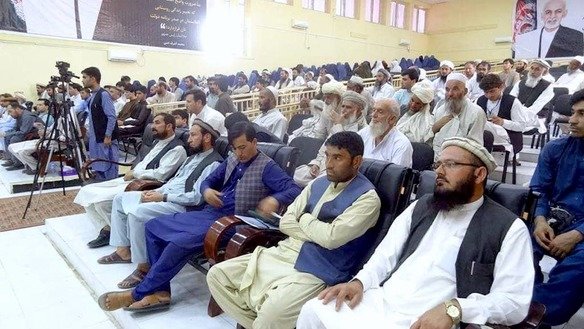 Alokozay thanked President Ashraf Ghani and the Afghan government in general, which "for the first time started such efforts in regards to peace and ... are still continuing it".
"I, as an Afghan disabled person, call on the Taliban...[to] come and make peace," Alokozay said.
"I have lost precious body parts in this war," he said. "I have lost them in order to bring peace. Come, I will forgive all this for you, but do not fight anymore."
Zahidullah Musazai, a civil society activist who participated in the meeting, also urged the Taliban to respond positively to the call for peace and to stop the violence.
"The Imam-e-Kaaba said that this fighting is illegitimate. Saudi Arabia called it illegitimate; the rest of the Muslim world called it illegitimate, so, why you are still fighting?" he said, referring to Sheikh Saleh bin Muhammad Ibrahim, the imam of the Grand Mosque in Makkah.
"If you are [allegedly] fighting for the sake of Islam, you got the call from the centre of Islam, which said this fighting is illegitimate," Musaizai said.
"Now it is up to you. We are begging you to stop fighting and think about rebuilding the country," he said.