MEHTARLAM -- Almost 1,200 tribal elders and religious scholars have come together in Laghman Province to pledge support for Afghanistan's upcoming parliamentary elections scheduled for October 20.
At a gathering April 26 in Mehtarlam, the provincial capital, they vowed to raise public awareness of the importance of the election as well as of the registration and voting processes.
"Elections are a fundamental element; they are a matter of the nation's fate, so we have to choose our fate ourselves. Choose it carefully so that we do not regret it later," Obaidullah Alekozai, chairman of the Laghman Ulema Council, told the gathering.
"This is a legitimate process; no one should be scared. No one can ruin the elections," he said.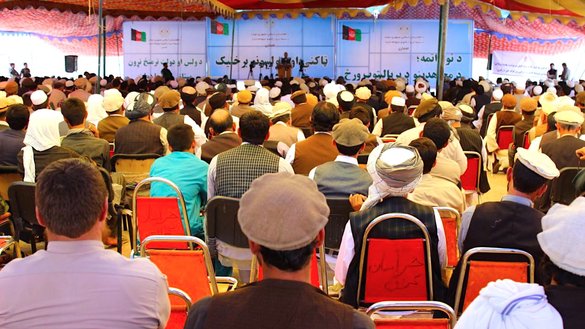 "Come and get Tazkira [National Identity Cards] for your family members, register yourselves and take part in the elections," Alekozai urged. "If you do not [participate], you will ruin your fate yourselves, and you will not be able to do anything to go back and fix it."
Raising public awareness
Gulzar Sangarwal, a Laghman provincial council member, also called on residents to get their identification cards and register to vote.
"Prepare to take part in the elections and to make them successful," he said at the gathering. "My second demand is for the government to facilitate [the voter registration process] and to tighten security on the day of elections so the nation can take part in the elections and vote for their favourite candidates."
He urged voters to choose representatives who will serve the public interest, not those who might toy with the fate of the nation.
Malak Asadullah, a Laghman tribal chief, encouraged residents of remote areas to vote.
"There are few people in the [provincial] capital, while more people live in the districts," he said at the gathering. "[Those voters] are important because their voice is not being heard... If they take part in [the election] and choose good representatives, their voice will be taken into account somewhere. But if they don't take part in elections, they will never be able to ask for their rights."
Public awareness and educational programmes highlighting the importance of elections will take place in Laghman districts, said Malak Tor Khan, another tribal chief who participated in the gathering.
"This gathering is an example of how to raise public awareness [about elections]. These [attendees] may inform others in their villages and suburbs that the election is an important principle and they should take part in it," he said.
The government should open more registration centres in areas where women and men can easily take part, he added.
"We are being killed and injured every day; that is the situation in the country," said Malak Shah Mard Khan, another Laghman tribal elder. "Let's vote in elections even if there is gunfire, because this is our destiny and enemies want to destroy our fate."
Securing voter registration centres
Laghman Governor Asif Nang assured participants at the gathering that Afghan National Defence and Security Forces will ensure the safety of the registration and polling centres.
"We will protect those centres that are facing threats in Laghman," he said. "We conducted operations in Alingar District, and we scrubbed it of [militants]. Operations are ongoing in Alishang District too, and we want to erase [militants] from there."
"We will not allow threats [to exist], and we will provide good security for the nation on the days of [voter] registration and elections," he said.
"I can say with confidence that we will remove all of the threats standing in the way of elections," Nang said.
More than 90% of the province is free from militant threats and is secure, "and [voters] will be able to take part in elections easily", he added.
"I am calling on the residents of Laghman to register their names for elections and to go to the registration centres with confidence," he said.