KUNAR -- Nearly 500 tribal elders, religious scholars and government officials in Asadabad, Kunar Province, have urged residents to register their names to vote in the upcoming elections.
"Let's elect representatives in the upcoming Wolesi Jirga and district council elections who will be the real servants of [Islam] and the country," Mawlawi Najibullah Haqyar, a religious scholar in Kunar, said at a gathering in Asadabad May 11.
He urged residents to register their names, pick up their tazkiras (national identity cards) "and widely participate in elections".
"Do not sell your votes. It is your faith and moral duty to elect a good and representative who serves [the public] well," he said. "This is a chance, and do not waste it."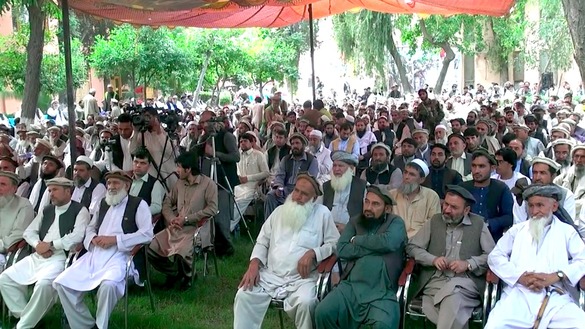 Voting is every Afghan's duty
Afghanistan's legislative and district council elections are scheduled for October 20, ahead of presidential elections in 2019. The deadline to register to vote has been extended to July.
"If we do not get tazkiras and do not use our votes, we will betray ourselves and the country," said Shah Wali Salarzai, a local civil society activist.
"Each participant of this gathering should ... encourage the public to take part in the elections," he said. "Everyone should consider it as his duty and achieve it."
"We have had some experience over the past few years, and we learned who is honest and who is dishonest," tribal elder Haji Mohammad Rozi said at the gathering, referring to potential candidates in elections.
Saleh Mohammad Saleh, a representative of Kunar in the Wolesi Jirga (lower house of parliament), welcomed the new voter registration process.
"A number of individuals in the country are trying to create obstacles in the way of the implementation of this national process, but the nation will never let that happen," he said.
"The residents of Kunar are ready to show their ID cards so they can register [to vote]," said Walayat Khan Mishwani, chairman of the Kunar provincial council.
Struggling for peace, development
Kunar Governor Wahidullah Kalimzai called on residents to participate in the election and pledged to ensure voters' safety at the polls.
"We need to take ID cards to prove our identity and [the size of our] population so that we can get our rights from the central government," he said, adding that the recently introduced electronic tazkiras are very modern and up to international standards.
He urged residents to take decisive measures for peace and stability in the country and to bring to peace those who are fighting.
"Reconstruction of this country requires struggle," he told the gathering. "Therefore, you should choose those representatives who can take your difficulties to the concerned authorities and help you find a solution."
Kalimzai thanked residents of Kunar for not remaining silent on national issues.
"Besides bringing peace and stability to the country, the electronic ID cards will prove effective in preventing corruption and in the area of development," he said.
"I assure you that the enemy is beaten and that our brave soldiers will defend you and protect you in the upcoming elections," he said.