KHOST -- A blast at a voter registration centre on the grounds of a mosque in Khost Province Sunday (May 6) killed 17 people and wounded 36, a health official said. Among the dead was a female election worker.
The bomb had been hidden in a tent being used to register voters, marking the latest attack on preparations for long-delayed legislative elections.
"A crowd that came out of the mosque had gathered to register" when the blast took place, Khost provincial police chief Abdul Hanan Zadran told AFP.
Provincial Deputy Director of Public Health Gul Mohammad Mangal warned the toll could rise, with several of the wounded in critical condition.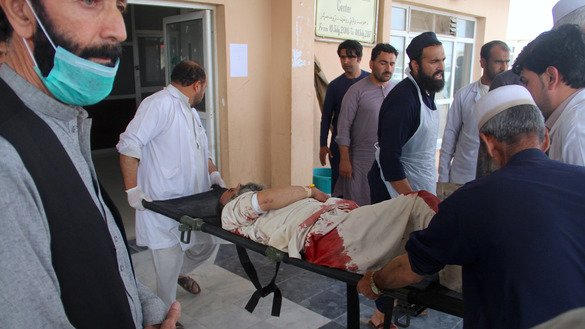 There was no immediate claim of responsibility, but the Taliban denied involvement.
It was the latest attack on election preparations and comes almost a week after 25 people were killed, including nine journalists, and 49 others injured in a double suicide bombing in Kabul claimed by the "Islamic State of Iraq and Syria" (ISIS).
On April 22, an ISIS suicide bomber detonated his explosives in a large crowd queueing to collect national identification certificates as part of the voter registration process in Kabul, killing 60 people and wounding more than 100.
Voter registration to continue
The Independent Election Commission (IEC), which is overseeing preparations for the vote, hopes to register up to 14 million adults at more than 7,000 polling centres.
By Saturday (May 5), just over 1.2 million adults had registered, three weeks after the two-month long process began, data compiled by the IEC showed.
Authorities have deployed planes to drop leaflets in a number of provinces to raise awareness about the elections, scheduled for October 20 and which are seen as a test run for next year's presidential poll.
A radio and television campaign is also under way, and civil servants have been granted a day off to sign up.
The IEC has placed many of the voter registration centres inside schools and mosques, triggering concerns that students and worshippers could be at risk.
Another hurdle to voter registration is a sticker placed on national identification certificates showing the holder has signed up for the poll.
There are concerns that the stickers could put voters in restive districts at risk of being targeted by Taliban or ISIS militants.