JALALABAD -- A group of volunteers in Jalalabad have collected more than 8,000 books to fill the shelves of a new public library in Jalalabad, built by the Ministry of Information and Culture.
The group handed over the books to the Nangarhar Department of Information and Culture during a ceremony January 12.
This library opened four months ago but lacked the funding to buy many books.
That is when a group of academics, journalists and cultural activists launched a campaign on social media to raise funds and collect books for the library.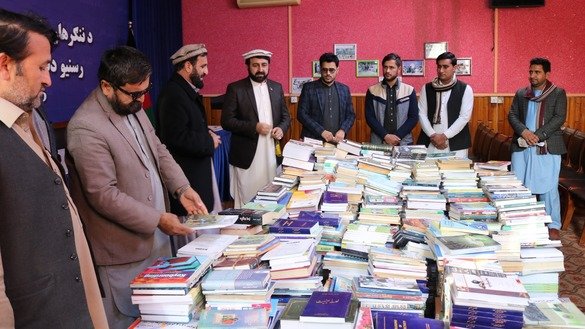 "We began this campaign because, unfortunately, the library had very few books ... and it lacked necessary books for university students, youth and researchers," said Mahboob Shah Mahboob, a Pashtu literature lecturer at Kabul University who led the book collection campaign.
"We urged contacts on social media and on our personal networks to help the library with books," he said at the ceremony in Jalalabad. "Luckily, many of them provided support, and we handed over all the collected books today to the Department of Information and Culture."
The books cover a variety of fields, including medicine, economics, engineering, journalism, history and political science, religion, culture and social issues, he said.
The campaign also raised about 100,000 AFN ($1,320) for the library to purchase additional books, Mahboob said.
'Boundless passion' for reading
Nangarhar Governor Hayatullah Hayat thanked the volunteers for helping the library stock its shelves and assured that the books would be well maintained.
"This campaign showed that our educated citizens and youth have boundless passion to read and write and acquire knowledge," he said at the ceremony. "This is just one of the examples."
"I will help young Afghans like you and try hard to purchase useful books for the library from the government budget," he said.
Nangarhar Director of Information and Culture Aurang Samim, who received the funds raised by the campaign, similarly expressed gratitude to the organisers.
"I thank these young people who ran the book collection campaign, who put so much effort into it and collected thousands of books," he told reporters. "I assure you that I will arrange these books at the library so that everyone can use them."
"We had allocated books for the library, but the slow government processes delayed them," he said. "Now that a budget has been approved for the books, authorities will purchase more books for the library."
Importance of education
Residents of several provinces contributed to the book collection campaign, according to Jalal Yaqobi, 34, a freelance journalist and civil society activist from Nangarhar involved in the book collection campaign.
"We were not alone," he told Salaam Times. "Residents of Khost, Kandahar and Herat provinces promoted our campaign and sent us books."
"The public has realised the importance of education and put great effort into spreading knowledge," he said. "We will expand this campaign to other provinces where libraries lack good books. We will try to get them books so that readers can use them."
"Educated residents of Nangarhar are happy and say that if the public libraries are enriched, more library users will have the opportunity to access books for free," Yaqobi said.
"Most Afghans can't afford to buy books," Nangarhar-based journalist Parwaiz Romal, who was involved in collecting the books, told Salaam Times.
"If public libraries have useful books and they are made available, readers will be able to borrow them for free and learn much from them," he said.