KABUL -- The Fatemiyoun Division -- a militia made up of Afghans and commanded by Iran's Islamic Revolutionary Guard Corps (IRGC) -- appears blissfully unaware of the dangers that close social contact pose in transmitting the deadly coronavirus that is upending societies across the world.
As of Tuesday (March 31), the worldwide death toll from the affliction had reached 38,714, while the number of infections closed in on a million.
The Division published a number of pictures Sunday (March 29) of its members participating in a number of sporting competitions, with a number of images showing the militants packed closely together and even wrestling.
Governments across the globe have mandated lockdowns and strict social distancing of their citizens -- even that of Iran, one of the countries hit hardest with the virus.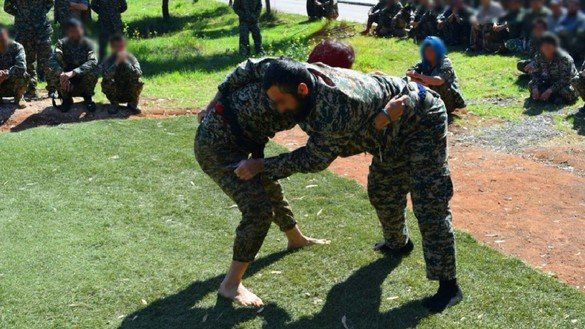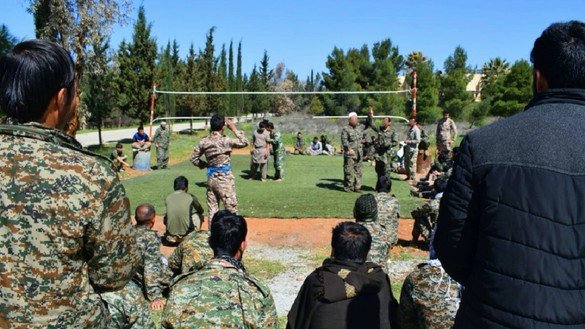 Despite the overwhelming news coverage of the virus, Fatemiyoun fighters appear to be functioning as if the world was not in a health crisis.
In one photo, a tightly packed group of members surrounds a foosball table. In another, two members are wrestling while others nearby look on. Several other photos published by the group show similar flouting of health safeguards during this crisis.
Meanwhile, Tehran is spreading conspiracy theories in an attempt to deflect blame from how the Iranian regime has bungled its handling of the COVID-19 outbreak.
International concern has been growing over the Iranian regime's lack of transparency in delivering accurate information to the public regarding numbers of COVID-19 patients and deaths.
The country had 2,898 confirmed deaths from COVID-19 as of March 31, but the true number could be many times higher. Satellite footage in March showed Iranian crews digging mass graves.
Deaths mounting
The media channel of the Fatemiyoun Division has also been busy publishing pictures of the many funerals being held of fighters who were killed in Syria supporting Syrian dictator Bashar al-Assad.
The coverage of these events in Iran reignited Afghan outrage over the militia's activities.
In late February, Iranian state media broadcast reports and photographs of funerals for Afghans killed in Syria.
Now, as Syrian government forces gain ground in Syria and have less need for Iranian-backed militias, Tehran might try to use Fatemiyoun in Afghanistan, creating even more carnage, according to experts.