Mahan Air, owned in part by Iran's Islamic Revolutionary Guard Corps (IRGC), has been a key vector in the massive outbreak of coronavirus in Iran and in the consequent spread of the deadly virus throughout the region and beyond, according to a growing body of evidence.
Multiple media outlets have reported in past weeks that Mahan Air continued to operate dozens of flights between Iran and China during the height of the coronavirus spread in February and March, despite an official Iranian ban on such flights and in defiance of of common-sense healthcare practices.
An investigation by Radio Farda "revealed that from February 4 to February 22 Mahan Air flew at least fifty-five times to Beijing, Shanghai, Guangzhou and Shenzhen and back to Iran from Tehran's Imam Khomeini Airport".
The February 25 report included information from flight-tracking websites such as Flightradar24, showing Mahan Air had not suspended its China operations.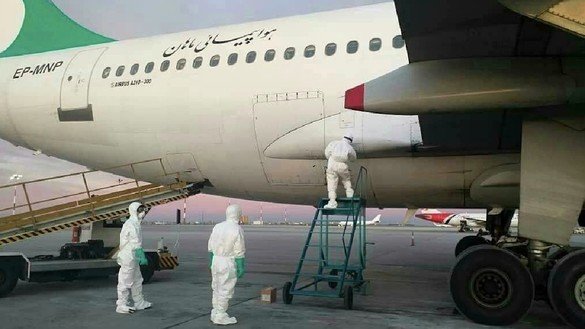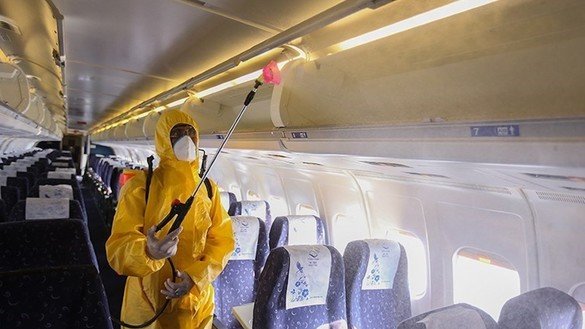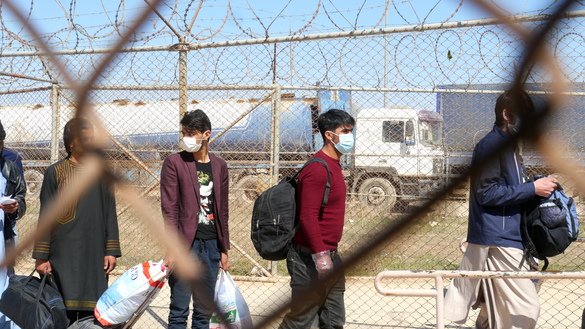 February was a key month for the spread of the coronavirus (COVID-19) in Iran, as by mid-month it became clear the virus had taken hold in the country.
Iranian Deputy Health Minister Alireza Raisi said in February that the outbreak in Qom, the epicentre of the virus in Iran, was "clearly and specifically" linked to Chinese workers and students, Iranian official media outlet IRNA reported.
Just two days after the regime admitted to the first case of COVID-19 in the country on February 19, Iranian workers were seen digging mass graves over 100 metres long in Qom.
By the end of that month, international concern was growing over the Iranian regime's lack of transparency in delivering accurate information to the public as the uncontrolled coronavirus outbreak in the country threatened -- and eventually infected -- neighbouring countries and beyond.
Mahan Air flights continue
Despite the known threat and growing death toll from COVID-19, Mahan Air continued to operate round-trip flights between Tehran and China well into March, according to a BBC Persian report.
Mahan planes have flown 32 times between Iran and four destinations in China since February 3, the BBC reported March 5.
The reports on the continuation of Mahan Air flights between Iran and China drew sharp criticism and anger from Iranian lawmakers and the general public.
"Their crime is bigger than those who hoard masks," said Iranian member of parliament Bahram Parsaei, referring to Mahan Air, adding that the airline and Iran's Civil Aviation Organisation (CAO) must be investigated for their role in spreading the virus.
Mahan Air has denied performing commercial flights to China and claims the flights have been for transporting "humanitarian aid" including coronavirus test kits and other medical equipment, Radio Farda reported.
The CAO has backed up those claims, saying the airline is operating cargo flights only.
The Iranian people, however, are not satisfied with that explanation and have raised their concerns on social media.
Given Iran's shortage of medicine and medical supplies -- including testing kits, face masks and sanitiser -- it is unlikely that it was shipping planeloads of health assistance to China at a time when the outbreak in Iran was rapidly worsening.
Mahan Air could not have continued its flights to China without permission from an authority above President Hassan Rouhani's government -- namely the IRGC, which is accountable only to Supreme Leader Ayatollah Ali Khamenei.
Connections to Revolutionary Guards
Speculation surrounds the reasons for the continued Mahan Air flights, but evidence points to financial gain for the IRGC and political necessity for the Iranian regime.
A number of the cited flights reportedly later flew from Tehran to Kerman and Asalouyeh, Rouydad 24 reported.
The Iranian news website suggested that the airline has been shipping car parts to Kerman Motor, a car manufacturer in Kerman, and other merchandise to Asalouyeh, the location of a free trade zone and South Pars oil and gas plants and refineries.
Mol-Al-Movahedin Charity Institute is also based in Kerman, it reported. The "charity" is controlled by the IRGC and owns 100% of Mahan Air and 50% of Kerman Motor.
Many observers also point to Tehran's ever growing isolation due to its funding of militias and terrorism throughout the region and its unwillingness to forgo the pursuit of nuclear weapons.
This isolation has resulted in Russia and China being Iran's main economic outlets, leading many analysts to conclude that the IRGC was reluctant to sever any links with China, no matter the risk.
Iran at the epicentre of the outbreak
The Iranian regime's numerous missteps regarding the outbreak made its country one of the world's main epicentres of the COVID-19 pandemic and have caused immeasurable harm to its neighbours.
As of Friday (April 10), Iran had 66,220 confirmed cases, including 4,110 deaths, but outside analysts suspect the true numbers are much higher, while worldwide deaths topped 100,000 was steadily growing.
Across the border in Pakistan, a huge number of existing cases of COVID-19 have been linked to Iran.
"Eighty percent of the COVID-19-confirmed patients in Pakistan originated from Iran, which lacked the capacity to deal with an international public health emergency," Dr. Zafar Mirza, special assistant on health to Prime Minister Imran Khan, told reporters in Islamabad March 24.
In Afghanistan, authorities are struggling to deal with the tens of thousands of Afghan refugees forcibly deported from Iran every day, many of whom are suspected or confirmed to have the coronavirus.
Herat Province, the main border crossing between Iran and Afghanistan, is now the centre of Afghanistan's crisis with the deadly virus. Turkmenistan, which shares a border with Iran, has closed its entry points with Iran.
Other countries in the region, such as Iraq, Turkey, Kuwait and the United Arab Emirates, have seen the numbers of infected citizens spike from exposure to those who travelled to or lived in Iran.
The militia airline
The controversy over COVID-19 is not the first time Mahan Air has been in the headlines.
Mahan Air, which has been subject to sanctions by the US Treasury Department since 2011 for providing support for the IRGC's Quds Force, is known by many as a "militia airline".
The IRGC has been using Mahan Air for years to transport irregular fighters from Afghanistan, Pakistan, Iraq, Yemen, Lebanon and elsewhere to hotspots like Syria where they fight in the Iranian regime's proxy wars.
Some of those personnel have included Fatemiyoun Division and Zainabiyoun Brigade fighters, comprised of Afghans and Pakistanis, respectively.
Just recently, Fatemiyoun fighters appeared to be taking a cavalier approach to the global health pandemic.
The Division published a number of photographs March 29 of its members participating in sporting competitions, with a number of images showing the militants packed closely together and even wrestling, flouting health safeguards during this crisis.
Meanwhile, Tehran is spreading conspiracy theories about the origins of the virus in an attempt to deflect blame from how the Iranian regime has bungled the COVID-19 outbreak.