KABUL -- Political and military pressure, the demands of religious scholars and increasing calls for peace from the general public compelled Taliban leaders to agree to a temporary ceasefire with the Afghan government earlier this month.
But after the brief halt in hostilities for Eid ul Fitr (June 15-17), certain factions of the Taliban leadership are showing their true colours and intention of not adhering to their commitments, security officials and observers say.
Broken promises
The Afghan government has made every effort to bring the Taliban to the negotiating table -- including extending its initial week-long ceasefire by an extra ten days, providing medical and humanitarian assistance to fighters, and releasing a number of Taliban prisoners.
"Taliban prisoners will also be allowed to contact and see their families," Afghan President Ashraf Ghani said on Twitter June 16.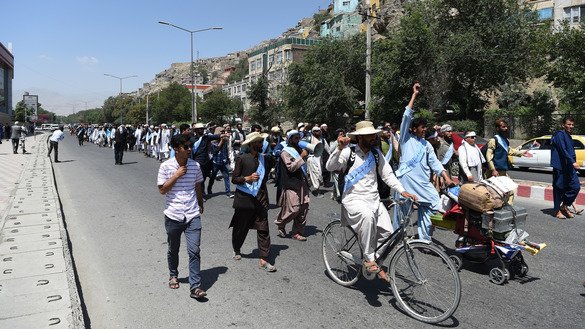 Forty-six Taliban prisoners had been released June 15 as a sign of goodwill, a trend that "is going to continue", said Ghani, according to news reports.
"We're ready for comprehensive negotiations, all those issues and demands that have been put forth we are ready to discuss them at the peace talks," he tweeted.
Ignoring the government's olive branches, the Taliban refused to extend the ceasefire, disappointing many Afghans, including Taliban fighters who had a taste of life in the cities and the warmth of the Afghan public during Eid ul Fitr.
The group also lost the faith of the public when it resumed militant activities across the country last week.
Another area of doubt is the Taliban's announcement June 9 that it would release prisoners who "will not rejoin the enemy ranks and [will not] fight against the Mujahideen".
So far, the group has not followed through on this promise.
It is not clear how many prisoners -- ANDSF or civilians accused of working for the government -- are in Taliban prisons.
"By announcing that they will release their security personnel prisoners, the Taliban are conducting propaganda and deceptive tactics and want to create a good image," Defence Ministry spokesman Mohammad Radmanesh said.
"The truth, however, is that this group always treats it captives and prisoners in an inhumane manner to the extent that it has brutally eliminated a majority of its captives," he said.
"For instance, they [Taliban militants] recently threw acid on the faces of their security personnel prisoners in Khas Uruzgan District. They beheaded their prisoners in Helmand Province," he said. "In Farah, they pulled a soldier out of his car and shot him dead in front of his family."
Ongoing human rights abuses
"Our monitoring and investigating the Taliban's prisons show the group's brutal and ruthless treatment of their captives and prisoners of war," said Bilal Sediqi, spokesman for the Afghan Independent Human Rights Commission (AIHRC).
"During their latest attack on Farah city, the footage of which was broadcast on the media, the Taliban cruelly mistreated a captured police officer and finally murdered him," he told Salaam Times.
"The Taliban torture and mistreat their prisoners of war and captives, which for us is a serious concern," he said. "The AIHRC calls for the treatment of prisoners of war and captives in accordance with international humanitarian laws," Sediqi added.
The Taliban, like other terrorist groups around the world, is notorious for mistreating prisoners, said Aziz Rafiee, director of the Afghan Civil Society Forum.
"The group is trying to buy time and deceive public opinion by announcing a ceasefire, releasing prisoners and other tactics," he told Salaam Times.
"[They] have always treated their captives and prisoners inhumanely and have murdered them ruthlessly," he said. "The group will not fulfill its promise of releasing prisoners."
"The Taliban have been defeated and have lost their morale," Rafiee said. "They are under pressure, both by the military as well as by public opinion. Their viewpoints are not popular in society."
Atrocities during Ramadan
While the Eid ceasefire was a welcome reprieve, it does not supersede the Taliban's numerous atrocities before and after, said Abdulwali Niazi, a representative from Badakhshan in the Wolesi Jirga (lower house of parliament).
"During Ramadan ... the group murdered scores of civilians and soldiers by carrying out terrorist attacks," he told Salaam Times, adding that on June 13 "they carried out a surprise attack on a security checkpoint in Jurm District, Badakhshan Province. They captured 20 soldiers and then shot them dead."
"They will never fulfill their commitments," he said. "The announcement of a ceasefire ... and the promise of releasing prisoners are further tricks and deceptive acts by the Taliban."
"The month of Ramadan has far higher religious value and standing than do the days of Eid," Ahmad Shakib, 26, a Kabul-based social media activist, told Salaam Times. "If peace is the Taliban's true objective, then why didn't it start its ceasefire and release of prisoners during the holy month of Ramadan?"
"This group killed more people in the month of God and peace than it did in any other time," he said. "Throughout its entire existence, the Taliban has never been honest and therefore will not adhere to its new promises, as was the case in the past."
"Contrary to its promise of releasing security personnel prisoners, it has beheaded many captives in past year," he said, adding that he has seen "videos on social media in which the Taliban fighters decapitated their prisoners and put their heads on their abdomens".
"I even saw them playing soccer with those heads in some videos," he said.
"The release of prisoners is yet another fake game set forth by this group," Shakib said.