KUNDUZ -- About 300 women from Kunduz Province have joined together to urge the Taliban to agree to a ceasefire in observance of the 100th anniversary of Afghanistan's independence, which will be celebrated August 19.
The women, who hailed from the capital city as well as from Kunduz districts, issued their call for peace at a gathering on Monday (July 22).
"I, as an Afghan mother, beg the Taliban to join the peace process for God's sake. Make peace, and stop the war," said Malalai Saad, 43, a women's rights activist in Kunduz Province.
"We call upon you [the Taliban] to take advantage of this process," she said. "Say 'yes' to peace, and don't make your sisters and mothers further grieve their lost loved ones."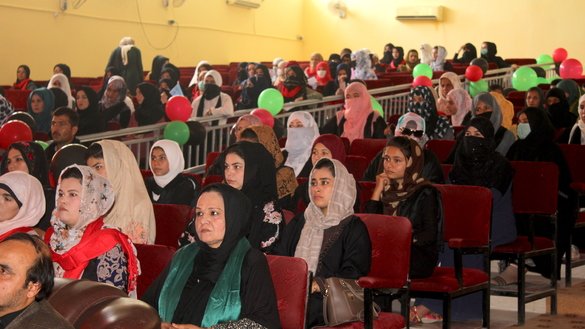 "Many young people get killed on both sides," she said. "How long will this continue? As your sisters and mothers, we ask you ... the children of this land, to unite with the government."
Open the door to peace
Kamila Setayesh, 30, a gender and youth specialist in Kunduz Municipality, asked all parties to the conflict to open the door to peace and development by ending the war.
"When there is no war, children can earn an education and reach the heights of success, but war creates all these miseries and destruction," she said.
"Look how backward our country has stayed in the 40 years of war," she said. "All our infrastructure was demolished, our military equipment disappeared, and our people were displaced and ruined. They are living a miserable life."
"We want the Taliban to agree to a ceasefire that will provide a peaceful environment for us to celebrate Independence Day," Setayesh said.
"If Afghans unite, they can give a strong and determined response to the enemies of Afghanistan," said Aziza Amini, 26, a poet and writer in Kunduz Province. "War and despair have forced our youth and investors to escape the country, which has left us with serious economic problems."
Intra-Afghan peace talks
Women can play a very effective role in ensuring peace and stability, said Nasiba Holkar, director of the Kunduz Department of Women's Affairs.
"If our country's women become committed and fulfill their responsibilities in delivering messages of peace, there is no doubt that the war will stop in every corner of Afghanistan," she said.
"Kunduz women demand that intra-Afghan peace talks result in something positive," she said.
"We don't want all the efforts and achievements of women in the past two decades to be sacrificed for peace talks," Holkar said.
"My message to the Taliban is to please stop the war. Afghan women want peace," she said. "Put an end to the war and killing for the sake of ... those mothers whose children are sacrificed every day."
Preserving women's achievements
"Women have sacrificed more than men, and their legitimate demands must be respected in peace talks," Safora Sediqi, a teacher at Bibi Aisha Sediqa High School in Kunduz city, said at the gathering.
"During the Taliban's rule, women were imprisoned in their homes, but now we see that they have had big achievements in recent years in various areas," she said.
"We want lasting peace in Afghanistan that does not ignore Afghans' demands," she said.
"Women have had an active role in all the national and political processes in the country, and they showed it today by expressing their legitimate and legal demands," said Kunduz Governor Abdul Jabbar Naimi.
"Imposed wars destroy infrastructure, as well as education, health care and the economy," he said at the gathering. "If the Taliban really believe in God, Koran and the religion [of Islam], they must stop the war because their sisters and mothers are calling upon them -- and that's a call for peace."