KABUL -- Human rights organisations and Afghan citizens are calling for justice following the Taliban's "war crimes" in recent bloody attacks in Kabul and Ghazni.
A Taliban attack in Kabul on July 1 killed at least six people, including one child and two special-forces soldiers, and wounded almost 100 other victims, more than half of them children, according to Afghan officials.
Five schools, a mosque and a TV station were destroyed in the attack that ostensibly targeted a Defence Ministry building.
Just a week later, on July 7, a Taliban car bomb in Ghazni killed at least 12 Afghans and wounded many more -- including dozens of children.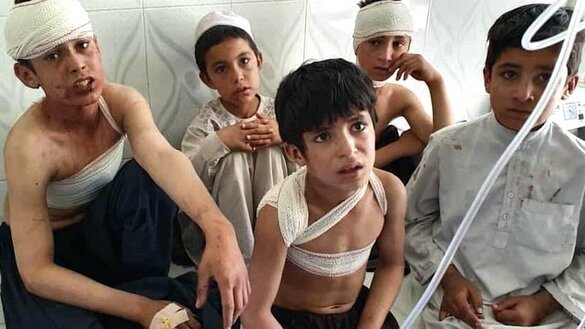 Despite Taliban claims that the bomb targeted "intelligence agents," "179 people, mostly civilians including children, were wounded," said Wahidullah Mayar, a Health Ministry spokesman.
"In the view of the [Afghanistan] Independent Human Rights Commission [AIHRC] and based on international human rights law, targeting civilians is prohibited," said Abdul Ahad Farzam, director of the AIHRC's Kabul office.
"Women and children are considered the very civilians in society who need to be protected," he said. "But the tactics the armed opposition use intentionally target large numbers of civilians, and this is what we witnessed in Ghazni and Kabul."
"These acts are considered clear breaches of humanitarian laws and are counted as war crimes," Farzam said. "Those groups and individuals who commit such crimes must be prosecuted and punished."
Surge in civilian casualties
"Civilian casualties decreased in June, but since the beginning of July, we have seen a surge in civilian casualties," said Aziz Ahmad Tasal, a member of the Civilian Protection and Advocacy Group in Kabul.
"We have seen no law in the world allowing parties to the conflict to attack places where civilians, schoolchildren and university students can be affected," he said. "This is a war crime."
These types of acts are not acceptable for anyone, he said.
International institutions also condemned the recent Taliban atrocities, which came as Taliban representatives met with influential Afghans and US negotiators in Qatar for a fresh round of peace talks.
"Children are once again paying the price for nearly two decades of conflict in Afghanistan," Save the Children Afghanistan Country Director Onno van Manen said in a statement released on July 2.
"A staggering 80% of conflict-related child deaths in Afghanistan are the result of explosive weapons," he said.
Children's smaller bodies are more susceptible to serious injuries, particularly to the head and chest, he said. "These injuries can kill or cause life-changing disabilities."
"Furthermore, children who are exposed to explosive weapons often continue to present symptoms of depression and anxiety that can stay with them for many years to come," said van Manen.
"Suicide attacks took place in Kabul and Ghazni in the past days," Afghan Chief Executive Abdullah Abdullah said during a cabinet meeting in Kabul on July 8. "If they kill innocents for gaining an advantage during peace negotiations, this is the wrong approach and it won't benefit them."
Children suffer psychological trauma
"Six children were injured, and now they're afraid to go back to school," said Abdullah, a Ghazni resident whose own child was wounded in the Taliban bombing on July 7. "It is a heinous crime for the Taliban to commit a suicide attack near a children's school. Now our children do not want to go back to school as they are afraid."
Shafiqullah Qarizada, spokesperson for the Ghazni Department of Education, visited schools along with a number of local authorities to reassure schoolchildren. The trauma the children suffered was immediate, he said.
"We went to schools to lift up students' morale, but unfortunately we witnessed that the children had been mentally affected," he said. "Some children even had nightmares the following night."
Children who grow up in an environment of prevalent explosions and suicide attacks are more prone to violence and social problems, said Muhammad Naser Habibi, a psychology professor at Kabul University.
"Those children who face violence and terror, they develop psychological conditions such as post-traumatic stress disorder," he said. "These fears cause them to quit school and learning and lose hope in the future."
"If the children think deeply about a [violent] incident, they will have nightmares," he said. "If they develop a feeling of isolation and their mood changes from that in the past, they need to be taken to a mental health facility."
"It's utterly deplorable that children going about their normal day at school should have to suffer in such a way," said Save the Children's van Manen in his press release.
"It is therefore vital that the all parties to the conflict in Afghanistan respect international rules and norms and do everything they can to protect children in conflict."