UNITED NATIONS -- The number of child casualties resulting from the war in Afghanistan continues to surge, according to a United Nations (UN) report that calls the suffering endured by boys and girls in the country "appalling".
From 2015 to 2018, a UN team studying the plight of children in Afghanistan documented 14,202 grave violations against them throughout the country, according to the fourth Report of the UN Secretary-General on Children and Armed Conflict in Afghanistan, published on October 2.
"The four years covered in the report have been particularly devastating for boys and girls, with children accounting for almost a third of all civilian casualties," according to the UN Office on Children and Armed Conflict.
"Of serious concern, the killing and maiming of 12,599 children was verified, representing almost a third of all civilian casualties and an increase of 82% in child casualties compared with the previous four years," the report says.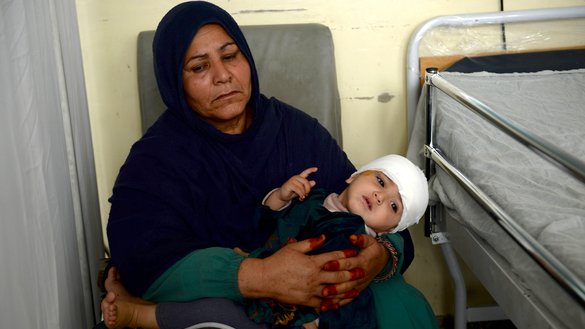 The extent of these violations is probably even greater, the report adds.
"Children in Afghanistan have known nothing but heartbreaking realities as a result of violence and war," said Virginia Gamba, the UN special representative for Children and Armed Conflict.
"The number of child casualties is appalling, and I urge all parties to immediately put an end to the suffering of children," she said, calling on member states to support sustainable and long-term reintegration programmes, thus enabling thousands of boys and girls to heal.
Suffering of civilians continues
Insurgency-linked violence claimed a record number of lives last year in general with more than 3,800 killed, according to UN figures released previously.
A string of Taliban attacks in the run-up to presidential elections in Afghanistan demonstrates that the suffering of civilians -- including children -- continues relentlessly.
Taliban fighters killed 11 civilians, including women and children, and wounded 18 others in two separate attacks September 27 and 28 in Baghlan Province in response to losses inflicted by local forces.
On September 19, a Taliban car bombing hit the Sultan Malakhi Tokhi civilian hospital in Qalat city, Zabul Province, killing 39 people and wounding 184 others.
The Taliban lied about the target of the attack, saying they destroyed the National Directorate of Security (NDS) building in Qalat.
At least four people were killed and a dozen injured September 18 when gunmen stormed a crowded government building in Jalalabad, the capital of Nangarhar Province, following a suicide bombing.
On September 17, the Taliban killed at least 48 people in two separate attacks -- one on a campaign rally for President Ashraf Ghani in Parwan Province and the other in Kabul.
The UN report also documents 274 cases of children being recruited to fight, mainly by armed groups including the Taliban and the Khorasan branch of "Islamic State of Iraq and Syria" (ISIS-K).
The report also documents 17 cases of sexual violence against children, but the violation remains highly underreported for fear of stigma and retribution by offenders who consider themselves above the law.
There were 231 child abductions reported, 832 attacks on schools and hospitals, and 249 incidents of humanitarian aid being denied, including targeting land mine clearance activities and polio vaccination campaigns.
Prioritising the protection of children
"I am deeply disturbed by the scale, severity and recurrence of grave violations endured by the children in Afghanistan and by the fact that they continue to bear the brunt of the armed conflict," UN Secretary-General Antonio Guterres said in the report.
The report noted some positive developments over the past four years.
These include steps by the Afghan government to end and prevent the recruitment and use of children by its security forces, notably the criminalisation of child recruitment and of bacha bazi, the training of security forces and the establishment of Child Protection Units in Afghan National Police recruitment centres in all provinces.
"While the protection and well-being of children can only be reached through long-term peace, we must seize all available opportunities to improve right now the protection of boys and girls in Afghanistan," Gamba said.
"This includes prioritising their protection and needs in dialogue, talks and peace negotiations, as children are the future generation," she said.